Whenever there is a natural disaster, people are thrown into panic mode. Without proper food and water, survival becomes a race to prevent a crisis in your home, which is why it's so important to think about emergency food storage. 
You never know when a hurricane, tornado, or flood may strike and leave you stranded with nothing to survive on. Building an ample supply of food and water keeps you safe when everything else seems to be falling apart. 
What is Emergency Food Storage?
Whether you expect a doomsday around the corner or live in an area where a storm could wipe out your home, stabilizing your food storage can give you some peace of mind. This stockpile of food isn't like the snacks and typical groceries that you buy at the market. 
A disaster food supply can be put away for long periods of time without going bad. For example, you may have canned foods, foods sealed in plastic, or dry shelf goods that don't go bad in a matter of weeks. In fact, they can last for many months. 
Some Typical Food Storage Items Include:
Canned goods
Rice and beans
Shelf stable pantry items liked boxed cereals and peanut butter
Dehydrated vegetables and fruit
Freeze-dried meals
Smoked meat
Oats
Powdered milk
Power bars and granola
Sports drink
Nuts and seeds
Salt
Plantable seeds for harvesting (long-term strategy)
These non-perishable food items can be stored for weeks, making it easy for you to survive when the power goes out and other food starts to spoil.
Who Needs it and Why?
Although many people believe they have enough to go on if a natural disaster should strike, you may not realize that most of the food in your fridge will not last past a day or two in the heat. Due to the increasing risk of a pandemic, everyone can benefit from creating an emergency food storage bin in their homes. 
Everyone Needs it!
Many people are paralyzed when a natural disaster strikes and takes everything in an instant. It can happen to any area of the world. Whether it's a hurricane, tornado, flash food, fire outbreak, typhoon, or power outage that can last for weeks you won't have enough time to stockpile food when a disaster is about to strike. 
In addition, you'll have to fight others for supplies. A cache of survival, edible food is something that should be in everyone's pantry. If you have been procrastinating, then your household may suffer when a crippling storm or sudden pandemic strikes. 
Unemployment
There are other reasons why stockpiling food can prepare you for a long survival period. If you have ever lost your job and gone hungry, then you likely already have a storage area filled with canned soups, boxed cereals, and other dried goods to tide you over until you find something else. 
Losing your income can be such a burden that you have to choose whether to pay your rent or eat. If it comes down to this, a stockpile of food can save you from starvation.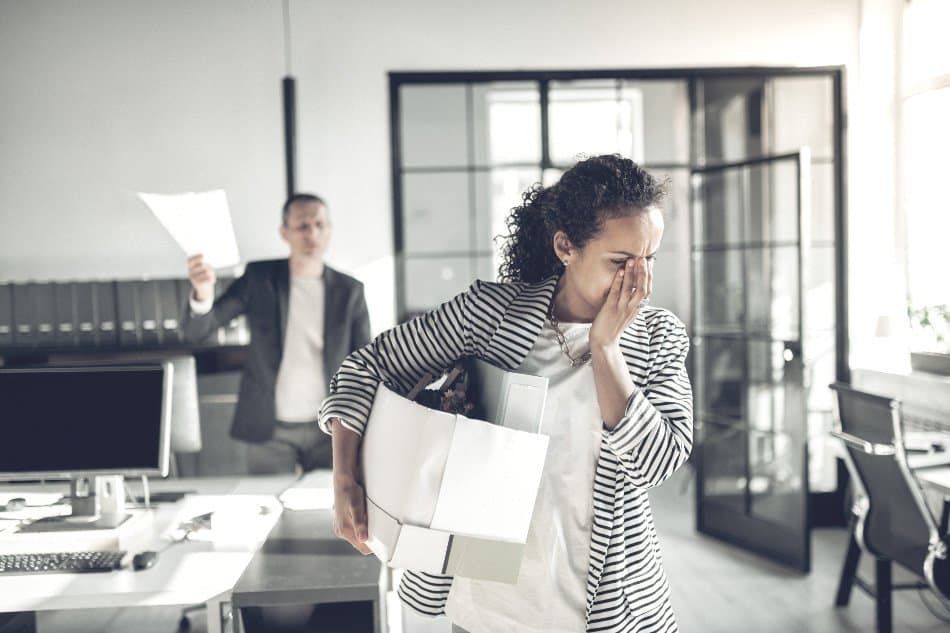 Bad Health
Have you experienced a crippling illness? It can lead to a loss of income and a lesser quality of life that leaves you stranded at home. In this event, you'll need long-term food storage to ensure your survival. A healthy food store will not only keep you fed, it'll also help psychologically in that you won't have to worry about money to pay for food. You may want to keep items like fruits and vegetables for longer periods of time to keep yourself healthier and stronger. 
Natural Disasters
Hundreds of thousands learned the importance of emergency preparation during the Hurricane Katrina disaster. The storm left an entire region of the US devastated. It's storms like these that can truly take away everything that you have worked so hard for. 
With a stockpile of food prepared, you can head for safety and provide for your family easily, not having to worry about running out of supplies as you try to get away from the disaster zone. Preparedness is key to beating a natural disaster and ensuring your survival.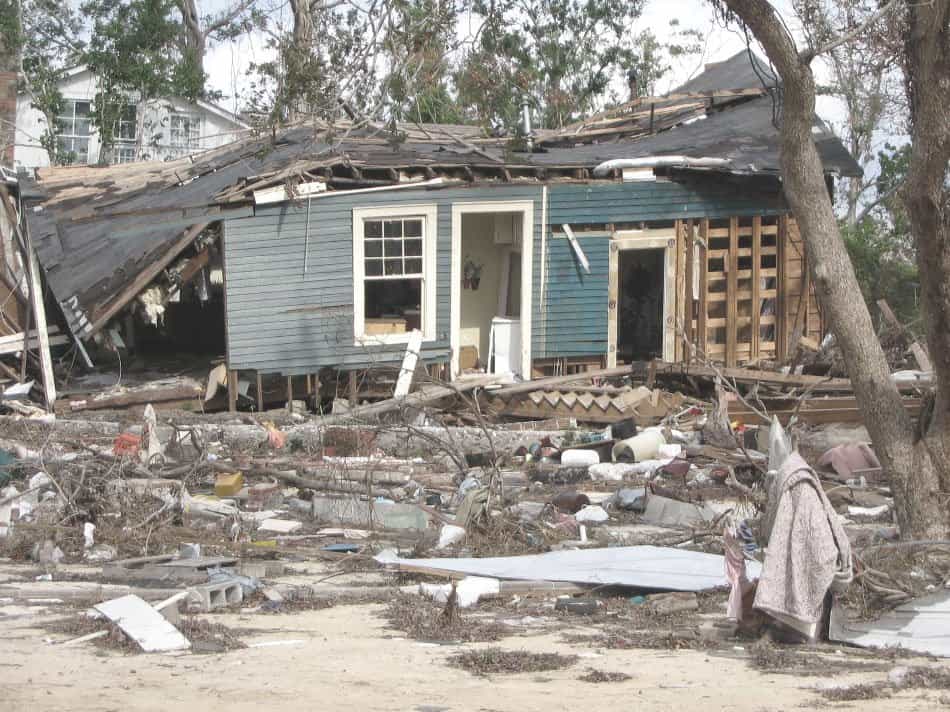 How Much Should You Store?
It's important to just get started when you think about emergency preparedness. You can start small and look around your pantry for non-perishable goods that you can safely put away for an emergency. You shouldn't compare your food storage to anyone else's as only you really know how much food you'll need. 
You can build a huge stockpile of food over time without even realizing it just by adding to your food storage every week. 
Per Person / Family
How much food does each person in your family need? If you have a four-person family, you can expect to live on two cans minimum per day for a total of 60 cans per month on average, but if you are prepared, you can have much more than canned soups and vegetables. 
You can stockpile dried goods like rice and beans that will stay food for months after the storm. You can also find dried goods such as oats, granola, and nuts to ensure that your family never goes hungry. 
Recommended Food Storage Quantities
Did you know that the US government only recommends having a 3-day emergency food supply in case of a natural disaster? That isn't enough, and most households already have this kind of food storage. You should be thinking about long-term storage and the number of weeks it might take to get power back or even just have a working stove. You'll need to prepare a variety of different food storage options. 
1 Months Supply
Once you figure out how much food you typically eat in a day, then you can start to build up a month-long food supply. You can add some variety to your food storage by thinking of different canned goods and dried goods that will keep you satisfied. When you go grocery shopping, you can always add a canned good or two to build up your supply.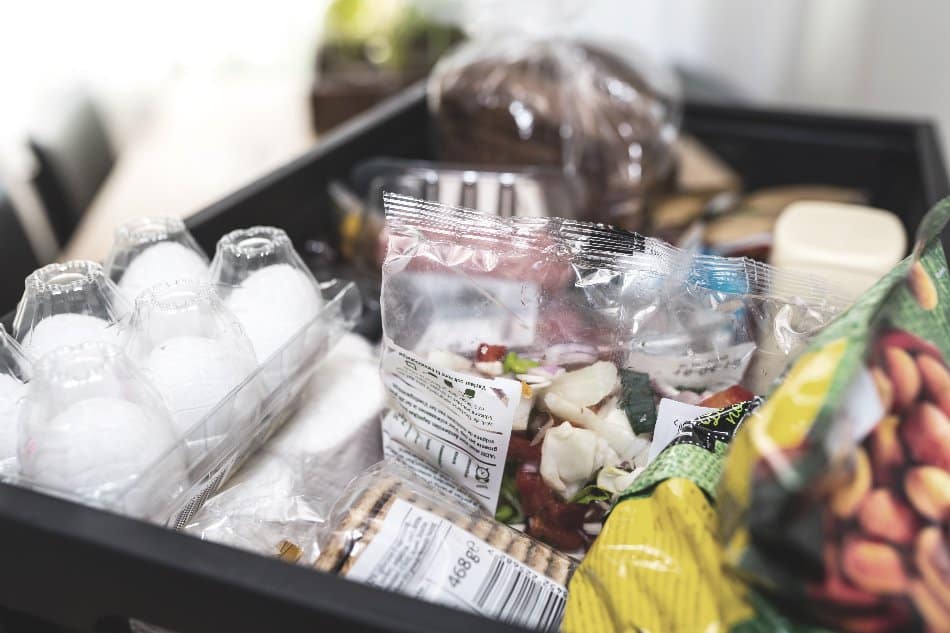 3 Months Supply
A three-month period of survival requires much larger food storage quantities, and canned goods or freeze-dried vegetables and fruits are good options for this type of storage. You want to make sure that you have enough to sustain yourself for 90 days.
You should buy rice, pasta, flour, beans, and nuts in bulk, and you should also learn how to cook from scratch on a gas camp stove or grill but do make sure to do this outside only . 
6 Months Supply
You should have double the amount of food in a three-month supply. This food storage has a variety of different snacks, dried vegetables, and non-perishable staples such as rice and pasta. You also want to be careful that you don't have lots of sodium in your diet, which means varying between healthy dried snacks and canned goods. 
1 Years Supply
Dedicated preppers stockpile a year supply of food easily. It can take several months to have this kind of food stockpile, but this type of pantry will have every type of food item and ways to cook that food entirely without electricity. 
In addition, they will have water purifying packets that can easily be slipped into a water supply source to cleanse and purify it for drinking and cooking. You should always check on your food's shelf life before you decide to stockpile for this long as well. Many items aren't going to last longer than a year. 
Regular Circulation of Food Storage is Important
Just as it's important to check the shelf life of items in your food storage, you want to make sure that you circulate and protect your stockpile. Humidity and moisture are not good for any of your grains, and long-term exposure to moisture can also rust any canned items in your food cache. This is why you should store food in a pantry inside instead of out in a shed or garage. 
Mason jars, mylar bags, and tightly sealed plastic bags can help you prevent your food from going bad due to moisture and air exposure. You may also want to buy a food-grade storage container and store your stockpile inside of your home. 
Bestseller No. 1
Regular-Mouth Glass Mason Jars, 16oz (6-Pack) Glass Canning Jars with Silver Metal Airtight Lids and Bands with Measurement Marks, for Canning, Preserving, Meal Prep, Overnight Oats, Jam, Jelly
Canning Jars-Self-sealing and long-lasting, these are the best jars for canning pickles, tomatoes, sauerkraut, salmon, smoked mackerel, kidney beans, and pumpkins in the comfort of your own home. Home canning will have you eat healthfully and save money, plus you get to choose what goes into the food you eat.
Quality Glass-Crafted with upgraded soda-lime glass, food grade and lead-free. Smooth to the touch and brilliantly clear, the glasses are gorgeous on display. Lets the vibrant colors of the contents show, while allowing you to keep tabs on the progress. Completely dishwasher safe.
Superior Lid-Mason jars are self-sealing for airtight and leakproof perfection. The metal lid is lined with plastisol, avoiding rust and decay. Food contained will last longer and taste fresher.
Regular Mouth-The standard-sized mouth ensures the jars are effortless to fill and refill. Cleaning is simple as well. Any regular-mouth lid will fit this jar, so it can easily be replaced.
Handy Size-Perfect for preserving large amounts of ready-to-eat food, pickling or canning summer bounty, and storing dry kitchen staples. Beans, coffee, rice, candies, drinks, jams, and sugar will be protected from mites and stale taste.
Last update on 2022-05-10 / Affiliate links / Images from Amazon Product Advertising API
Food stockpiles can also be susceptible to pests, so you don't want to store any plastic containers in a garage or other area outside. The shelf life of canned goods is much shorter in comparison to freeze-dried meals and meal replacement pouches. You will likely have to replace canned items every two years, whereas you could have freeze-dried meals for up to 30 years. 
Bestseller No. 1
Peak Refuel Basecamp Bucket | Premium Freeze Dried Variety Meal Pack | Backpacking and Camping Food | 100% Real Meat | High Protein and Calories | MRE | 24 Servings (Single Bucket)
6 DIFFERENT MEALS & 9,340 TOTAL CALORIES - The Peak Refuel Basecamp Bucket includes a variety of our biggest fan-favorite, high-quality, freeze-dried meals. 12 total pouches including 2 breakfast and 4 entrees make this a perfect option for any outdoor enthusiast serious about taste and nutrition.
490 GRAMS OF 100% REAL MEAT - Our meals contain 100% real meat, with no meat fillers! We provide a meal loaded with protein required to conquer any adventure. Our meats are sourced from trusted suppliers and inspected by the USDA. This results in a superior quality you can enjoy.
AMAZING TASTE - No longer do you need to compromise taste for convenience! Our Freeze Dried Meals contain high-quality ingredients to ensure an appetizing and nutritious breakfast or entree while on the trail. What you eat matters and we have gone to great lengths to create a meal with non-GMO ingredients so you can experience a flavorful backpacking meal whether on the mountain or at your favorite campsite.
PREMIUM FREEZE DRIED - The freeze-drying process locks in important nutrients offering a meal with a natural taste and texture, just like it came straight from your house. So whether you are camping deep in the backcountry or on a day hike along your favorite trail, enjoy a delicious and easy to prepare meal that requires even less water and is loaded with important nutrition.
BUCKET SPECS: The Basecamp Pack comes in a convenient, easy-to-carry bucket with a flip-open lid to easily store and access all your favorite go-to Peak Meals. Contains 12 total pouches, 24 servings. 9340 Calories. 490 Grams of protein. Pack includes 2 of the following; Breakfast Skillet, Strawberry Granola, Beef Pasta Marinara, Chicken Alfredo Pasta, Homestyle Chicken & Rice, and Beef Stroganoff. All produced and packaged in the USA.
Last update on 2022-05-10 / Affiliate links / Images from Amazon Product Advertising API
Where Should You Store Emergency Food
As we have established, storing food in humid areas of your home won't provide the best result. However, you may want to place food storage in several areas of your home if you are prepping in bulk. These are some of the best ways to store your food cache for longevity and protection against mold or rodents. 
These bags are made to be incredibly durable and withstand extreme stress. A "bug out" bag was developed for cases when you have to abandon your home due to a crisis such as a natural disaster or pandemic. These prepared survival kits typically include enough food for a 72-hour trip where you have evacuated your home. 
This bag typically includes your 3-day food storage, water, survival clothing items such as thermal underwear and rain jackets, first aid kits, water purification tablets, tools to make a fire, a knife, emergency lighting, and communication devices . You should keep this pack in an easily accessible place where it can be grabbed and taken with you at a moment's notice. 
Pantry Space
Most people will store canned goods, dried shelf goods, and other non-perishable items in their pantries. While this can take up a lot of space, it's the best place to store it without having to deal with moisture problems and rodents. You may want to keep your food storage separate in a food-grade bucket or other "battle box" container that can be easily picked up and taken with you. 
Bestseller No. 1
PLANO MOLDING 1719-00 Utility Trunk, 30 In.L x 14-1/4 In.W
Includes: removable reinforced lid, molded grooves for sturdy stacking
Trunk with lid capacity: 68 qts / Item: utility trunk / Outside width: 14.25"
Volume capacity: 3.22 cu ft / Inside length: 26" / Inside height: 11.25"
Latch: durable lockable / Color: black / Outside length: 30" / Outside height: 12.75"
Material: polypropylene / Finish: smooth / Inside width: 11.25"
Last update on 2022-05-10 / Affiliate links / Images from Amazon Product Advertising API
Spare Bedroom
Another good option is to store your emergency items in an area of your home that doesn't have anything or anyone else living there. For example, you can place your bug out bag and food storage bins in the closet of a spare bedroom. 
Cellar or Basement Space
These areas of your home are typically not the best for food storage because of varying humidity levels and moisture problems. These areas, however, may be the place where you go for survival in case of a natural disaster. In these instances, it's not uncommon to store impenetrable food-grade buckets with a stockpile of food in these areas.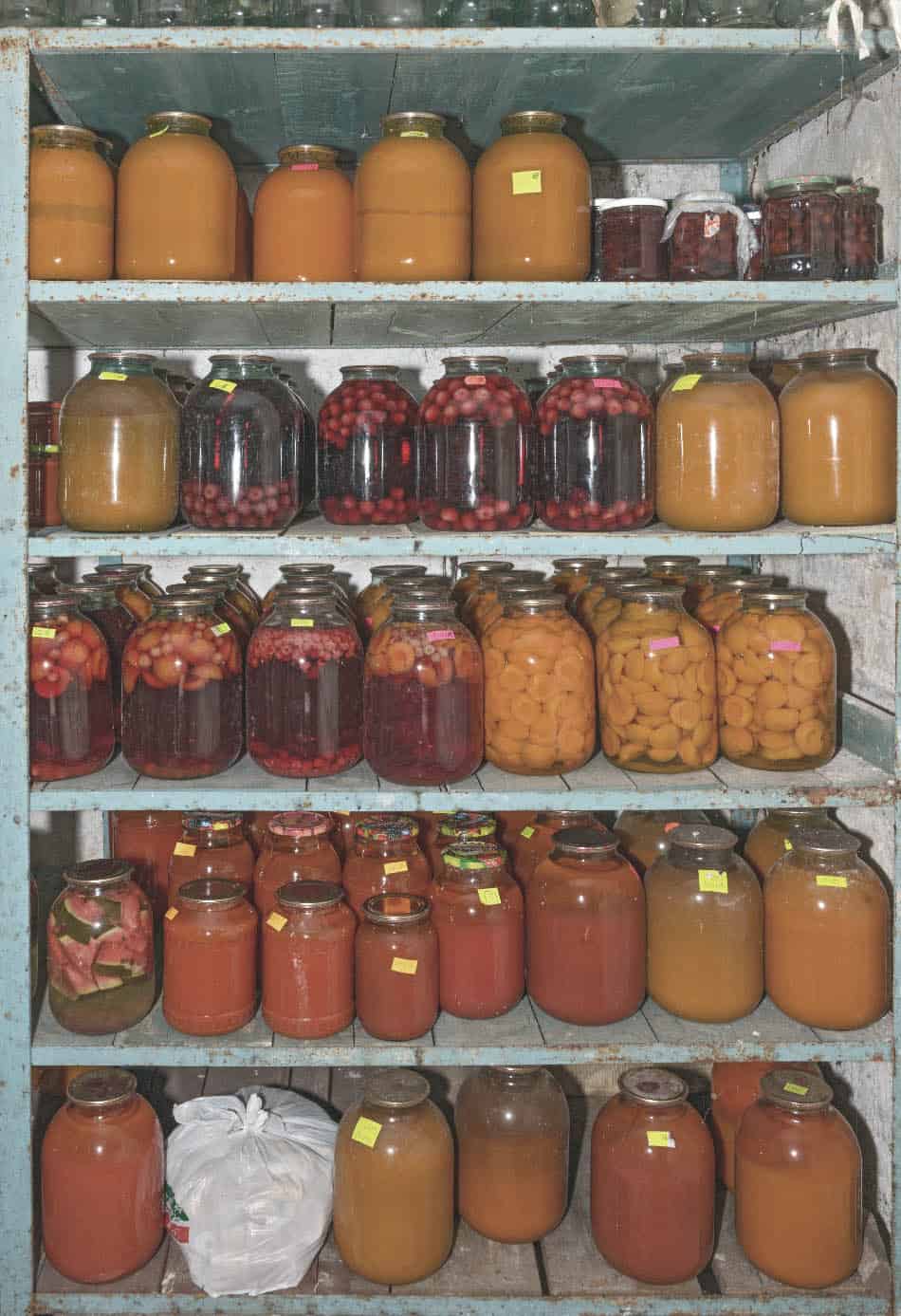 If you live in an area where earthquakes or hurricanes take place then be sure to secure your jars so they don't fall off your shelving and end up being wasted. 
Around the House
If you are a prepper who wants to ensure the ultimate safety for your family, you may have a bug out bag for every individual in your home, and they can store those bags in their rooms or around the house. This is the best solution if you have a larger family with multiple adults. 
Garage or Outside Shed
Humidity and heat exposure are a major downfall to these spaces. You wouldn't want to store even canned goods in these spaces because it can lead to contaminated, toxic food supplies. When you leave food out in the garage, it is susceptible to humidity and warm temperatures. 
Before you know it, your items that were doing fine in your pantry can turn to mush or taste like chemicals due to the product's containers melting or giving off fumes. 
Attic Space
While you may be inclined to put large quantities of survival items out of the way, the attic is too far out of the way to be convenient in a natural disaster. You won't have time to get to this space unless you have a plan, and it can also be susceptible to moisture, particularly if you have a leaky roof or if you have rodents such as squirrels that can be lured into your home by the promise of your food supply. 
If you are afraid of others trying to get into your home or you just want to keep your food storage out of the way, you can choose tactical storage options such as a plano molding utility trunk that can hold large quantities of food supplies in an indestructible container. These boxes are heavy duty and made to store food in any location. They aren't penetrable by any rodent or moisture problems either. 
Plano Storage Trunk - 108 Quart w/ Wheels (1919) - Gray
Molded grooves for sturdy stacking
108 quarts capacity. Built-in pull grip
CNC machined aluminum flight track and Pre-Installed String Dampeners make the Hyper Ghost 425 extremely quiet and accurate. Overall weight of 7.7 pounds and axle to axle width of 17.6 inches
Exterior dimensions: 37.187 inches x 18.00 inches x 14.375 inches
Interior dimensions: 29.75 inches x 13.5 inches x 12.875 inches
Last update on 2022-05-10 / Affiliate links / Images from Amazon Product Advertising API
What Types of Food Should You Store?
The answer to this question largely depends on your family's size, what you like to eat, and how easily it will be to cook those items. If you have trouble cooking with fire, you may want to stick to a large supply of dried snacks, nuts, seeds, and dehydrated vegetables. However, you also want to consider long-term storage and a variety of food so that you don't have too much sodium and can provide for everyone's needs in your family. 
Some of the Best Items To Store Include:
Canned goods with low acidic content, 2 to 5 shelf life
Canned food with higher acidic content, 1 to 2 year shelf life
Dehydrated food items, last up to 15 years or more
Freeze dried food, lasts the longest, up to 30 years of shelf life
First, Consider Who the Food is For
There may be several people and animals that you have to provide for. If you have children and pets, then you'll want to get as much food as you'll need for at least a 30-day survival, and you can build upon that over time. Other adults in your home may be more particular to certain types of canned goods and vegetables, but children will be far more pickier at first.
You may want to talk to them about their favorite foods and what would happen in the event of a natural disaster.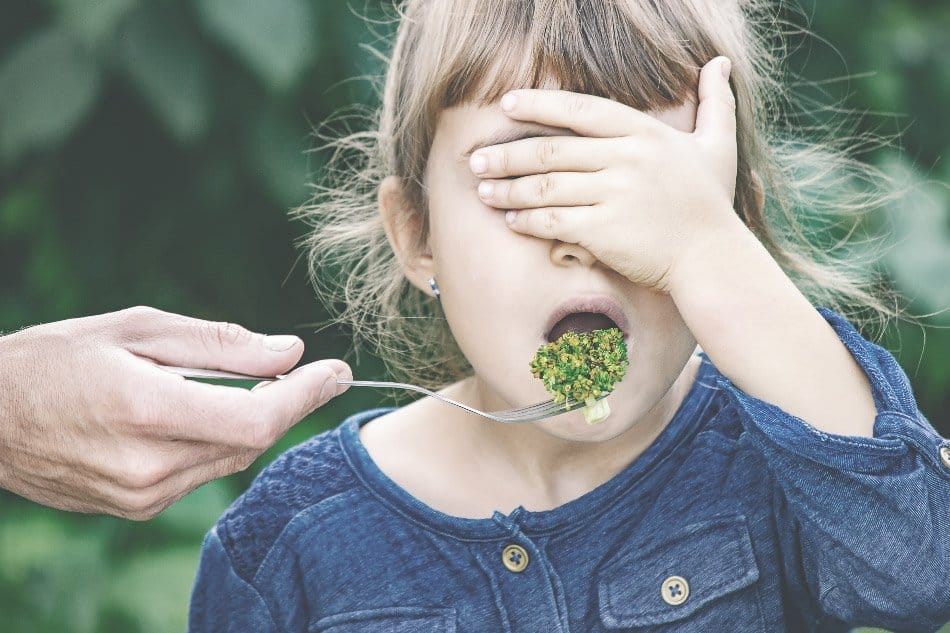 Without scaring your children, you can develop a keen sense of what they'll eat for longer periods of time. A variety of food is important to maintaining your sanity and health as well.
You don't want to have all canned goods as those can start tasting the same after awhile. This is why it's preferable to have cookable items such as rice, beans, and pasta in addition to canned and freeze-dried meals. With comfort in mind it's also important to keep condiments such as soy, hot sauce or other spices to add flavour or texture to your foods. 
These items can have a positive impact on your mood when facing an emergency. So don't forget to store some items that you and the kids enjoy. 
Foods that are Difficult to Store
You won't be able to take any perishable items with you. All of the food that is in your refrigerator will likely go bad within a couple days of no power. Dairy products, raw meat, raw vegetables, raw fruits, and other perishables will simply go bad in a week. 
To a certain extent, dried food in boxes can pose a problem for storage within certain areas of your home as well. For example, you may find that your boxes of cereal have been gnawed into by field mice if you try to store it in your garage or attic. 
Freeze Dried Meals
Many preppers believe that freeze-dried meals are superior to every other type of emergency food stockpile option. The texture and taste of freeze dried meals is the first reason why it's better than canned goods, but it's the shelf life that is truly amazing. Since canned goods can become flavorless mush, freeze-dried meals can be the most important staple in your survival food storage bin. 
Fruits, vegetable, and meat products are freeze dried and retain their taste and crunch even if they are in a dried state for more than 10 years. You can also store many meals at once because of the way they are packaged. They typically don't weigh anything. You also wouldn't have to rotate freeze-dried meals as much either because they have a much longer shelf life spanning decades. 
Sale
Bestseller No. 1
Mountain House Beef Stroganoff with Noodles | Freeze Dried Backpacking & Camping Food | 2 Servings
DELICIOUS MEAL! Tender beef, noodles, and mushrooms smothered in a rich sour cream sauce. Freeze-dried to lock in nutrients and freshness. No refrigeration needed.
NO ARTIFICIAL COLORS OR FLAVORS - Made with no artificial flavors or colors. Pouch contains two servings. Great for one hungry backpacker, or share it with your camping or backpacking buddy.
QUICK PREP - Just add hot water to the pouch & eat in less than 10 minutes, with no cleanup. The pouch has a shorter, wider, more bowl-like shape for an easier eating experience. Eat straight from the pouch and skip the dishes!
EAT ANYTIME, ANYWHERE - Pouch is lightweight & portable providing you with a deliciously, tasty meal perfect for camping & backpacking trips! Eat well in the backcountry or in your tent. Also great for emergency food storage & survival.
RECYCLABLE - Recycled used packaging with TerraCycle to reduce waste.
Last update on 2022-05-10 / Affiliate links / Images from Amazon Product Advertising API
MRE's (Meal Replacement Pouches)
While these are a military staple, they certainly aren't the most appetizing food survival option to have around. Still, you can store hundreds of these pouches and survive on them for years if that was necessary. The greatest benefits of MREs is that they can be stored anywhere and retain their nutritional value for decades.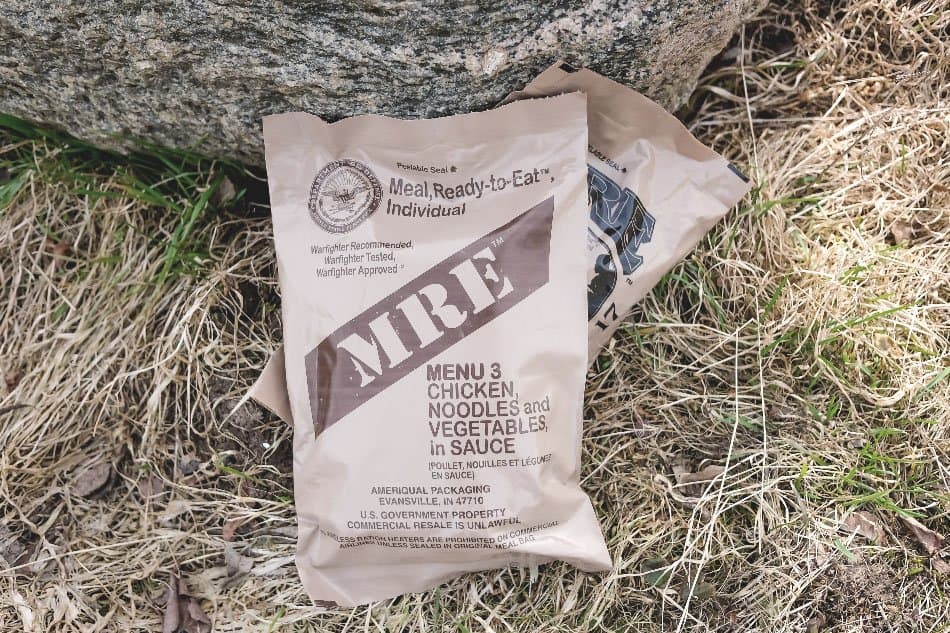 Sale
Bestseller No. 1
MRE Meals - 124-Serving Freeze Dried Emergency Food Supply - Ultimate Preparedness Pack, Multi Color
VARIETY PACK - 124 serving complete survival food kit provides a delicious variety of ready-to-eat food including breakfast, lunch, dinner, fruit, desserts, and drinks. Most conveniently stored in 4 serving pouches.
READY TO EAT FREEZE DRIED FOOD - All in one survival food kit can be stored at home or in your vehicle for emergency situations, or individually wrapped pouches can be taken along on hiking, backpacking, and camping trips.
JUST ADD WATER - Easy to prepare in any situation, just add water, wait 12-15 minutes and enjoy delicious, hearty food - no cooking necessary. Perfect for emergency earthquake survival kit food or any natural disaster food kit.
GRAB AND GO - Contained in a convenient, easy to store bucket, dehydrated foods stay safe and secure so they're ready when you need them most. Long term prepper storage.
25 YEAR SHELF LIFE - With a 25-year shelf life, our emergency foods are designed to withstand the test of time, reducing waste and worry when maintaining disaster preparedness kits. Survival Food 25 year shelf life.
Last update on 2022-05-10 / Affiliate links / Images from Amazon Product Advertising API
Emergency Food Buckets
There are bulk food buckets that contain a variety of canned foods, freeze-dried meals, MREs, dehydrated vegetables, seeds, nuts, and grains. These can be purchased and stored in your home, and they last for multiple years in most cases. You can find emergency food buckets that have 15 years or more worth of food replacement options.  
Tips for Storing Emergency Food
Even if you stockpile your food, you may not trust the packaging because of its chemicals, such as BPA in water bottles that can expand during heat. The right food storage bin will be made from food-grade materials and won't be susceptible to heat, moisture, or pests. 
Packaging
It's crucial to find survival goods that have the right packaging. Water bottles are not the best for long-term storage because of the plastic used to create them. The same thing goes for some older canned food items that contain bisphenol and BPAs as well. These chemicals are dangerous to your health when consumed over time and won't be good nutrition options for younger children either. 
Plastic vs Glass
Mason jars are probably the best way to store dehydrated fruits and vegetables. The glass is indestructible, but it can be susceptible to heat and spoil your food if kept in the wrong area of your home. 
The same thing goes for plastic, but it's much more dangerous to store items in plastic that isn't food-grade ready or has dangerous BPAs that can also leak into your food in high heat situations. 
Bestseller No. 1
Regular-Mouth Glass Mason Jars, 16oz (6-Pack) Glass Canning Jars with Silver Metal Airtight Lids and Bands with Measurement Marks, for Canning, Preserving, Meal Prep, Overnight Oats, Jam, Jelly
Canning Jars-Self-sealing and long-lasting, these are the best jars for canning pickles, tomatoes, sauerkraut, salmon, smoked mackerel, kidney beans, and pumpkins in the comfort of your own home. Home canning will have you eat healthfully and save money, plus you get to choose what goes into the food you eat.
Quality Glass-Crafted with upgraded soda-lime glass, food grade and lead-free. Smooth to the touch and brilliantly clear, the glasses are gorgeous on display. Lets the vibrant colors of the contents show, while allowing you to keep tabs on the progress. Completely dishwasher safe.
Superior Lid-Mason jars are self-sealing for airtight and leakproof perfection. The metal lid is lined with plastisol, avoiding rust and decay. Food contained will last longer and taste fresher.
Regular Mouth-The standard-sized mouth ensures the jars are effortless to fill and refill. Cleaning is simple as well. Any regular-mouth lid will fit this jar, so it can easily be replaced.
Handy Size-Perfect for preserving large amounts of ready-to-eat food, pickling or canning summer bounty, and storing dry kitchen staples. Beans, coffee, rice, candies, drinks, jams, and sugar will be protected from mites and stale taste.
Last update on 2022-05-10 / Affiliate links / Images from Amazon Product Advertising API
Mylar Bags
Mylar bags are great for producing a barrier between your food storage and the natural environment. These are typically used to line food storage bins, and you can place oxygen absorbers within these bags to create the best possible storage conditions. Mylar bags can withstand extreme temperatures and have a thicker design than a plastic bag. 
These handy tools go inside of your food storage bins to remove oxygen. Exposure to oxygen can change food chemicals and spoil your food. They also protect your dried food goods from pests like weevils and other insects. They are typically used within sealed containers to maintain freshness, even after years of being in storage. 
Bay Leaves and Pests
You can also add bay leaves to your food storage to repel insects. Weevils, beetles, cockroaches, ants, moths, and flies hate the scent of this natural herb. You can keep bay leaves in several areas of your pantry and within your food storage bin to prevent contamination.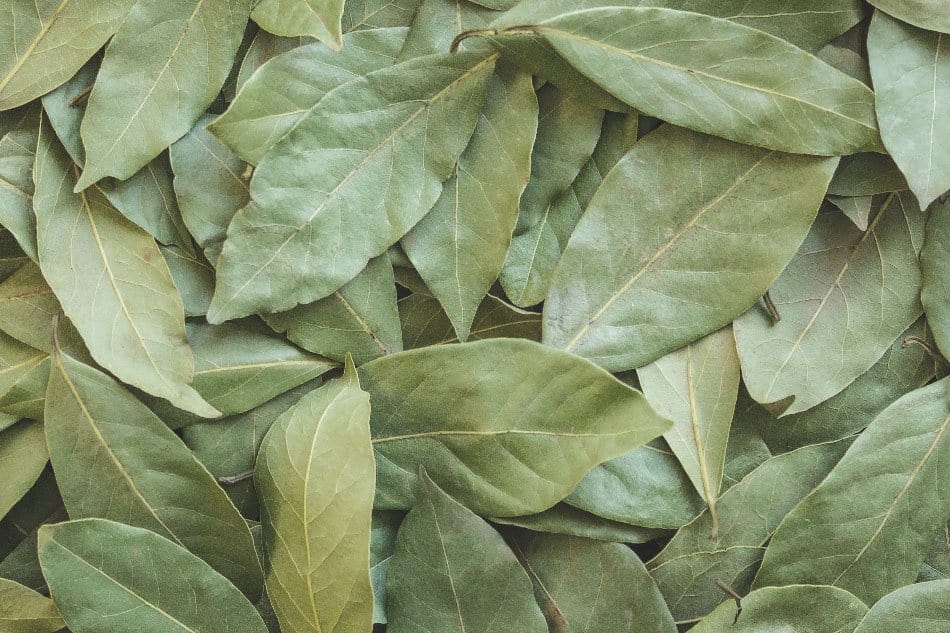 Label Everything
Many preppers use a label maker to mark their different emergency storage items. This keeps everything straight from food that has shorter shelf lives to MREs that you only want to break out after you've gone through everything else. You may also want to separate food that is specific for those with health problems. 
For example, you may need a bin that is sodium-free or sugar-free due to people having diabetes or other health problems in your family. 
Keep an Inventory
You can keep track of the shelf life of your food items by organizing your storage by expiration date and keeping an inventory. You should also grow your inventory over time by adding different emergency food options, extending the life of your storage to years rather than just a few days. 
Cycle your Food Storage
As your food starts to expire every one to two years, you should keep things fresh and always look at the storage container to see if there has been any damage. If you have stored food in an area that has been susceptible to moisture, such as a flooded basement, you may not be able to keep these items due to contamination either. It's important to check on your food storage frequently to avoid any health hazards that could completely nullify your survival food plan. 
Make sure to check your dates and rotate your emergency food storage using the first in, first out or FIFO rule. A great way to cycle your food is to also make it a social event with your fellow neighbours and like minded preppers.
Hold a local, annual get together in the street and have a BBQ.  This could be quite catchy and educational, Best Disaster Food BBQ comes to mind when thinking of a name for your event! 
Another way to cycle your emergency food storage is by donating to a local food bank especially when you know the food you've been storing won't be used before its expiration date.  After all, giving back to the community is a good thing to do.  
Can't Afford to Buy, How about you Grow / Preserve Your Own?
Buying emergency food that you won't likely eat in the short term can be a financial burden. If you don't have the funds to prepare your pantry, then you may want to think about other ways to stockpile food for an emergency situation. These are some ideas to create your own food storage bin with very little budget. 
Grow your Own
You can grow vegetables and fruits that can be dehydrated to start off your own supply. Some of the best vegetables to dehydrate include: 
Green beans
Cauliflower
Broccoli
Spinach
Beets
Sauerkraut
Zucchini
Tomatoes
Sweet potatoes
Strawberries
Pineapple (not easy to grow, dehydrate instead)
Bananas (not easy to grow, dehydrate instead)
You can also grow your own herbs and grains, but you may need the right soil to do so, which can be expensive to supplant in your backyard.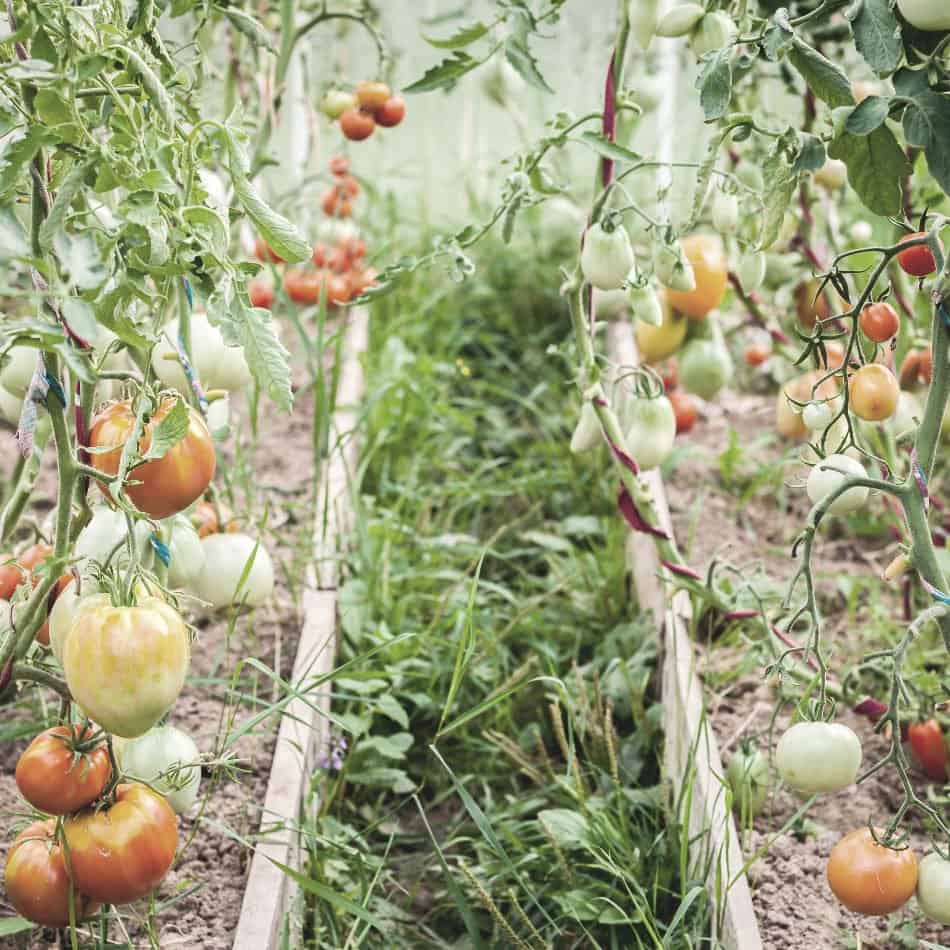 Canning your Own
You can start canning your own vegetables, fruits, and grains using mason jars. You'll need some other supplies to ensure that your food doesn't spoil. To start canning your own food, you'll need a water bath canner, mason jars, citric acid sources, canning scoop, canning kit, and utensils. You'll need to thoroughly sterilize your jars before you start canning. 
You May Want to Can The Following Goods:
Tomatoes and onion stew
Peppers
Corn soups
Squash soups
Beets
Pickled onions and cucumbers
Cabbage
Jellies and nut butters
Green beans
Shell peas
Tomato sauces
Strawberries
Blueberries
Pickles
Apples and applesauce
Plums
Chicken and chicken stock
Chili with meat
Carrots
Chicken noodle soup
Vegetable soup
Roast beef stews
All of these recipes are online and can last for multiple months if you have plenty of mason jars. 
Dehydration
If you have access to an oven, you can dehydrate your own food easily and store it for the long-term. You simply turn your oven to the lowest setting and place fruit or veggies in small slices, then place on a lined sheet within your oven for multiple hours. 
It typically takes 6 to 8 hours to dehydrate vegetables and fruits this way. You can also use a toaster oven or dehydrator to create them as well.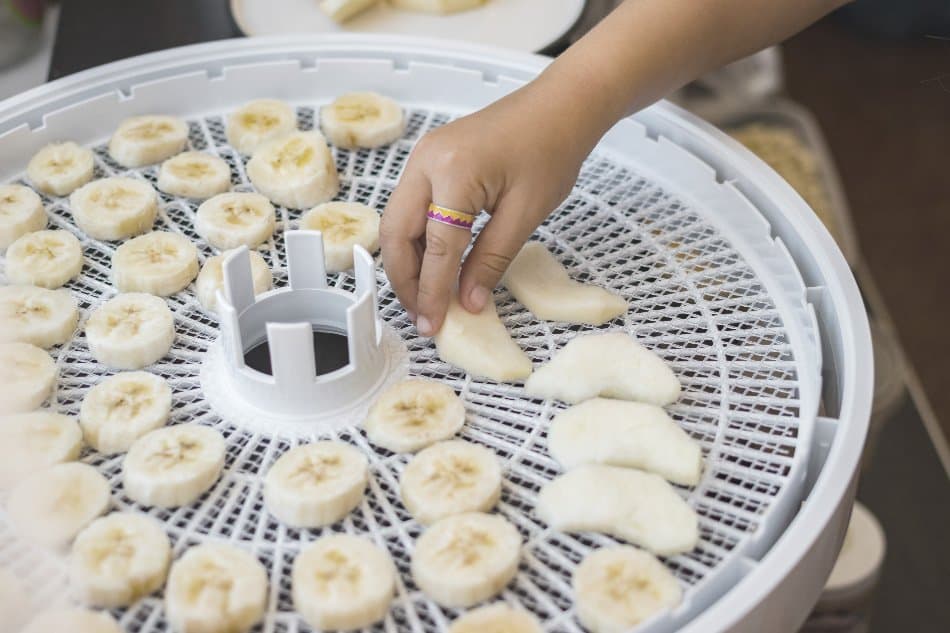 Others typically place herbs and certain foods like tomatoes in the sun. Sun-drying food can work for dehydration, but your food may be contaminated by insects and bacteria if you don't use a dehydrating box. 
Meat Smoking
Creating your own beef jerky or other types of smoked meat can give you a variety of hearty, long-term options to enjoy on your survival journey. You'll want to use lean cuts of meat, which keeps things under five pounds. 
You also want to have meat that doesn't have too much fat. Brisket, top round, flank steak, strip steak, picanha, sirloin steaks, and rump steaks are all good options for smoking and creating jerky. However, turkey can also be used to create smoked meat options. 
Root Cellar
If you have your own backyard, you can create a root cellar to store your mason jars, root vegetables, and other survival gear. This is a natural shelter that is built out of a hole in the ground that you can expand into a small walkable space with shelves for storage.
These are below ground or can also be created in your basement. Many people use barrels to create root cellars in their backyards. Root cellars are susceptible to humidity and pests, so it's important to properly insulate your root cellar and rotate food items so that they don't get contaminated.  
Items That Will Ruin Your Survival Food
Now that you have stockpiled all of your most important food items, you might think that you don't need to do anything else. However, it's extremely important to rotate and monitor your emergency food for any signs of decay, heat, moisture, and contamination. There are safer areas of your home to store food than others, and you may have to fight off pests if you don't have the proper storage bin. 
Excessive Heat
The main killer of any food stockpile is high, persistent heat that melts seals on your canned goods and causes your plastic containers to expand. You don't want to place any of your food options in direct sunlight or in areas where they can grow to excessively high temperatures, such as an old garage with no ventilation or air conditioning. 
While you may think a great place to store your "bug out" survival gear is in your vehicle, this is the exact place where high heat will destroy your food. 
Any emergency food stored in your car will need to be rotated more frequently due to the extreme changes in heat. 
Direct Sunlight
It's always best to store your food in a dry area at room temperature in a dark room. This prevents direct sunlight from heating up your goods and turning them into a chemical slush. 
Moisture and Air
Humidity and oxygen exposure can shorten the lifespan of your emergency food. For this reason, it's best to store food items in closet spaces or pantries inside of your home, rather than outside, in a garage, in the basement, or in the attic. These areas may be convenient because they place large stockpiles out of sight, but you may not notice when there is a leak that can contaminate all of your food supply. 
Pests and Bacteria
Your disaster food supply could also suffer from contamination by rodents and bacteria depending on where it is stored and what type of food you are storing. Boxed or plastic storage is not optimal as rodents can simply chew threw these coverings to get into your stockpile. Instead, you should opt for glass or use a food-grade storage bin. Tactical storage is also key to preventing issues with bacteria and rodents.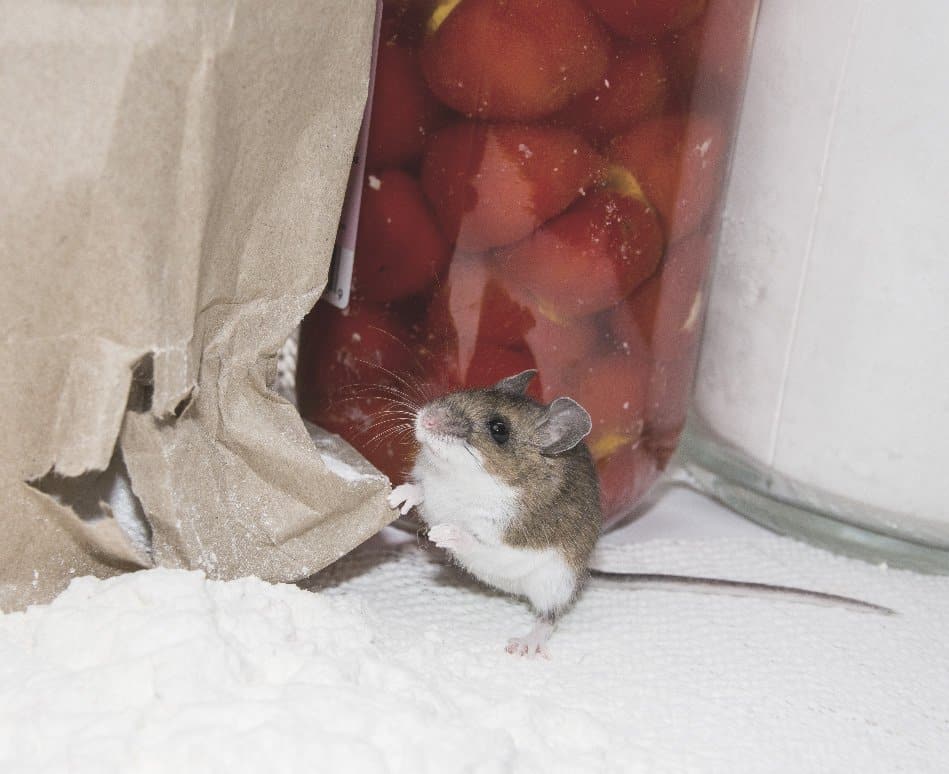 You should consistently check on your food supply to ensure that it hasn't been tampered with by any type of pest. You may see bite marks, open holes, or corrosion from bacteria. 
Age of Storage
Some food has a longer shelf life than others. Freeze-dried meals and MREs have the longest shelf lives, but they aren't the most appetizing sometimes. Non-perishable food items can also become contaminated if stored in containers that don't have the same shelf life, such as plastic water bottles that can expand in heat and turn water into chemicals. 
You should keep your staple survival foods in vacuum-sealed, air-tight containers to increase their chance of longevity. 
Some of the Best Food For Survival and Long-term Age Storage Include:
Rice
Crackers and biscuits
Dried cranberries
Honey
Molasses
Maple syrup
Dried lentils
Split peas
Dry mix jello
Dried beans
Nuts and seeds
Dried pasta
Ramen noodles
Instant coffee
Dried fruits like raisins, apricots, dates, plums, banana chips, and figs
Corn starch
Baking soda
Corn syrup
Salt
Pepper
Sugar
Dried herbs
Vinegar
Worcestershire sauce
Freeze-dried meals
MRE's (Meal Replacement Pouches)
Contamination
To avoid contamination, you should store food in a dry place away from chemicals and moisture. Bacteria can get into basements and attics due to structural leaks. You should always keep your food sealed air-tight in containers made of glass, if possible. Canned goods can break down in heat over time, releasing bisphenol and BPAs into your food supply as well.  
Conclusion
Surviving a natural disaster can be much easier with your own emergency survival supply. If you can start preparing your family now, you'll always have something to depend on when the day arrives to evacuate. You can live for months on your own food supply just by following this guide and starting small starting today. 
Remember, loosing your job also counts as a natural disaster so be prepared for every eventuality!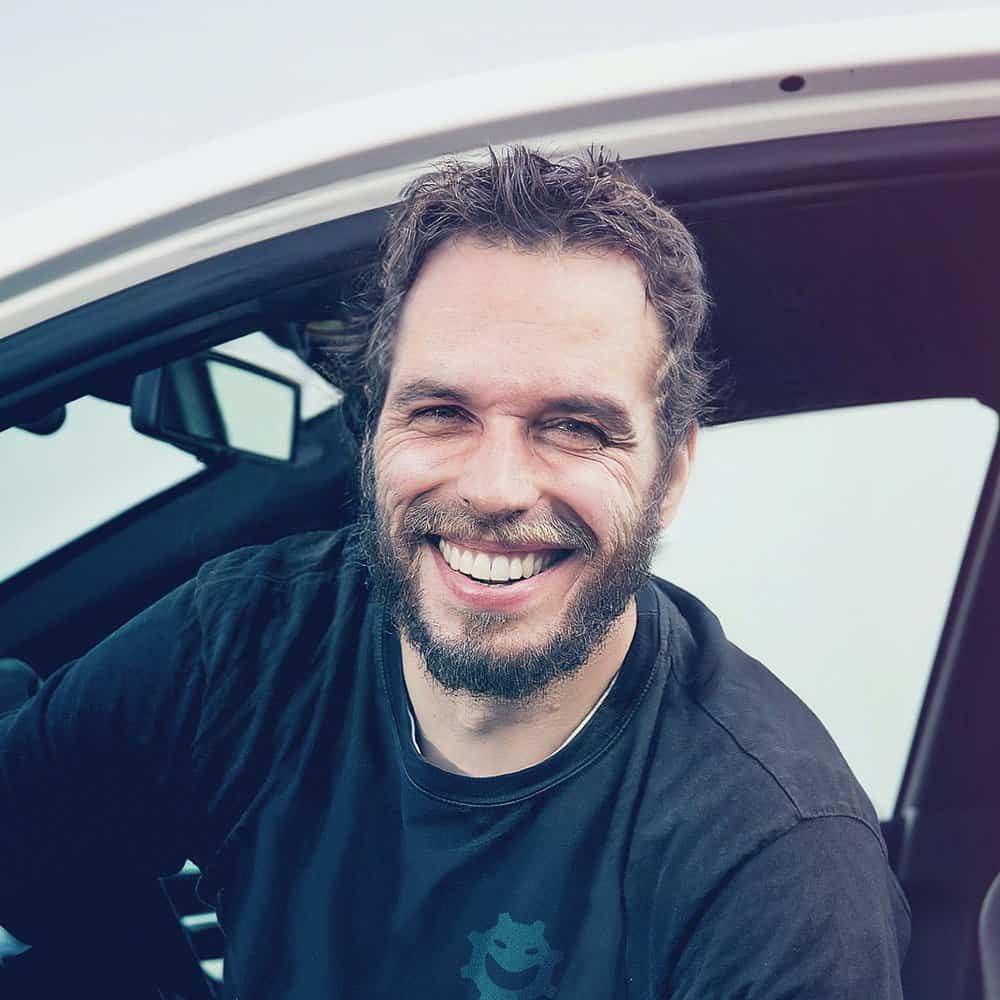 Hey, my name is Jared, a self-reliant expert and action taker. I hope you've enjoyed this article and found it informative. If you have please feel free to leave a comment below and share it with your friends and family, it would make my day!