Whenever I encounter someone building up a survival kit, I am always intrigued by the items they remember and those they forget. Whether someone is constructing a pack for hiking, a ditch bag for their car, or a survival kit for bushcraft, it always seems that they focus on the details and forget the big picture.
Sure, it's great to have the latest solar-powered GPS-equipped Bluetooth rifle scope or some other overcomplicated bit of gear, but the basics mustn't be overlooked. At the very least, any competent gear pack must have a knife, a firestarter, a compass, and a shovel.
I would argue that the shovel is the most-often forgotten piece of gear, and yet it is arguably the most important. Although a shovel may seem like a basic piece of kit, choosing the right one can be a complex topic.
We spent a great deal of time looking for the best survival shovel on the market, and we feel confident that we've found it. The superb multi-tasking EST Survival Shovel is an incredible survival tool, and its impressive list of features deserves some exploration.
Reasons Why You Need The EST Survival Shovel
It's The Best Survival Shovel Multi-Tasker
Keeping weight and size down is often one of the biggest priorities when dealing with survival gear. Even if you are outfitting a system for car camping or a cabin, space and weight can still be at a premium. When you are considering using gear for a back-packing situation, this priority becomes even more important.
This is the primary reason why the EST Survival Shovel is such an incredible solution. Beyond being a fantastic shovel, it also incorporates 17 other functions. Of course, many of these functions are slightly impractical or optimistic if we're being honest. However, it has enough core features that it is well worth choosing this over a single-task shovel.
Last update on 2023-11-18 / Affiliate links / Images from Amazon Product Advertising API
It Performs Its Primary Purpose Well
Obviously, the core use of this product is as a shovel. Survival situations require a shovel for a myriad of uses, from digging fire pits to clearing campsites. Quite simply, if this product can't perform well as a shovel, it is not worth considering at all. Thankfully, EST did not skimp on the primary focus. I have tested dozens of portable shovels, and they often feel unstable and fragile.
Not so here. Although it is relatively lightweight, the EST Survival Shovel feels incredibly rugged. The hinge is extremely strong and the hardened edges of the blade are confidence-inspiring when digging into the rocky ground.
A common obstacle with camping shovels is a lack of leverage and grip. In an attempt to save weight, survival shovels are often very short. This makes them awkward to use, especially when tackling tough ground with a lot of roots. Further, this can make them dangerous. A short-handled shovel gives the user less grip, making accidents significantly more likely.
The long handle is one of the primary reasons why we love this product so much. With all three handle segments attached, this becomes a nearly full-size model. Thus, it is easy and safe to use.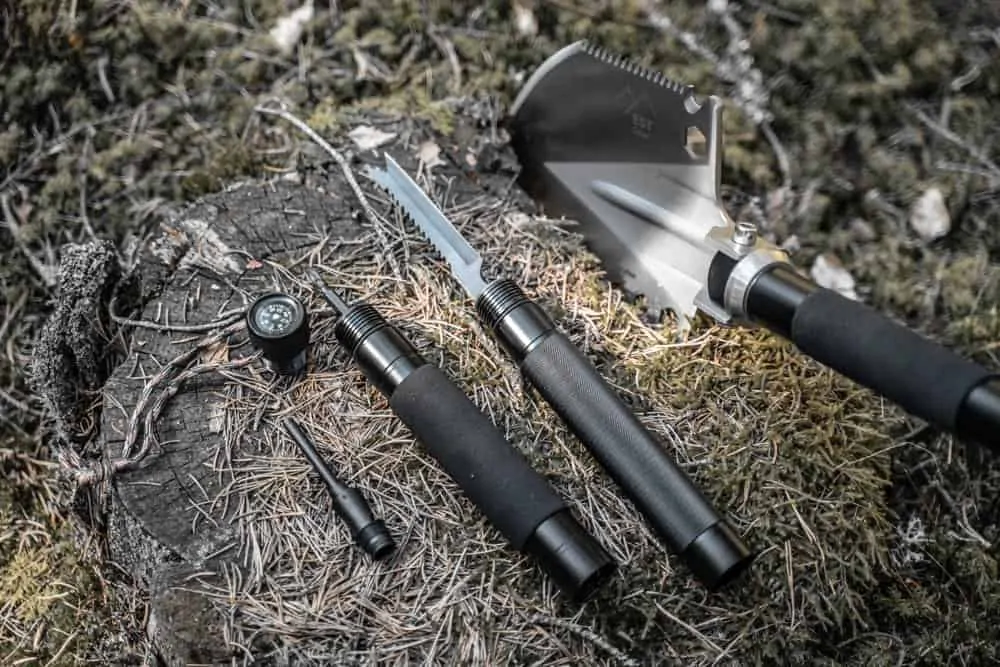 This Survival Shovel Has a Lot of Tricks Up Its Sleeves
As mentioned above, there is no shortage of added functionality on this shovel. These include:
Saw
Axe
Hunting Spear
Bottle Opener
Fire Starter
Hoe
Wire-Cutter
Trowel
Wrenches
Nail Puller
Ice Pick
Ruler
Hook
Screw Driver
Whistle
Compass
Rope Cutter
Not surprisingly, a few of these are rather repetitive. For example, although EST lists them as separate functions, it is hard to justify saying that "trowel" and "shovel" are distinct roles. However, anyone familiar with the multitool world is familiar with "feature padding", so we cannot begrudge them for trying. Yet, beyond the advertising puffery lies a superb set of tools. The long handle makes using this shovel as a saw or axe simple and effective. The edge can even be used as a hammer in a pinch if you are mindful of the blade.
The additional tools stored in the handle is a fantastic innovation. Otherwise, this would be empty space filling up your pack. However, EST has made sure that no crevice is wasted. The screwdriver is a particularly effective addition, as the inherent shape of the handle lends itself to this being an extremely ergonomic tool. The screwdriver also uses a standard hex-shank, so if there are any specific bits you need that are not included, any off-the-shelf bit will work.
Further, the inclusion of basic survival gear like a fire starter and a compass means that this tool can replace a lot of the loose gear filling your gear bag. Thus, it's not just the fact that the features are there, it is the fact that they are included in a usable and organized way.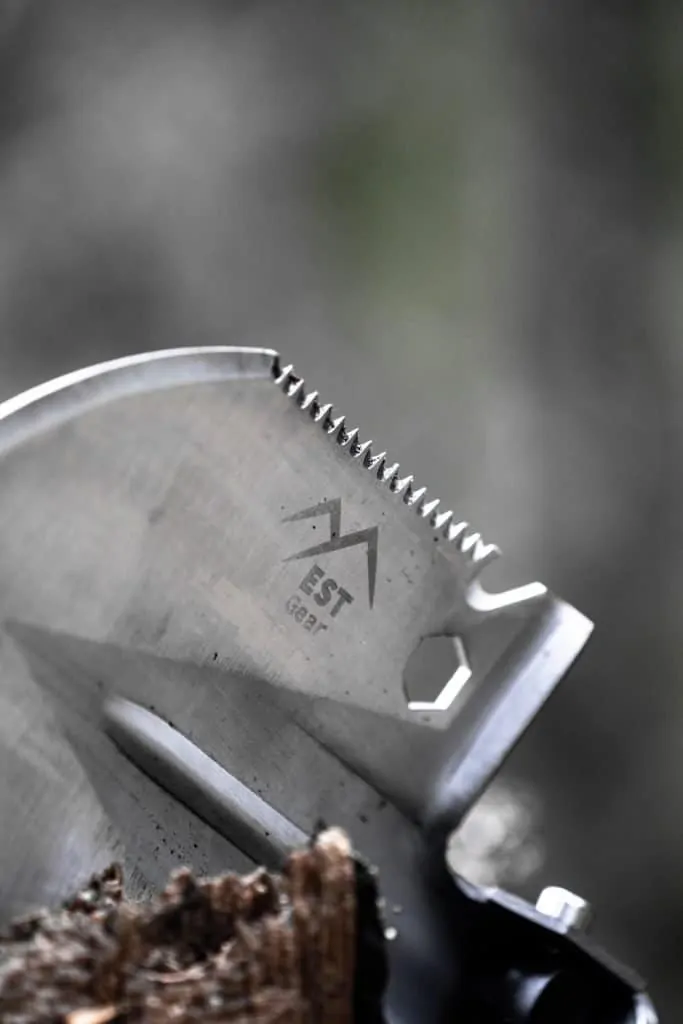 EST is a Company Driven By a Philosophy
We are big believers in the idea that when you shop for survival gear, you aren't just buying a product. Rather, you are supporting a company. Because of this, our gear reviews always consider the underlying companies. No one wants to inadvertently support a company whose philosophies do not align with their own.
They're One of Us
EST was founded roughly a decade ago by a group of avid outdoor enthusiasts who wanted to produce sustainable, rugged, and efficiently designed gear. They had noticed the trend of survival gear becoming increasingly gimmick-driven and disposable, and they strived to offset this trend.
While EST gear is not always the least expensive, their team of engineers try to ensure that it is always the most well-made. You will never find cheap plastics or easily-corroded fasteners in EST products. Rather, the vast majority of their gear is made using aluminum, stainless steel, grade-8 fasteners, and any other high-quality material they need.
Their Warranty Stands
This commitment to quality allows EST to commit to customer service as well. All of their products include a lifetime warranty. If anything goes wrong with an EST product, they will replace it without any question. Having spent years reviewing and testing camping gear, I will admit that I am somewhat suspicious of many "lifetime warranty" claims.
Often, these policies fall within mountains of fine print, and the warranty is only valid if you filled out the 173-page registration form for a product that broke on a Tuesday during a full moon. Quite simply, sometimes the "warranty" isn't worth the trouble. Thankfully, this isn't the case with EST.
I asked around my local outdoors group to see if anyone had dealt with a warranty claim with an EST product. I found two people who had. One person had a torch made by EST where the seal around the lens had dried out, allowing moisture into the body of the light. Another member had an older model of the EST Survival Shovel where the hinge had gotten slightly loose over time. Both members reported that EST addressed the issue and sent them a replacement product without any complaint or hassle.
They Have a Broader Mission
Finally, EST believes in following a broader philosophy than simply building great outdoor gear. Rather, they strive to protect the environment that we all love exploring. By building such long-lasting gear, they are reducing waste by only needing to manufacture a product once. Further, their production processes are environmentally-focused with an eye towards waste reduction wherever possible. Even their shipping is specifically chosen to be carbon neutral. They aren't just trying to make the right product, they're trying to make it the right way.
What Can The EST Gear Survival Shovel Do?
It all looks great on paper, but we needed to put this shovel to the test. The best survival shovel needs to be able to perform in a variety of situations. In my experience, the two most common failure points for camping shovels are the hinges and the blade-edge. Thus, if this product was going to get our endorsement as the best survival shovel multi tool, it needed to show that it didn't succumb to these flaws. I spent just over a week hiking through the western Smoky Mountains of North Carolina with this tool and tried to use it almost exclusively. Whether I was clearing brush for my tent, chopping firewood, or digging a cat-hole, this shovel was my go-to solution for the entire journey.
As a shovel, it performed beautifully. The blade was sharp and the trailing edge of the shovelhead was broad enough that getting leverage was easy, even when wearing chunky hiking boots. I purposefully abused this tool to try and exploit any lingering weaknesses. Whether digging through rocks, heavy roots, or sandy brooks, it never seemed to struggle. After a week of very hard use, the edge of the blade showed almost no sign of dulling. Aside from some scuffed paint, you could hardly tell it had been used at all.
The remainder of the tools proved useful as well. The fire-starter is fairly large, so it made it extremely easy to grip while igniting kindling. Even after a drizzly day, I was able to start a fire quickly and efficiently. I knew the trails I was hiking so I will admit I did not necessarily need to use the compass. However, I tested it several times and it was always easy to read and accurate. The screwdriver was very ergonomic to use as well. Even the bottle opener worked great in my "challenging" tests.
Perhaps the only hesitation I had with this tool was as an axe. This is not really ETC's fault. The axe-edge is sharp and made of hardened steel, and the handle/hinge combination seemed sturdy when used aggressively. Yet, there is an inherent difficulty in including an axe within a lightweight tool. The advantage of this survival shovel axe is how compact and lightweight it is. Yet, without the heft of a traditional axe head, it can be somewhat challenging to use. That said, it proved perfectly acceptable for smaller wood, and the saw is effective enough to make up for any shortcomings of the axe.
What We Love about The EST Survival Shovel
There is a lot to appreciate about this tool and a wealth of reasons why we consider it to be the greatest survival shovel multi tool on the market. With any tool, it is rarely the list of features or specifications that win us over. These are considered, but the attention to detail is often what makes or breaks a product. You can tell when a company cares about the products they produce.
Examining the EST Survival Shovel, it is abundantly apparent that every aspect was carefully considered. The hinge is solid but easy to manipulate. The handle threads together with satisfying precision. Even the carrying case is beautifully made and holds the shovel in a way that protects it and prevents it from rattling. It is not one thing that makes us love this shovel. Rather, it's the culmination of the entire product experience.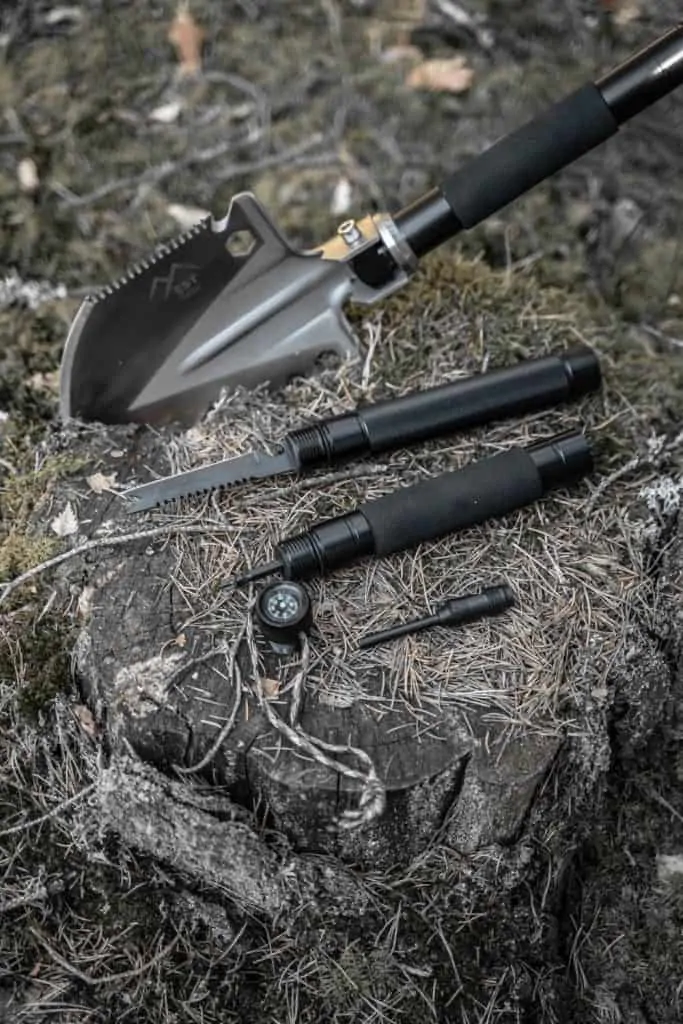 Is The EST Gear The Best Survival Shovel and Is It Worth It?
When we set out to find the best piece of survival equipment, we always consider the price. However, we believe that it is always better to spend a little more on gear that will last a lifetime, rather than save a few pennies on something questionable. There are certainly less expensive options on the market for survival or combat shovels.
For a lot of people, this shovel will represent somewhat of an investment. Yet, there is little question that this is the best tactical shovel around. In terms of function and quality, the cost is wholly justified. The cost of gear is never simply the initial purchase price. Rather, it is the total cost over a lifetime.
A single piece of gear that lasts for generations will almost always be more cost-effective than something that has to be replaced every season. To that end, yes. This shovel is undoubtedly worth it.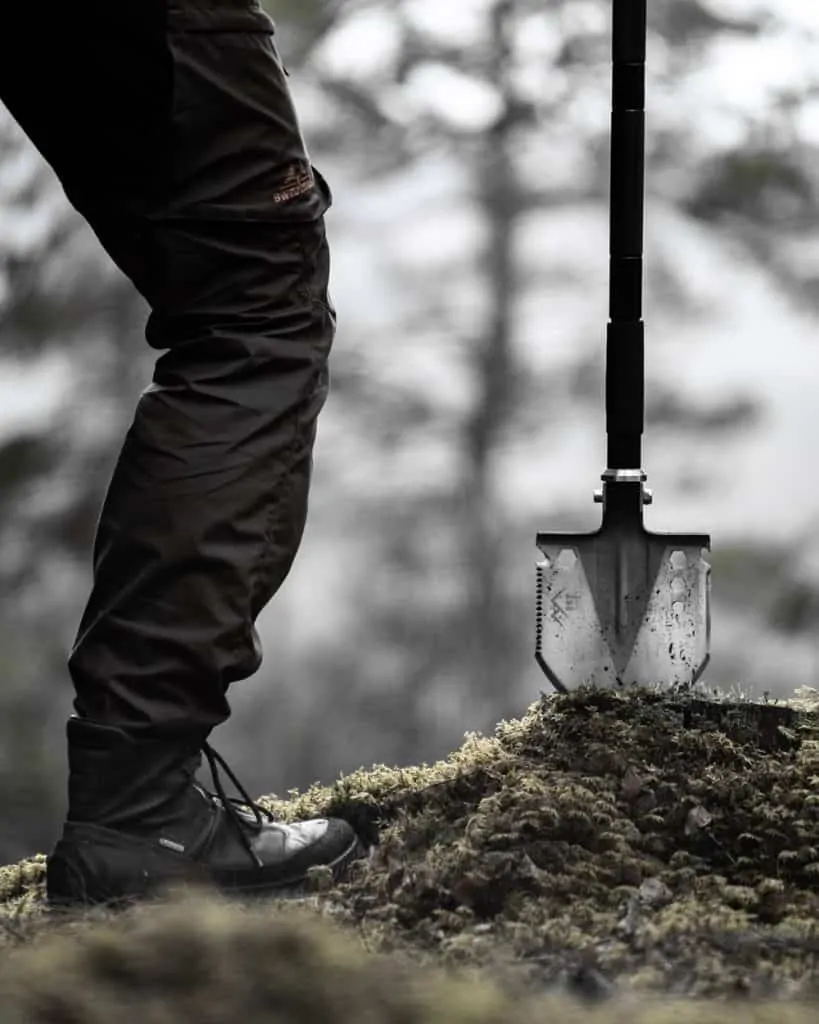 Are There Any Survival Shovel Alternatives?
We reviewed over a dozen different tactical shovels before deciding to feature the EST. Among these, there were a few noteworthy options for someone looking for a less expensive alternative. While these lack the no-compromises quality of the EST model, they are still good options for many survivalists.
Mempa Tactical Multi-Purpose Folding Shovel
Last update on 2023-11-18 / Affiliate links / Images from Amazon Product Advertising API
Given their very similar designs, it is likely that the Mempa is a reduced-cost copy of the EST. This is often a recipe for disaster, but this particular model did a fairly commendable job of cloning a higher-end product.
The fit and finish are not as good as the real deal, but the overall function is still respectable. This alternative also includes an impressive list of accessories, such as a fish sphere and a glass-breaking attachment. As a cost-saving option, this is a good one to consider.
OKOOLCAMP Survival Camping Shovel
Last update on 2023-11-18 / Affiliate links / Images from Amazon Product Advertising API
For the ultimate budget-friendly option, the OKOOLCAMP is not a bad choice. We appreciated the fact that this tool maintained a back-to-basics approach without trying to add more complication than needed.
It lacks many of the more elaborate features of high-end models, but as a straight-forward folding camp shovel, it performs well. Will it be a tool you give to your grandchildren? Probably not. However, the overall quality is more than respectable.
Frequently Asked Questions
Q: What Does The EST Gear Survival Shovel weigh?
A: The fully-dressed shovel weighs just under 3 pounds, including the carrying case.
Q: How Strong is The Survival Shovel Handle?
A: This is a common weak-spot on folding shovels, so I was sure to test the strength of the handle itself. Even when scooping extremely heavy mud or wet sand, the handle showed no signs of bending.
Q: What Is It Made Of?
A: The body is primarily military-grade aluminum, but the shovelhead is hardened stainless steel. Thus, the entire tool should be extremely corrosion resistant.
Q: Where Is The EST Gear Survival Shovel Made?
A: It is made by EST in the United States.
Q: Can You Rotate The Shovelhead For Trench-Digging?
A: Yes. You can rotate and lock it 90-degrees for digging a trench.
Conclusion
It is always refreshing to come across a product that seems to exist without compromise. The EST Survival Shovel is beautifully made, functions impeccably, and packs down to an impressively small and lightweight size.
Whether you are looking for the ultimate do-it-all addition to your own gear or are searching for a truly special gift for a survival enthusiast in your life, this is a brilliant option. EST's commitment to quality shines throughout this product, and it stands as an example of what separates "good enough" from truly "great."
Last update on 2023-11-18 / Affiliate links / Images from Amazon Product Advertising API