Taking a family camping trip is fun and fulfilling – that is, once you've gotten to the camping spot and situated everything. Rewind to the preparation part – disorganized chaos, trying to remember where this flashlight or that cooking pan is.
The first aid kit is imperative, but during all that packing and preparing, resupplying it was haphazard, and that can spell trouble later down the line.
Sale
Surviveware Large First Aid Kit and Added Mini-Kit
200 PIECE FIRST AID KIT: Includes 100 high-quality car emergency kit essentials and first aid supplies to help care for minor wounds, cuts, scrapes and burns. Includes bonus mini kit and blanket.
CLEAR, QUICK ACCESS: Our first aid kit box is clearly labeled and organized so you can find what you need when it matters most. Whether it's your first aid kit for home or on the road, you'll be ready.
DURABLE, DEPENDABLE: Made from high-quality rip resistant 600D Polyester, this medical first aid kit is also water resistant.
TRAVEL ESSENTIALS: Made with removable MOLLE compatible straps, snaps and advanced mounting system, this is your car first aid kit emergency kit, home first aid kit, or anything you need it to be.
DESIGNED BY ADVENTURERS FOR ADVENTURE: This emergency first aid kit was thoughtfully designed for peace of mind on your next outdoor adventure. Registered FDA Medical Device. This product is FSA HSA approved.
Last update on 2023-11-17 / Affiliate links / Images from Amazon Product Advertising API
Things to Consider Before Buying a Large First Aid Kit
If you're outside camping, a minor injury such as a scrape or splinter can be right around the corner, as can more serious injuries. No matter where you are, it's all about being prepared – if there is no medicine cabinet or drug store in front of you, it's important to have a first aid kit in case you need it. It's also good to have a kit that is well-stocked and well-organized – the kit's ease of use should be the last thing you'd need to think about.
And how does the saying go – It's better to have it and not need it, than to need it and not have it? Whoever said that must've been talking about a first aid kit. When it comes to taking care of yourself and your loved ones, the more needed items, the better.
During one camping set-up a few years back, we had a small first aid emergency and I was scrambling to find what we needed to treat it. It would have been such a simple thing at home but we were in the middle of the woods, and the kit that I put together at home was somewhere in the supplies that hadn't been unpacked.
I decided it was time to look for a real first aid kit, and more inclusive than the ones offered at the drug store.
There are many options on the market when it comes to first aid kits, and many brands come with a lot of supplies, which is key, all at a decent price. But when we came across the Surviveware First Aid Kit we were impressed with the configuration and how many different supplies each kit holds – especially the large first aid kit. And the large kit comes with a mini first aid kit that you can take easily on a hike or to the beach.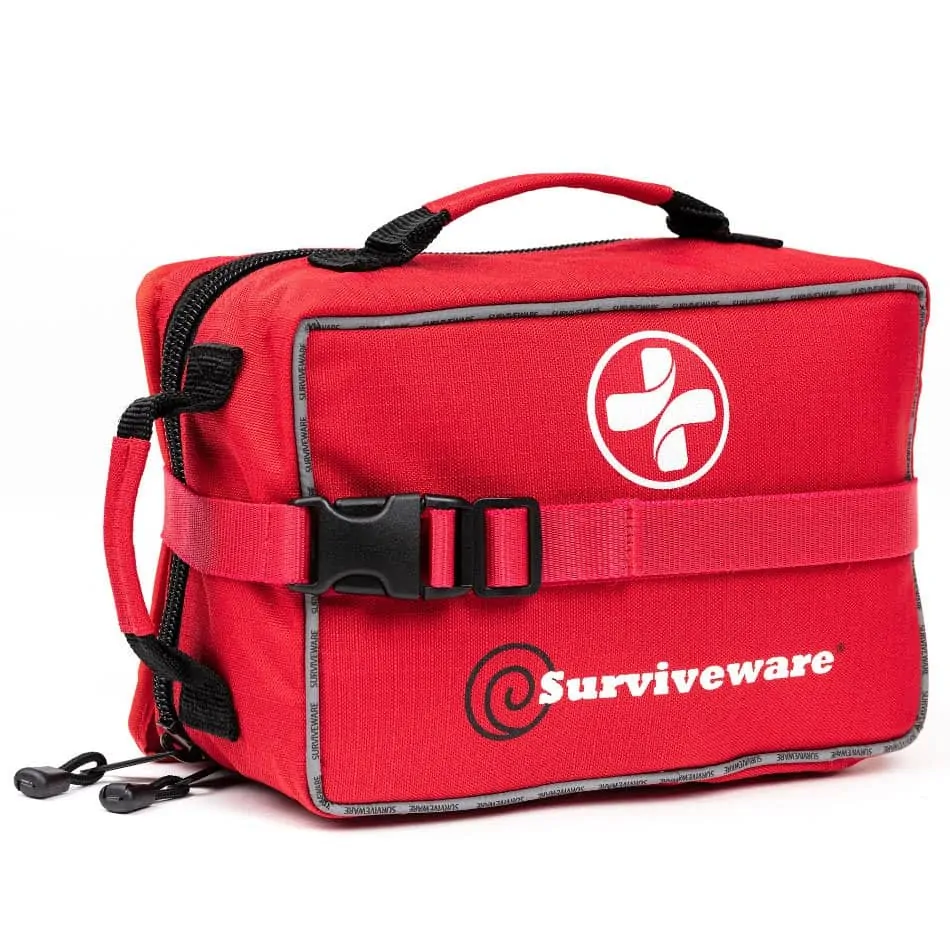 For your home and car, all of the large first aid kit contents are probably overkill, but even if you're not a camper, you should still have a first aid kit stocked and easy to get to, in case you need it. In the unlikely event that you have to travel suddenly and you need survival items, it's good to know that this important item is there for you.
The Large First Aid Kit Contents – The Skinny
The list of items contained in this kit is impressive and includes many important items that most of us wouldn't even know we needed. Here are the large first aid kit contents:
Bandages
It's important to have the right size bandage for a wound so that it stays clean and dry. The Large First Aid Kit has an impressive assortment of adhesive bandages: 2 large, 20 standard, and 5 each of Butterfly Closures, Butterfly, H-Shape, and Square Shape.
Also included
1 crepe bandage (winds around a limb to keep a dressing in place)
3 Strip Wound Closures for small wounds that don't need stitches
A Triangular Bandage
A piece of cloth which is a first aid staple but is generally used to immobilize a fracture or dislocation
1 PBT Conforming Bandage which also holds a dressing in place and give the wearer flexibility of movement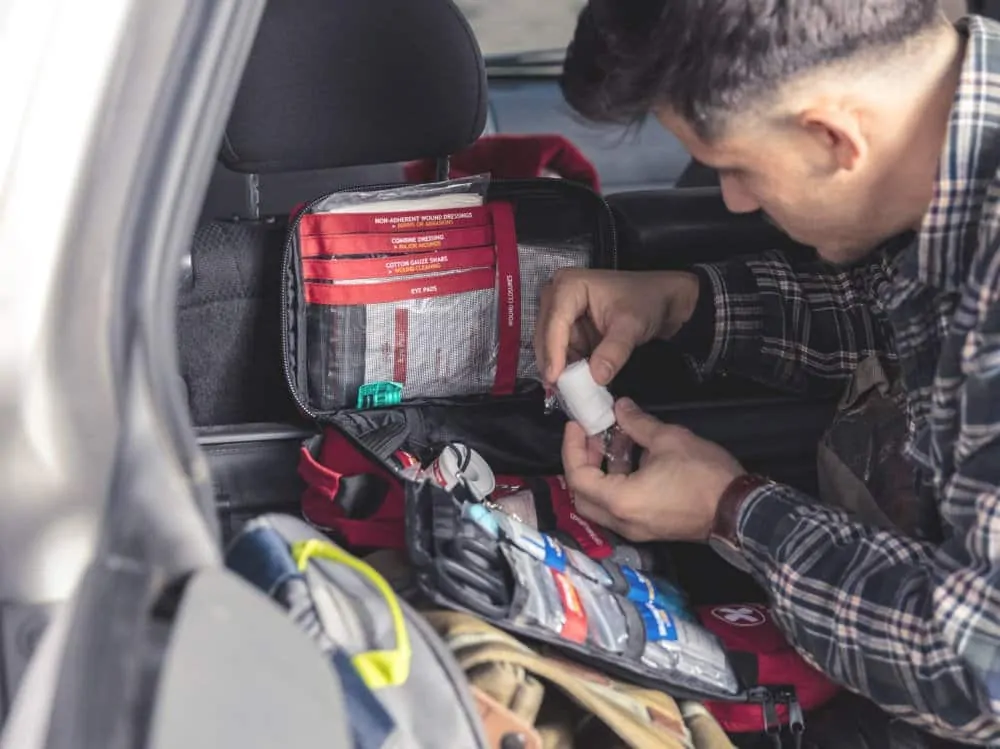 Care Preparation Items
1 pair of nitrile gloves (ambidextrous and made of a sturdy synthetic rubber) – needed to prevent infection to both the patient and treater
1 well-made pair of 6" shears (which can come in handy in all sorts of travel/camping situations besides first aid)
1 tweezer (can be used for stingers or glass shards)
2 splinter probes- it's so easy to get splinters, and they can usually be ignored, but you don't want them to sit under your skin where it can get infected
For Cleaning, Disinfecting and Dressing Wounds
3 Alcohol Wipes and 4 Antiseptic Wipes
3 sting relief wipes for those common outdoor bug bites
3 Cotton Gauze Swabs and 10 Cotton Swabs
2 eye pads
1 roll of hypoallergenic tape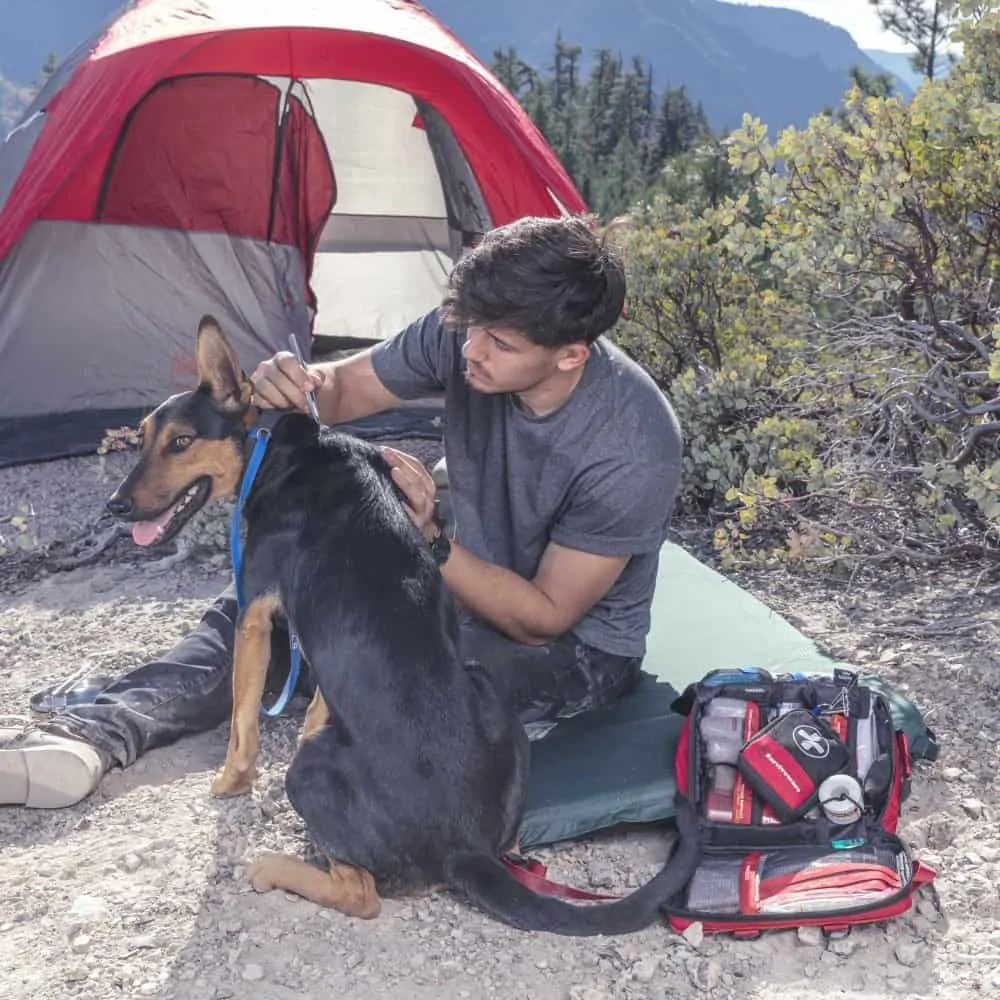 Other Important First Aid Items Included
1 Whistle (in case you are alone and injure yourself, or need to get others' attention)
4 Safety Pins (for attaching or holding things)
1 CPR Pouch with Instructions
1 CPR Breathing Mask (if heaven forbid there's a heart attack or near-drowning)
1 Emergency Blanket (definitely handy for camping or if your car breaks down in the cold)
1 Personal Medicine Laminate Bag)
1 Personal Medicine Mini Bag (for prescriptions or special meds)
Advanced First Aid Handbook And Information Guide – so important when you're faced with what could be a serious injury and you need to quickly assess the situation to give the right treatment
If you have your cell phone handy during treatment, you can also access a PDF of the Information Guide which comes with the kit.
Now for some really awesome features of this product:
The Soft Shell Storage Case
The construction of the case for the kit is the most important part, outside of its contents. The supplies need to be kept together and safe from external conditions.
This bag is perfect in these aspects:
Made of water-resistant 600D Polyester (the 600D means the fabric is denser and therefore sturdier). If you take this kit on a boat, it'll float if it falls in the water. The bright red color and its light-reflective piping make it easy to spot in daylight or darkness.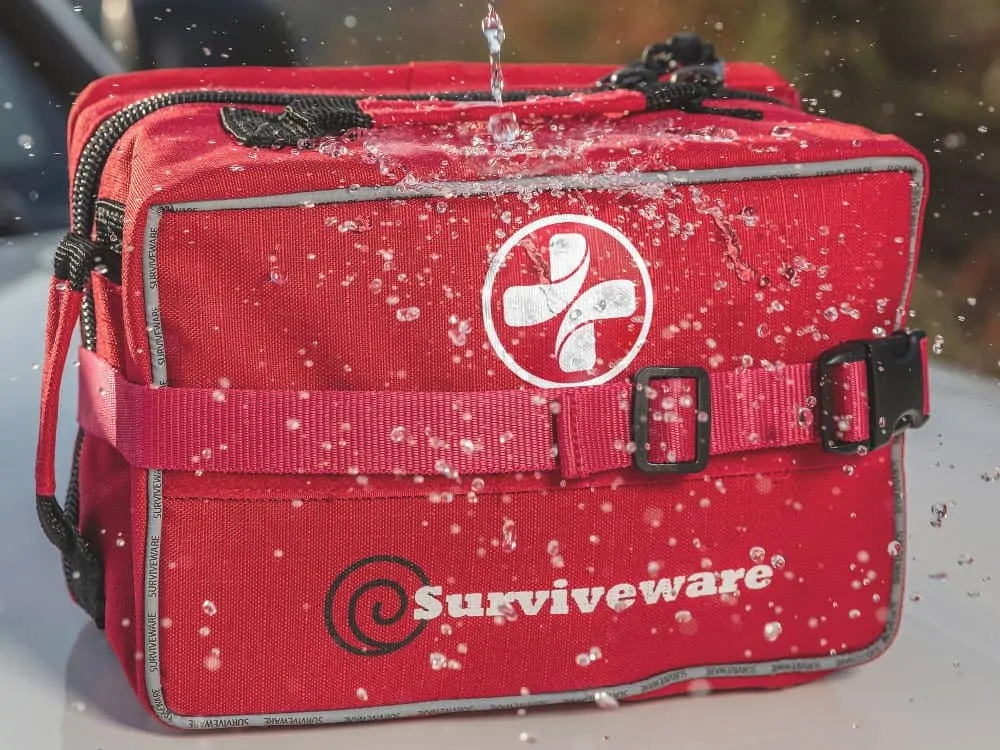 Molle Features
The storage case is a Molle-type bag. Molle stands for Modular Lightweight Load-Carrying Equipment. Molle strap configurations are widely used by the military because the straps provide additional places to attach equipment.
This kit has a strap which can be attached to a bigger bag, a roll bar or headrest, wrapped around a tree, or wherever you need to be able to reach it easily.
The large first aid kit can be opened while Velcro-attached vertically, so you can access the contents right away. This can be important if you don't have a lot of horizontal space to work with.
The strap can also be removed and you can stick the kit in your car's trunk vertically with the super-strong velcro.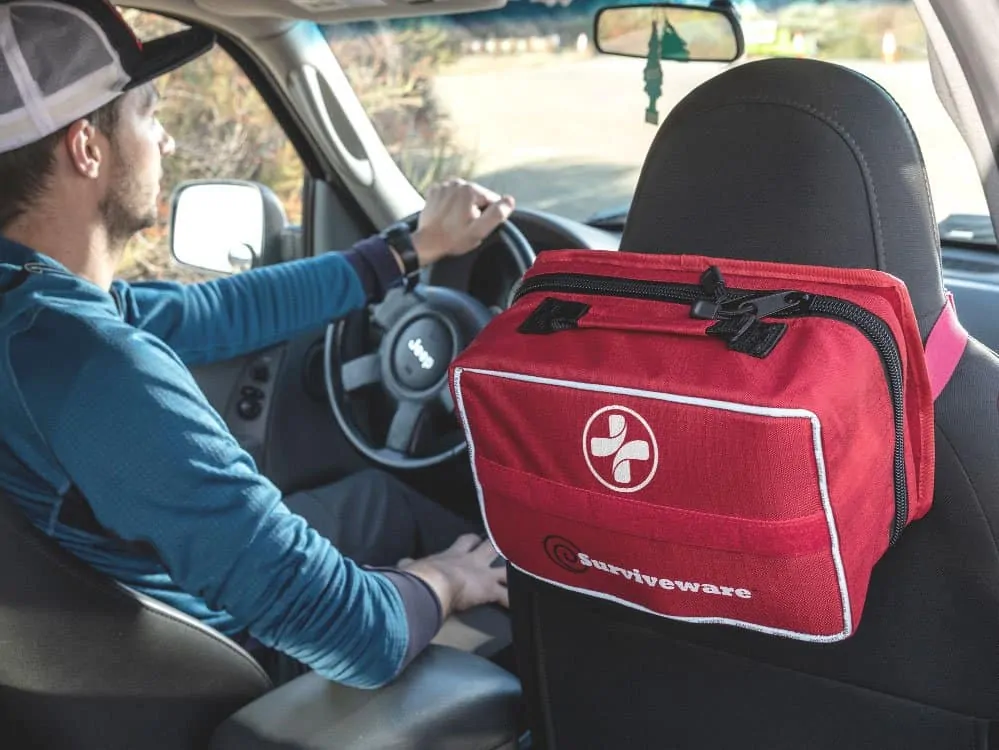 Additional Features You May Not Think About
Organizational-wise, a first aid kit needs to be so easy, even a child could use it if it ever came to that.
Each section of the bag is stitch-labeled on strong fabric, not only with the name of the supply, but also the use for each supply, so that you know you're using the right items for the injury. And no more digging around for the right sized bandage or ointment.
The configuration of the bag is such that nothing is stored underneath anything, so you can see everything in the kit. When you return home, you can easily see what needs to be re-supplied.
The pouches for each supply are made of a strong but flexible plastic and are also water-resistant.
The Large First Aid Kit comes with a mini 50-item first aid kit, great for mobile trips like bike rides, hikes and such, when you are needing to travel light.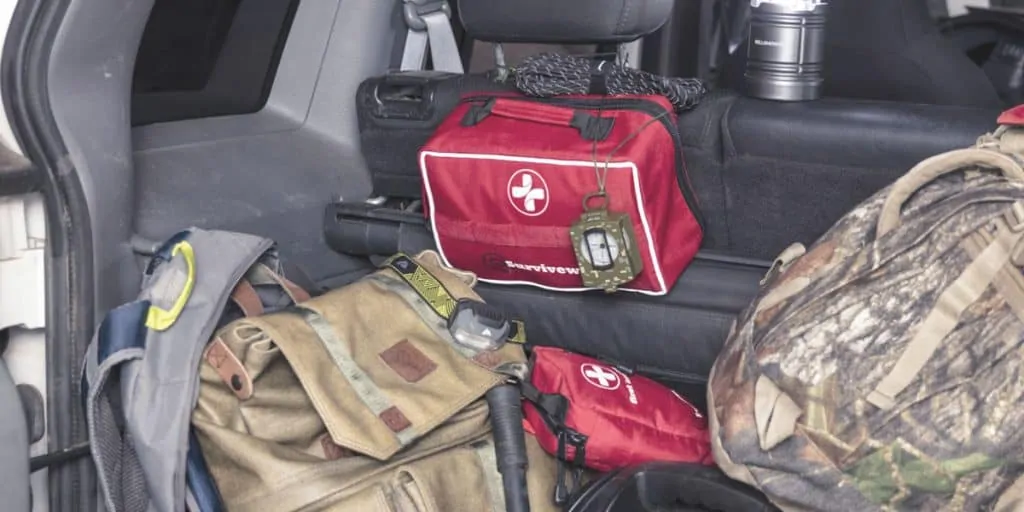 Even seeing the many items listed in the kit, we thought of a couple things that the kit didn't include. During the small emergency mentioned earlier, one of my stepdaughters was playing with a glowstick when it broke and some of the liquid got into her eye.
We were just setting up camp and didn't have water readily available yet, so we had to upend the giant water bottle we'd brought to pour over her face, to flush out the liquid. So we were thinking that an eye wash would be a good thing to have.
That instance was unusual but come to that, it could be easy to get bug repellant in your eye, especially if it's windy where you're applying it, or if it's transferred from your hand to your eye. As it turns out, you can buy small eye wash kits, or even simpler, a kid-sized bottled water.
We also thought there should be OTC meds like aspirin/Tylenol, allergy meds, and especially an Epi-Pen in the kit if needed. This first aid kit accommodates these needs and more, with the personal med bags and extra room for additional supplies you might need.
So Many Fans
We read many great reviews of these large first aid kits given by regular folks, as well as by people trained to use first aid equipment such as former paramedics.
They were impressed by the kit's comprehensive contents and the labeled sections, and that the supplies would allow for effective treatment until a trip to the hospital is possible.
Many reviewers said they would be giving these kits as gifts so that their loved ones would be prepared as well – such a great idea!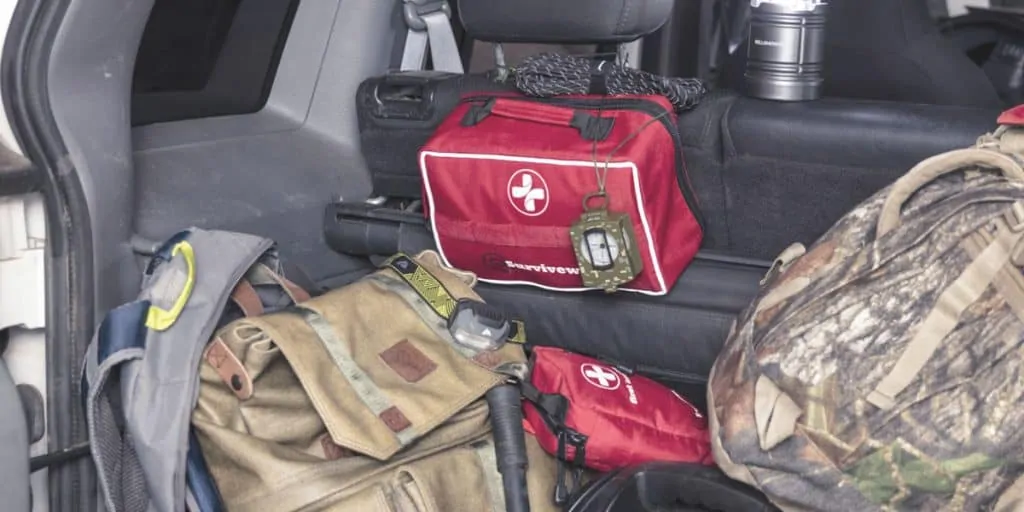 Surviveware The Company
Reading about this great kit made us curious to find out about the company itself. Turns out, a couple of crazy kids, Janco and Amanda, met and fell in love and then did a lot of traveling and camping together. They joke that Janco is a klutz, and after several away-from-home mishaps, they came up with this concept, and the company was born.
The company itself is run by Janco and Amanda hands-on, so if you were to have any questions or (unlikely) suggestions, you can talk directly to them. Amanda even responds online when someone asks about the dimensions of the bag: "The dimensions are 10x5x7.5. Cheers, Amanda"
And here's an impressive part about the company: from each kit purchased, part of the profit is given to Hands Free, a non-profit group that helps veterans and children by making 3D printed prosthetic hands. We love when we get a great product for our money, but to us, it's made special by this added pay-it-forward benefit.
Conclusion
The Surviveware Large First Aid Kit is a boon for both amateur campers and travellers, experienced thrill-seekers, and everyday home and car use. The kit not only contains multiple necessary emergency treatment items, many of which you wouldn't know you might need. It is also configured in a way that is so important for ease of use and replenishment.
The Surviveware Large First Aid Kit is a great product and what's considered a necessary item to own.