If there is one thing that most outdoor enthusiasts, survivalists, and avid campers can agree on, it is that there are few things more fun than getting new gear. The thrill of trying out a new camping gadget on the trail is a thrill, and most enthusiasts are always striving to refine their pack for increased function utility. However, curating the best gear for your adventures can be a time-consuming process and that's why we have decided to put together this battlbox review.
BattlBox is a subscription service that gives you an endless supply of the best camping gear without the tedium of sifting through reviews and catalogs yourself. They offer four different plans to account for any budget, and the gear is hand-picked by a team of expert camping enthusiasts. In this battlbox review we will explain the differences between each of the subscription boxes. Of course, we did not want to take their claims at face value. We signed up to one of the subscription boxes to tell you first hand if this program is worth it. Here's what we found.
Things to Consider Before Buying a Battlbox Subscription
One of the main challenges that survival and outdoor enthusiasts face when setting up their camping equipment is that they simply don't know what they need. I've been an avid camper for years, and I still come across new items every day. Writing this battlbox review has reaffirmed this classic case of "you don't know what you don't know." That's why the idea of a subscription is such a brilliant idea.
By allowing experts in the field to select your tactical gear and the most useful items for various situations, you can benefit from gear that you might not have otherwise known about. Better yet, you can be certain that the items in your box you are getting are of the best quality.
What is a Battlbox Subscription?
Simply put, Battlbox provides curated tactical gear and other items for camping and survival enthusiasts. However, they take the process a step further and make sure that each month provides a new and exciting set of gear. Each subscription box is labeled with a "mission" number, and the gear within will often fit a certain theme or idea. They wanted to make sure that budgets wouldn't be a limitation.
In this battlbox review we cover the four different price points offered, ranging from extremely affordable to a little pricier. Of course, the quantity and magnitude of gear go up with each level. However, even the least expensive tear is still packed with interesting gadgets and gear.
Types of Products Boxes Available
The four levels of subscriptions are "Basic", "Advanced", "Pro", and "Pro Plus." Basic subscription boxes are unsurprisingly the most affordable, but the gear within is still extremely novel and often surprising. A Basic box will typically contain field guides, EDC accessories, and small camping gadgets like water filters or fire starters.
Moving up the ranks, the Advanced box is only slightly more and includes even more impressive equipment. Advanced boxes often include more substantial gear for bushcraft and hiking, such as flashlights, forestry tools, and even communications equipment. It's not uncommon for a single item in one of these boxes to be as valuable as the monthly cost of your subscription.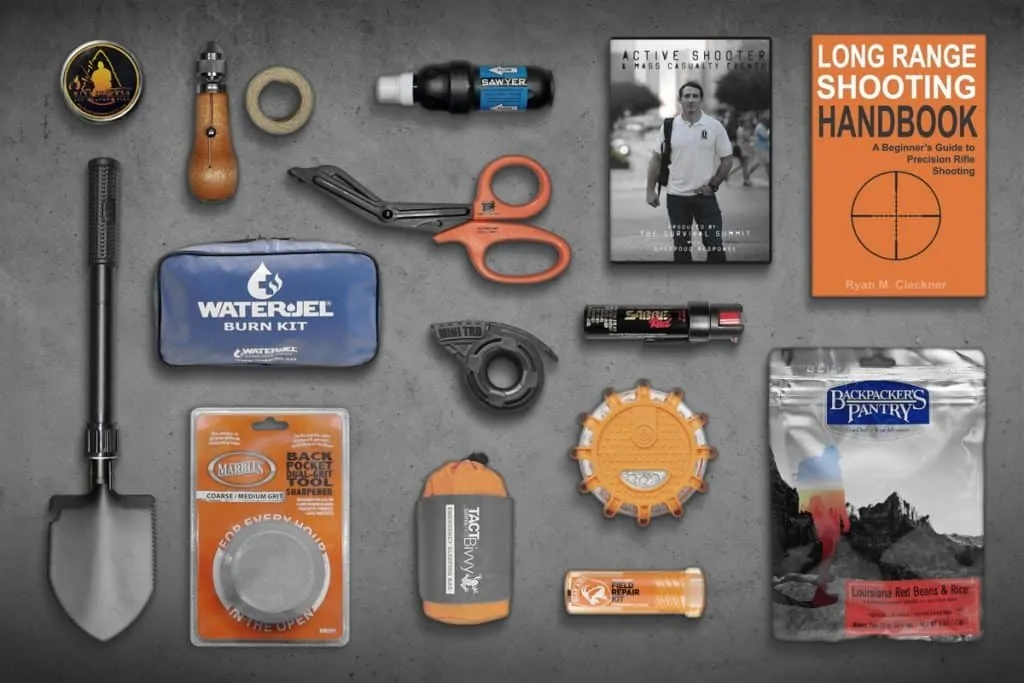 Once you hit the Pro level, you really start getting into some big-ticket items. Pro-level boxes include substantial gear, often focused on hiking, camping, and survival. Although it varies monthly, Pro boxes often include tents, sleeping bags, survival watches, tactical gear and backpacks. It's like having a camping goods store delivered to your door, one piece at a time.
Finally, the Pro Plus level is for anyone truly passionate about adventure. Pro Plus boxes include all of the gear from the lower boxes, but also feature promotional name-brand gear from the likes of TOPS, Kershaw, Spyderco, CRKT, Gerber, Bastion, and more. They partner with the big names to get you the highest quality gear at the lowest prices.
There is also the Battlbox Black which offers premium gear and is only available to exclusive members that that qualify. Take a look at what you can expect from one of their Battlbox Black 'Make Some Noise' offerings.
Looking More Closely At the Product
When looking at subscription boxes or rather services, people are often concerned that the gear won't fit their needs or that the cost won't be justified. We had these concerns ourselves, and that's why we wanted to dive so deeply into this battlbox review.
Every month, they tried to include one "primary" item that serves as the centerpiece of the box. The grandeur of this item may vary a little depending on your subscription level, but it will typically be a very substantial item ranging from an EDC flashlight to a backpacking tent. It varies by month, but the value of this one "showcase" item will typically be enough to offset the price of the subscription plan. In other words, the rest is gravy.
I've subscribed to different subscription plans before, with the products ranging from steaks to electronics. One of the biggest complaints I often have is that there tends to be a lot of "filler" in these subscription boxes. There will be one nice item, but the rest is relatively pointless knick-knacks. Battlebox did not fall into this trap.
Even though some of the ancillary items were quite small, and some are fairly low-cost, they were always thoughtful and useful. For example, one box included an adapter that allowed me to refill my green propane camping bottles from the larger propane bottle I use for my grill. This was an item I would have never thought of, but it allows for a huge convenience and savings. It's these "I didn't know I needed that" items that are the real star of shipments included in your subscription boxes.
With the higher-tier subscription boxes, the quality of the gear is frankly shocking. BattlBox partners with a wide variety of suppliers and can secure some incredible deals due to the volume they can support. Sometimes the items are overstock, or early release, or otherwise more readily available than normal. In any case, they can work with these companies to pack their boxes with high-quality camping gear at a huge discount to you. The Pro plans are particularly impressive.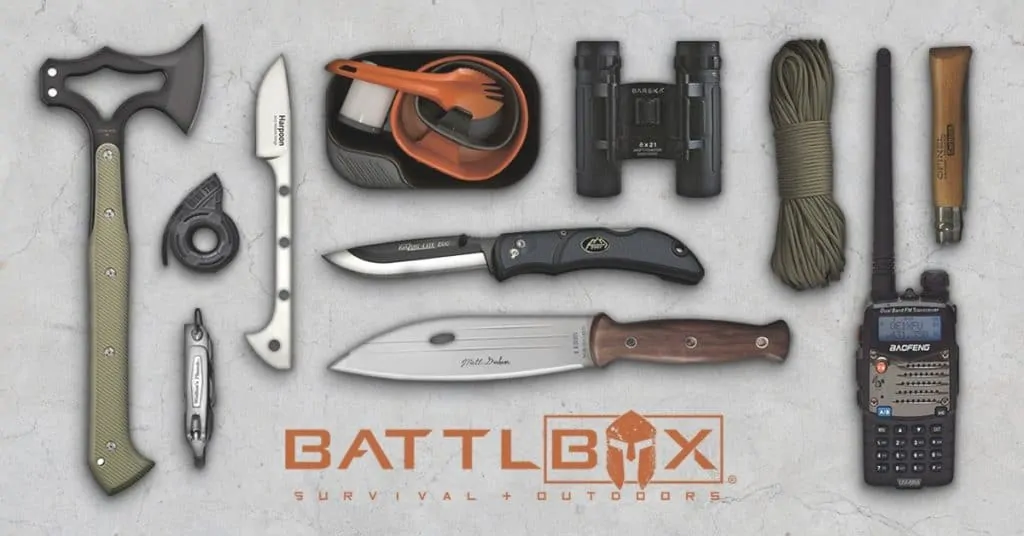 Each month, you will receive a larger item with the Pro plan. So far I have gotten a hiking backpack, a cold-weather mummy bag, and an ultralight backpacking tent. Each of these items more than paid for the monthly fee, and that does not even account for the added items packed within each "mission."
If I had any complaints, it would be that some of the items may be duplicates for anyone who has a lot of experience camping or hiking. For example, I have been an outdoor enthusiast for many years. Thus, I already have a set of camp cookware that I enjoy using, so the new set that they supplied was not strictly necessary. That said, the "overflow" items will make fantastic gifts for friends and family. Further, anyone who already owns less gear will likely not run into this problem.
What We Liked
Wide variety of gear
High value items
Lots of name brands
Creative ideas and problem solvers
Very little "filler"
Great customer service
Good to Know
Items may be duplicated over time
Does not always fit your specific camping style
Features & Benefits of The Battlbox Subscription
There's a lot to like about this plan. The value is great, the gear is useful, and the variety is high. However, it's worthwhile to highlight in our battlbox review a few of the specific advantages I noticed while receiving shipments.
They Provide Gear You Didn't Even Know About
This is perhaps my favorite aspect of this subscription. One of the biggest challenges with getting the right camping or survival equipment is simply knowing what is available. There have been times when I've discovered a piece of gear that I wish I'd known about for years, but simply never came across. As I said above, it's a classic case of "you don't know what you don't know."
The team puts specific effort into finding these more obscure tools and components. Whether it is a new type of firestarter or a more efficient filter straw, they include a lot of novel gear that you may have otherwise never discovered. This is an advantage that can only be gotten from experience and know-how, which is why the background of the battlbox review crew is so important.
You Can Re-Order A "Mission"
Each month's battle box is called a "Mission" and carries a specific number. Battlbox keeps a record of these Missions and allows you to reorder a past mission at any time. This may sound pointless at first, but it is actually brilliant. Say you are shipped a sleeping bag that you particularly enjoy or a mess kit that fits your needs perfectly. However, if you camp with your partner and need multiples of the same gear.
They make this easy. You can simply search for the Mission number and order duplicate gear in one step. This is a great idea for gifts, too. If there is a Mission you particularly like, it's easy to get it for a friend. Take a look at the Mission 65 recap video below, this gives you a good idea of what a "Mission" looks like.
It's An Inexpensive Way to Build Your Equipment
Camping is a fantastic hobby and survival is a necessity, but it is hard to deny that it can get expensive. I think a lot of people are unfortunately overwhelmed and put off by the one-time cost of camping or survival gear. It's an understandable problem.
Walking into the local camping-coop store to build a camping setup from scratch can put a dent in even the heartiest of paychecks. Yet, you don't have to get everything all at once, and the service emphasizes that. With a plan like this, you can build your gear over time in a way that is affordable, effective, and easy.
The Overflow Makes Great Gifts
Although most of the items in each month's shipment are incredibly useful, there will inevitably be items that you either already have or that don't fit your style of adventure. Yet, whether or not it fits your needs, the gear in Battlbox subscription boxes is always high-quality and worth using.
Thus, the surplus gear from any given box is a great way to have some emergency gifts stashed away for the camping and survival enthusiasts in your life. Whether you're giving a grandchild a new whistle or a dear friend a new pocket knife, it is nice to have a backlog of camping gear at your disposal.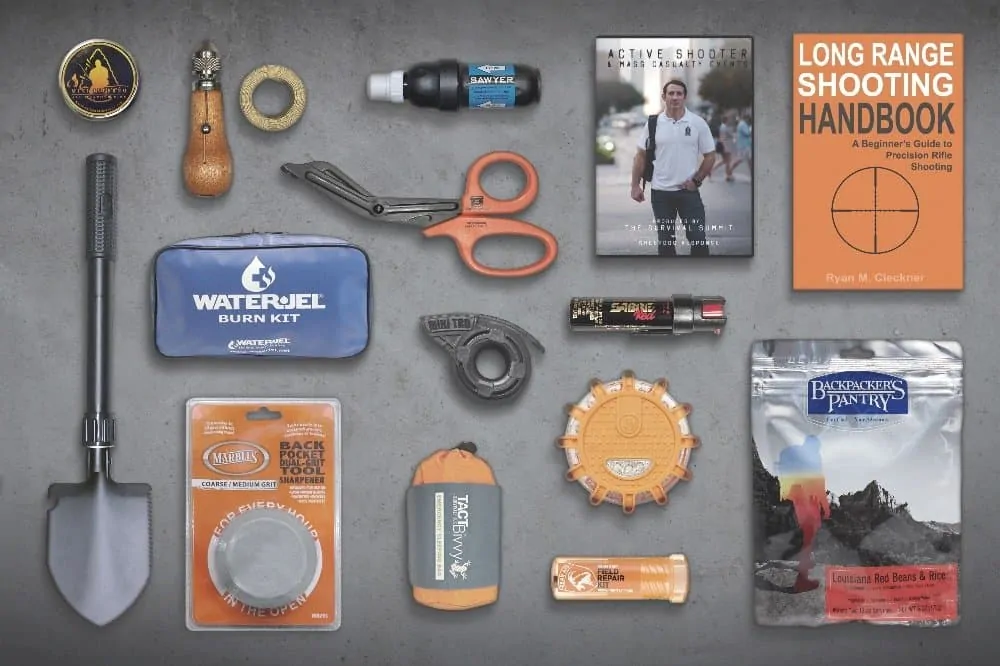 You Can Cancel At Any Point
This wouldn't be a complete battlbox review if we didn't mention this point, this is a big deal. As hard as it is to believe, many subscription services make it almost impossible to cancel your subscription. Whether they make you fill out paperwork or wait on the phone for hours, canceling some subscription services can feel more akin to a hostage situation.
This service does not want to play games. They make it easy to sign up, easy to change your plan, and easy to cancel. No fuss, no muss! And they have a great customer service team on hand.
You Can Buy Gear Individually
As I mentioned above, you can repurchase shipments at any time. However, you can also get individual items. This is fantastic if you lose or damage a piece of gear that you've come to rely on.
Or, again, it makes for a great way to get gifts. The site is easy to navigate and the individual prices are very competitive and they have great customer service if needed.
What We Love about BattlBox
It would be quicker to answer "what don't we like about them" in this Battlbox review, as that would be a much shorter list. However, if I had to summarize in this Battlbox review what makes this subscription so great, it would be their expertise.
It's easy to slap some camping gear in a box and send it out every month. However, the team goes beyond that. You can tell that the people who source the gear and curate the boxes are true camping enthusiasts who have spent time on the trail. They know what you need, and how you need it.
Pros and Cons of Battlbox
The subscription box service is as simple as it is effective. They will send you a new "Mission" box filled with a specially chosen blend of camping, survival, tactical gear, EDC, or hiking gear.
The first subscription box will ship immediately, regardless of when in the month you placed the order. After that, they will automatically send you the next box once a month until you cancel.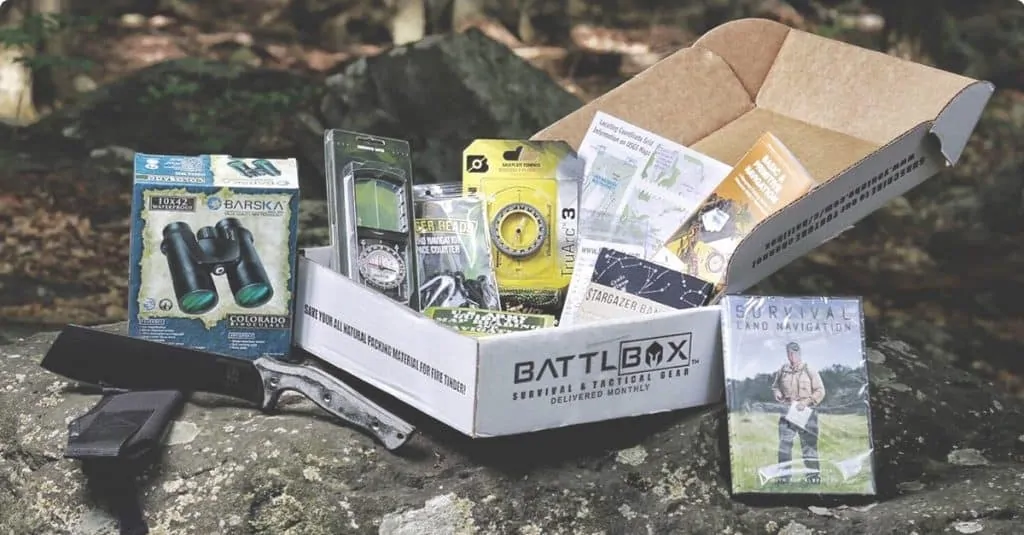 Is Battlbox Subscription Worth It?
In my experience, absolutely. A single item often justifies the cost of an entire shipment, making the rest of the items icing on the cake. More importantly, it's easy to cancel, so there's very little downside.
How Do I Join?
Simply go to Battlbox.com, choose your plan level, and wait for your first box. You should have your first mission within 10 days. There's often a promotion code as well, so the savings can be quite significant.
Alternatives To The Battlbox Subscription
Although there are very few direct equivalents to BattleBox monthly, there are a handful of companies that attempt a similar concept.
These include www.alphaoutpost.com, www.myapocabox.com, www.tacpack.com, and www.shtfsurvival.com.
Each takes a slightly different approach to the "monthly camping gear" concept. Having looked into Alpha Outpost and My Apocabox, I found their gear to be fairly repetitive. It was not bad quality, but the selection can grow stale after a few months. TacPack offered some nice gear specifically focused on backpacking. However, I found the value to be marginal when compared to retail pricing. Finally, TacPack only claims to be a competitor. In truth, I found their items to be focused much more on style than substance.
FAQ – Your Questions Answered
Can I Choose What's In The Subscription Box?
Not exactly. You can choose the level of subscription, and you can reorder a specific box from the past. However, each month will be a new surprise.
When Does Battlbox Ship?
Every month is a new "mission" with a new selection of unique gear.
Is the Gear High Quality?
In my experience, very much so. I was consistently impressed with the quality of the items. The brands vary, but you could tell that care had been taken in selecting the pieces.
Are There Name Brands?
It depends. On the lower-tier plans, most items are high-quality but unknown brands. On the higher-tier plans, there are more prominent name-brand items.
Conclusion
When I first looked into the concept of Battlbox reviews, I was somewhat skeptical. Subscription plans are not always a good deal, and they don't always provide the highest quality. However, BattleBox impressed me across the board. The gear was well chosen and unique, the quality was high, and the value was superb.
Although I subscribed simply to write this review, I will likely continue my subscription plan. It's a unique concept with beautiful execution, and the excitement of each month is well worth it. Whether for yourself or as a gift, I wholly recommend Battlbox.