I'm a seasoned guide through the world of outdoor gear, with a particular affection for the compact shelters that house our dreams and shelter our nights. When it comes to small 2-person backpacking tents, I have zipped and unzipped my way through countless models, each with its own quirks and comforts.
The perfect tent strikes a delicate balance – it must be light enough to barely register on your shoulders but robust enough to be your steadfast guardian against the elements.
My passion lies in equipping you with the knowledge to select a tent that not only serves as a practical piece of equipment but also as an invisible, yet essential, partner on your journey through the wilderness.
Let me guide you through the top picks that make every square inch count and turn a patch of ground into a cozy retreat after a day's trek.
My Top Picks
1. Big Agnes Copper Spur HV UL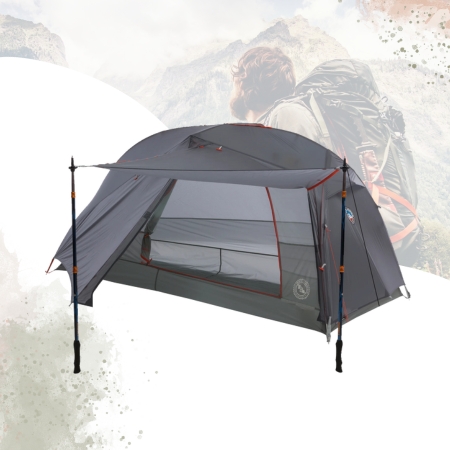 Check on Amazon
Check on OpticsPlanet
Check on Walmart
From my personal experience, the Big Agnes Copper Spur HV UL is the best choice I could make. This shelter strikes an impressive balance between weight and space, making it a steadfast companion on my bike packing trips.
The design enhances both strength and living space, allowing me to move around comfortably without feeling cramped. The durability of this model is noteworthy. Constructed with a proprietary ultralight nylon double rip-stop fabric, it has withstood various conditions without showing signs of wear.
This resilience is crucial for someone like me who doesn't shy away from rugged terrain. The Pole system is the backbone of this structure, providing stability without unnecessary bulk. The storage options, including the large ceiling pocket, keep my gear organized and within reach.
The zipper doors with storm flaps ensure I stay dry, and the low vent feature on the vestibule doors increases airflow, reducing condensation—a small but significant detail that enhances comfort.
Key Features
Ultralight, compact design
High-volume pole architecture
Double rip-stop fabric
DAC Featherlite NSL pole system
TipLok Tent Buckle
Large ceiling pocket for storage
Dual-zipper doors with storm flaps
Low vent feature on vestibule doors for airflow
4-season functionality
Color: Gray/Silver
What I liked
Ultralight design
Spacious interior
Durable materials
Easy setup
Good ventilation
What I didn't like
Pricey
Limited Color options
2. Eureka! Timberline SQ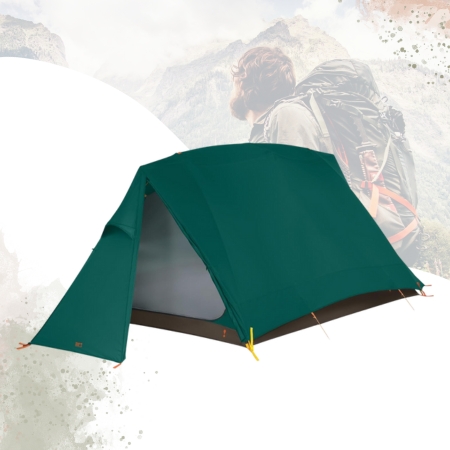 Check on Amazon
Check on OpticsPlanet
Check on Walmart
My friend suggested a weekend hike, and this was a good opportunity to test out the Eureka Timberline. Nestled among the pines, this shelter became our home base. Its assembly was intuitive, allowing us to set it up quickly as the sun dipped below the horizon.
The first night introduced us to a symphony of nature, and the Timberline stood as our steadfast cocoon, comfortable and secure against the elements. The interior space was surprisingly ample, accommodating us and our gear without feeling cramped.
The high-low ventilation system was a standout feature, promoting a comfortable airflow that kept the interior fresh throughout a humid night. It was a relief to wake up without the usual stuffiness that comes with dawn. On our final day, a sudden downpour tested the Timberline's mettle.
It passed with flying colors, its full-coverage design shielding us from the rain. The vestibule proved invaluable, a dry haven for our muddy boots and cooking gear.
Key Features
35.7 square feet
Minimum weight of 6 lbs 14 oz
Durable DAC DA17 aluminum poles
Full-coverage design for element protection
Two large 'D' style doors with windows
Includes tent body and fly, poles, stakes, and guy lines
What I liked
Spacious interior
High-low ventilation
Easy assembly
Full-coverage design
Lightweight structure
What I didn't like
Limited stakes provided
Extra waterproofing needed
3. Klymit Cross Canyon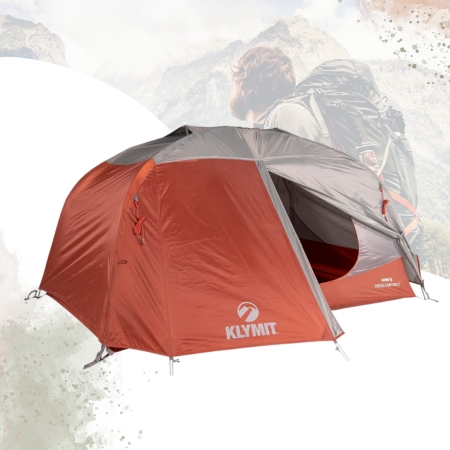 Check on Amazon
Check on OpticsPlanet
Check on Cabela's
I used to own Klymit Cross Canyon, and I liked it quite a bit. The interior was a haven after long hikes, and the robust poles promised a sturdy refuge against the capricious mountain weather. I've since moved on to other shelters, but the Cross Canyon remains a solid choice in my book.
The dual doors were a breath of fresh air, literally and figuratively, offering not just convenience but also a cross-ventilation system that kept condensation at bay. The storage options, with pockets galore, made organizing gear a breeze.
It was my reliable companion on many adventures, and even though I've passed it on, it's still out there, making someone else's outdoor experiences just a bit more comfortable.
Key Features
Freestanding, rectangular design
Multiple sleeping configurations
Cross Canyon Mat doubles as a roll-style stuff sack
Aluminum tent poles for a lightweight structure
Multi-anchor point front vestibule
3 overhead pockets and 2 corner pockets for storage
Designed for backpacking, camping, and hiking
Dimensions: 86″L x 218″W x 46″H
Suitable for different seasons
What I liked
Spacious interior
Easy repacking
Robust aluminum poles
Excellent ventilation
Ample storage options
What I didn't like
Slightly heavier build
Limited vestibule space
4. Kelty Late Start 2P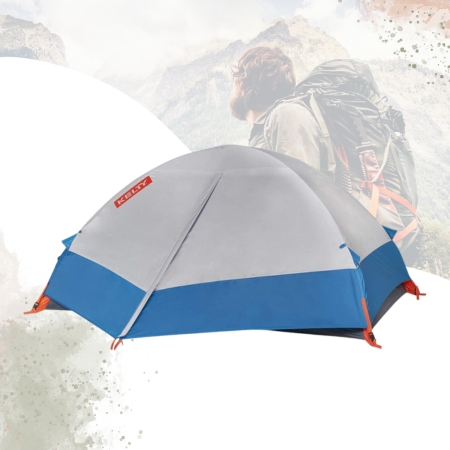 Check on Amazon
Check on OpticsPlanet
Check on Cabela's
The first thing I saw Kelty Late Start 2P was its compact size. It was a pleasant surprise considering its spacious interior once set up. The setup process was intuitive and quick, a real advantage when arriving at a campsite later in the day.
The color-coded rainfly attachments are a thoughtful touch, making the assembly foolproof even for those who are not regular campers. The interior space is generous for two people, offering enough room to move around without feeling cramped.
I appreciated the headroom provided by the pre-bent poles, a feature that enhanced the overall sense of space. Throughout my use, the shelter proved to be resilient against various weather conditions. The rainfly performed admirably during a downpour, keeping the interior dry.
The materials feel robust, and the freestanding design held up well against strong winds, instilling confidence in its ability to withstand the elements over time.
Key Features
Spacious interior for two occupants
Pre-bent poles for enhanced headroom
Mesh walls for ventilation and stargazing
Durable materials and sturdy freestanding design
Rainfly offers reliable weather protection
What I liked
Easy to set up
Good ventilation
Sturdy in wind
What I didn't like
Limited storage space
Heavier than ultralight models
5. Mountainsmith Bear Creek 2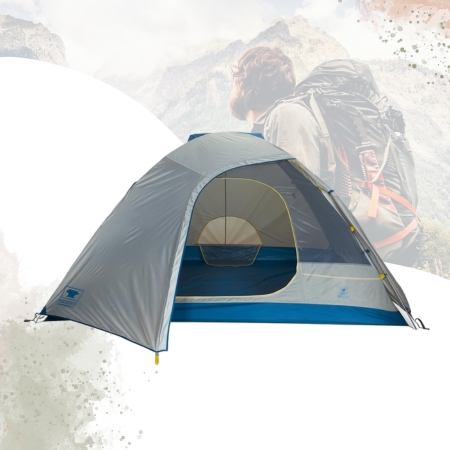 Check on Amazon
Check on OpticsPlanet
Check on Mountainsmith
Setting up Mountainsmith Bear Creek 2 was intuitive and quick, which is a significant plus when you're eager to get your campsite organized. The included footprint is a thoughtful addition, ensuring that I could protect the base from rough terrain.
The interior space was more than adequate for two, providing a cozy yet comfortable shelter for our weekend getaway. The full-coverage rainfly with ventilation windows kept us dry during a sudden downpour, while the mesh walls offered privacy without sacrificing the refreshing evening breeze.
The materials felt robust, a testament to Mountainsmith's reputation for durability. Packing up was a breeze, with the tent, poles, and rainfly fitting neatly into the carry bag. The lightweight nature of the tent didn't weigh me down on the trail, making it an excellent companion for both short hikes and longer treks.
Key Features
Freestanding, two-pole design with one door and vestibule
Durable aluminum poles and polyester with waterproof coatings
Quick fly setup with footprint included for versatility
Full-coverage with vents and No-See-Um mesh walls
Interior mesh pockets for valuables and essentials
92″ L x 56″ W x 48″ H with a floor area of 30.5 ft²
Trail weight of 4 lbs 3 oz
What I liked
Quick setup
Includes footprint
Full rainfly with vents
Lightweight for backpacking
Spacious for two people
What I didn't like
Bag could be roomier
Limited to 2 seasons
6. Big Agnes Salt Creek SL
Check on Amazon
Check on OpticsPlanet
Check on eBay
Having spent several nights under the stars with the Big Agnes Salt Creek SL, I know this one inside out. The first thing that struck me was the three-door design, which is quite unconventional.
The dual side doors with vestibules provided convenient access and ample storage, while the head-entry door offered a lovely awning-style entrance.
The tent's interior space is generous, thanks to the steep wall design. I found the shoulder room to be quite comfortable, and the 3D bin pockets above the foot area were a clever use of typically unused space. I did notice that in very dusty conditions, the interior could get a bit grimy, which was a bit of a letdown.
The setup process, facilitated by the DAC Pressfit pole system, was straightforward and the tent itself is light enough for backpacking. The reflective guy lines are a thoughtful touch, making the tent visible at night.
Key Features
Double vestibule storage for gear and shoes
Awning-style entrance for stargazing and additional ventilation
Steep wall architecture for enhanced shoulder space
3D bin pockets for overhead storage
Dual-zipper side doors with storm flaps for weather protection
Quick Stash door keeper for convenience
Reflective guy lines for visibility
Waterproof, solvent-free polyurethane tape on seams
Trail weight: 3 lb. 11 oz.
Packed dimensions: 20.5 x 6.5 inches
What I liked
The number of entries
Lightweight build
Easy setup
Good ventilation
What I didn't like
Stakes may bend
Dust penetration
7. Eureka! Tents El Capitan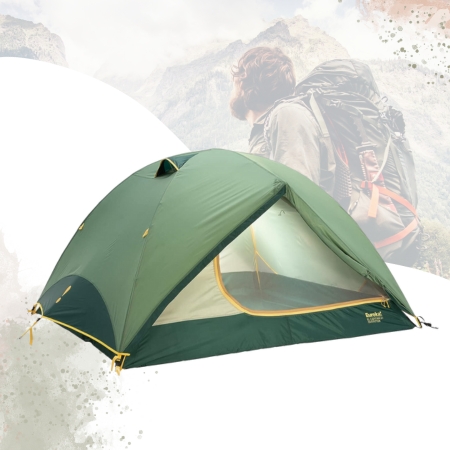 Check on Amazon
Check on OpticsPlanet
Check on EMS
I've taken the El Capitan+ Outfitter from Eureka! on several excursions, and it's been a mixed experience. On one hand, the shelter's resilience in diverse weather conditions is commendable. The frame held up against gusty winds, and the full-coverage fly kept the interior dry during downpours.
The setup can be a bit finicky, especially when trying to slot the short pole into the dome's attachment pockets. While the tent's interior space is generous, offering 15% more floor area than standard models, it's the vestibule design that left me wanting.
The tent's weight is another double-edged sword. It's light enough to not be a burden during transport, yet its heft is noticeable when compared to ultra-light models. Despite these drawbacks, the tent's durability and system for climate control inside the tent have been reliable features that I appreciate.
Key Features
Durable Polyester with a waterproof finish
Free-standing dome
Front and rear for convenient access
High/Low Vent – Air Exchange System
Durable 7000-series Aluminum
Full coverage fly for complete weather protection
Two vestibules for gear storage
90″L x 56″W (for the 2-person model)
What I liked
Durable frame
Good ventilation
Spacious interior
Weather-resistant
Dual doors
What I didn't like
Setup can be tricky
Footprint design flaw
8. Sierra Designs Fern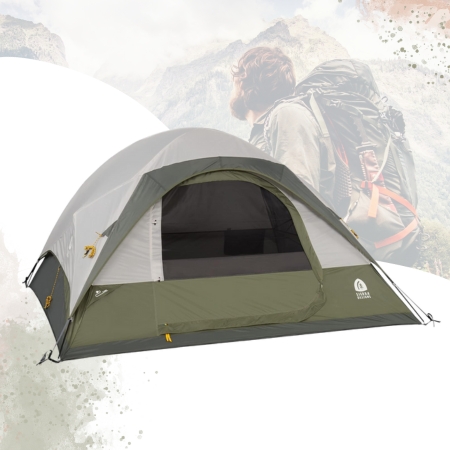 Check on Amazon
Check on OpticsPlanet
Sierra Designs Fern Canyon didn't quite hit the mark for me, I can see its appeal for many outdoor enthusiasts. The first thing I noticed was the ease of setup. The three-pole construction promised a stable and voluminous shelter, and it delivered on that front.
The single door design was a bit of a bottleneck, especially when several of us needed to access the shelter at once. The ventilation was adequate, thanks to the no-see-um mesh body, but I found the airflow could be better when the rain fly was on, making it feel a bit stuffy during a light drizzle.
The waterproofing of the fly and the DWR coating kept us dry during a night of steady rain, which was impressive. But, the tent's color scheme of green and grey, while practical, lacked a bit of personality for my taste.
Key Features
60-denier, abrasion-resistant floor
Lightweight mesh body for ventilation
Third pole to maximize livable space
Zip down front window for views
E-port for electrical power cord access
Burrito bag for quick storage
Limited Lifetime Warranty
What I liked
Easy setup
Spacious interior
Good ventilation
Durable materials
What I didn't like
Single door access
Limited color options
Buyer's Guide
Now, let us go through the factors you should consider before you a tent you will raise at a campsite of your choice.
Price Comparison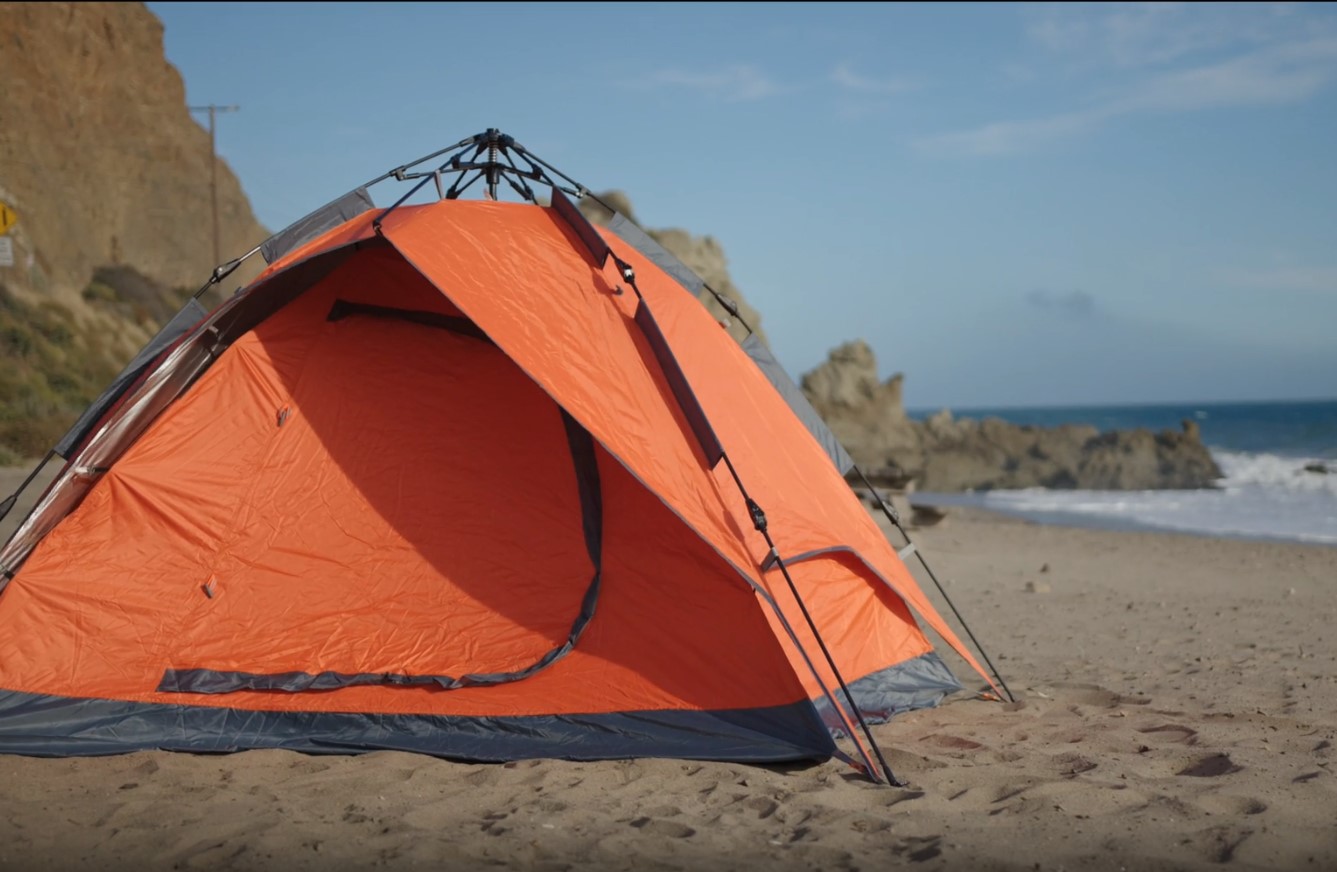 When it comes to purchasing a small 2-person backpacking tent, the array of prices can be as varied as the tents themselves. The cost is often reflective of several factors, including the quality of materials, the complexity of design features, and the brand's market position.
It's crucial to weigh your financial limits against the performance attributes you need from your shelter in the wilderness. As you can imagine, price tags are somewhat higher for bigger tents.
Long-Term Value
The longevity of a tent is a testament to its construction and the materials used. A tent that may seem expensive upfront could prove economical over time if it consistently performs well over numerous expeditions.
Durability is a key component of value; tents made with high-denier fabrics and robust pole materials like DAC aluminum or carbon fiber are more likely to endure the rigors of the trail without succumbing to wear and tear.  Brands that offer warranties or repair services can extend the life of your tent, enhancing its long-term value.
When evaluating cost, consider how often you'll use the tent and the conditions it will need to withstand—this will help you calculate the cost per use and assess the true value of your investment. Naturally, cleaning is also an important factor for extending tent's lifespan.
Balancing Cost with Features
The features of a tent can greatly impact its price. Aspects such as dual doors, ample vestibule space, interior storage options, and fine mesh for insect protection add to manufacturing costs but also to user convenience and comfort.
Not all features may be necessary for your specific situation. For instance, if you typically backpack in fair weather, a tent with extensive snow-loading support may be superfluous.
Conversely, if you're a frequent backpacker in varied conditions, investing in a tent with a full-coverage rainfly and robust pole structure could be non-negotiable for your safety and comfort.
Factors Impacting Price
Several factors can influence the price of a backpacking tent:
Material Quality: High-tech materials like ripstop nylon or Dyneema (formerly Cuben Fiber) are lightweight and durable but come at a higher cost.
Design Innovation: Tents with unique pole structures or tensioning systems that offer more interior space or stability may be priced higher.
Brand Reputation: Established brands with a proven track record may charge more due to their reputation for reliability and customer service.
Weight: Ultralight tents use premium materials and minimalist designs to cut down on weight, often resulting in a higher price.
Seasonality: Four-season tents designed to withstand harsh winter conditions are typically more expensive than three-season models.
Sustainability: Tents produced with eco-friendly practices or materials may carry a premium due to the additional costs associated with sustainable production.
Selecting the Right Materials and Construction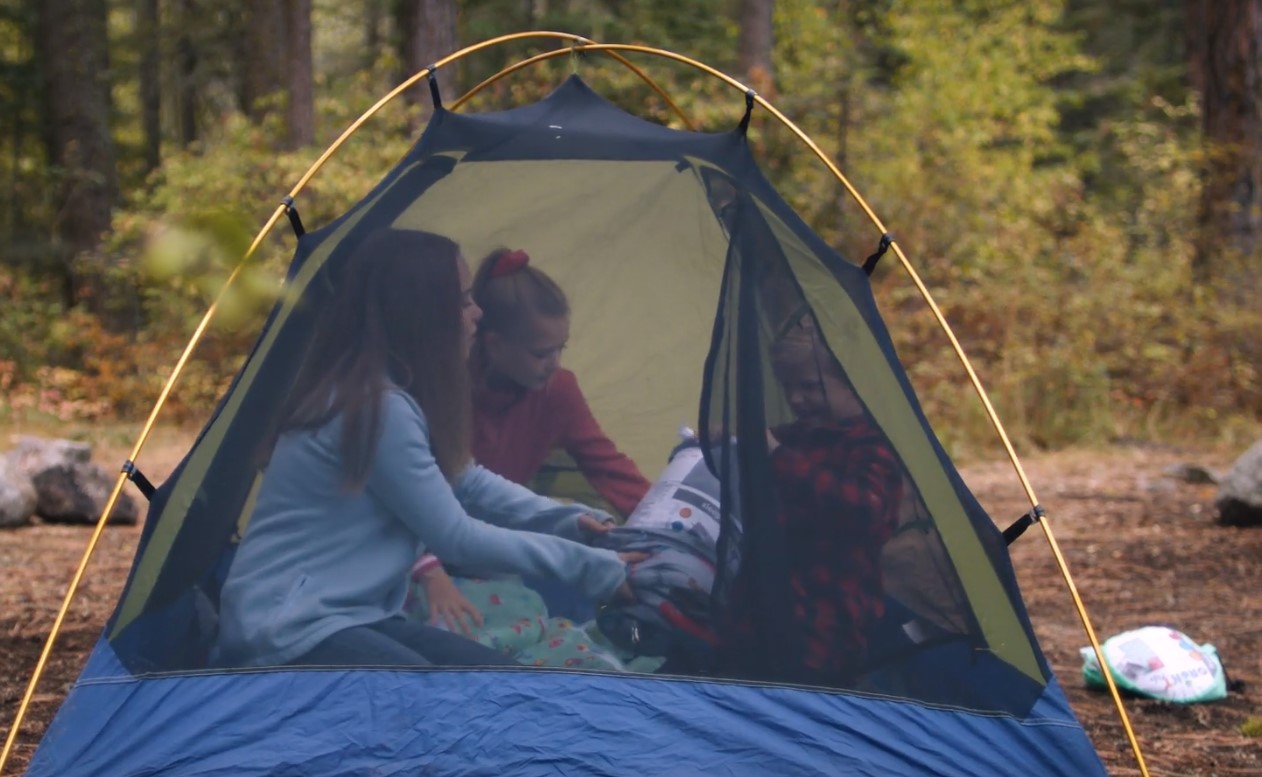 The materials used in tent construction directly affect its weight, durability, and weather resistance. When choosing a small 2-person backpacking tent, it's important to understand the trade-offs between different materials to find the right balance for your needs.
Tent Fabrics and Durability
Backpacking tents are typically made from nylon or polyester, with varying degrees of thickness (denier). Higher denier fabrics are more durable but also heavier. Some tents use ultra-light materials like cuben fiber, which is strong and light but can be more expensive.
Consider the conditions you'll face and choose a fabric that offers the best combination of durability and weight.
Poles and Stakes
The tent's skeleton, its poles, and stakes, are vital for a secure pitch. Aluminum poles are common due to their strength-to-weight ratio.
Carbon fiber poles are lighter but more expensive. Stakes should be durable and designed for the terrain you'll encounter. Remember, a tent's stability is as good as its anchoring system.
Weight vs. Livability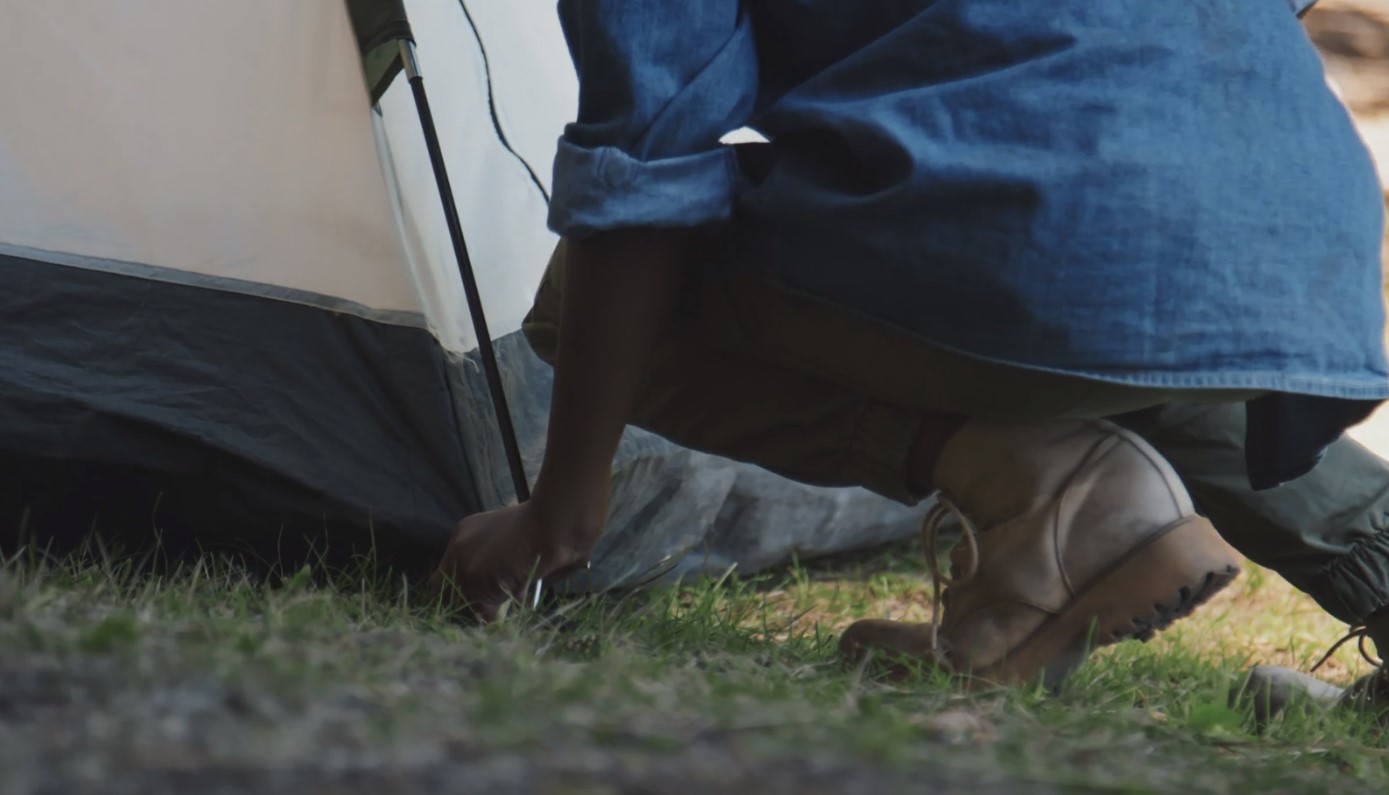 For backpackers, every ounce matters. However, reducing weight should not compromise the tent's livability. It's important to find a balance that won't leave you uncomfortable or exposed to the elements.
The Trade-off Between Weight and Space
Ultralight tents are appealing for their minimal impact on your pack weight, but they often sacrifice space and durability. Consider how much time you'll spend inside the tent. If you're likely to be confined during long periods of bad weather, a slightly heavier but more comfortable tent may be worth the trade-off.
Packed Size and Portability
The tent's packed size determines how much space it will take up in your backpack. Look for tents that pack down small without compromising on the essentials. Compression sacks and clever folding techniques can help minimize packed size.
Different Climate Conditions
When purchasing a tent, several environmental factors need to be considered, especially if you're planning on engaging in a specific camping style, like dry, stealth, or primitive camping. These factors will significantly influence the type of tent that's best suited for your needs:
Climate and Weather Conditions: The tent's material and design should be suitable for the climate you'll be camping in. If you're camping in wet climates, look for a tent with excellent waterproofing and a robust rainfly. In hotter climates, opt for a tent with ample ventilation to avoid overheating.
Terrain: The type of terrain where you'll be camping dictates the tent's required durability. Rocky or uneven grounds necessitate a tent with a more durable floor and strong poles. For beach or desert camping (common in dry camping scenarios), a tent that can be securely anchored in sand is crucial.
Vegetation and Wildlife: In areas with dense vegetation or active wildlife, a tent with strong mesh panels and durable materials to withstand potential encounters is advisable. This is particularly relevant in primitive camping settings where interaction with nature is more intimate.
Wind Exposure: If you're camping in an area with high wind exposure, a low-profile, aerodynamic tent is necessary. This is especially true in stealth camping where the goal is also to remain unobtrusive, as a lower tent profile is less likely to attract attention.
Sun Exposure: For camping in areas with strong sun exposure, a tent with UV protection to prevent material degradation and keep the interior cool is beneficial. This is a significant consideration in dry camping, where shade may be limited.
Environmental Impact: For all camping styles, but especially for primitive and stealth camping, consider the environmental impact of your tent. Tents that blend with the environment, leave minimal footprint, and are made from sustainable materials are preferable.
Features and Accessories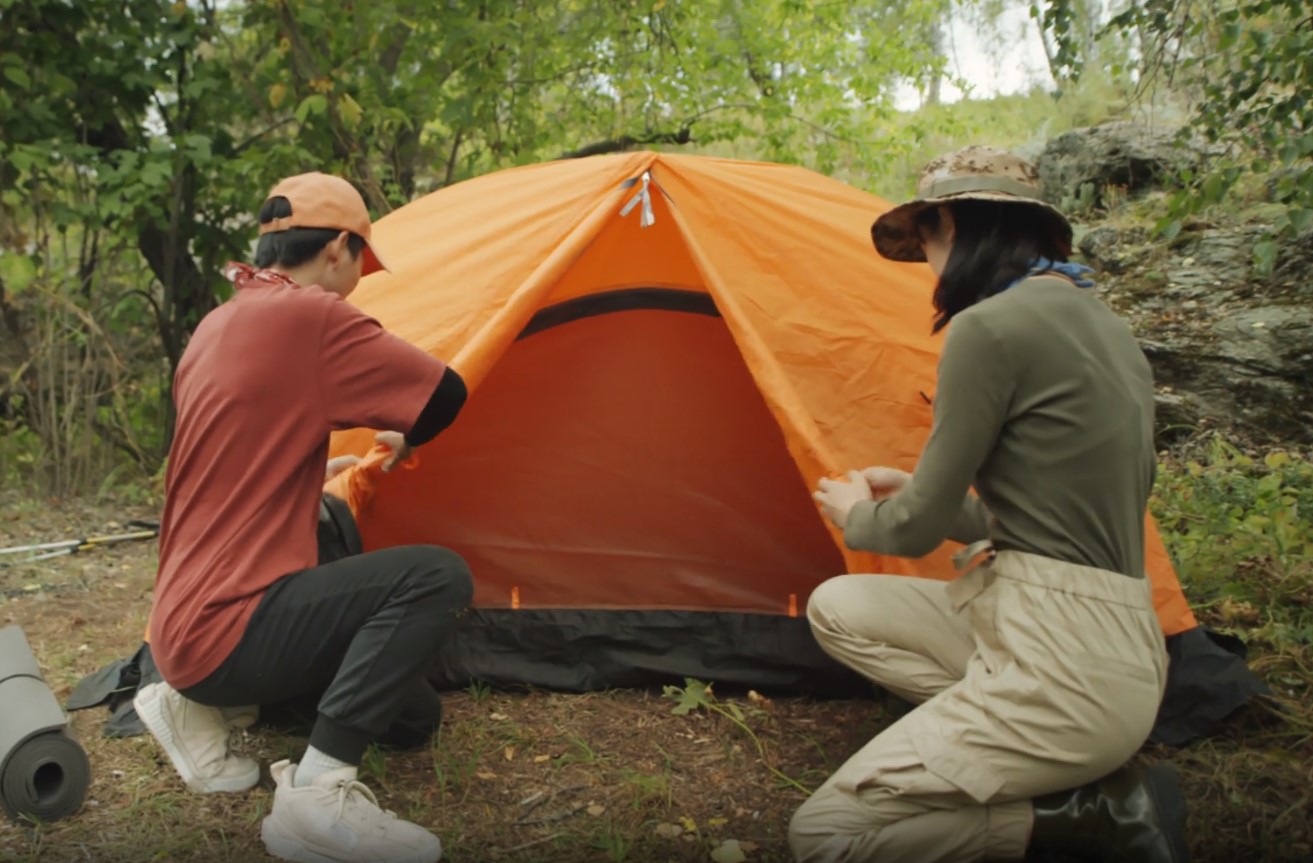 Modern tents are not just shelters but sophisticated pieces of outdoor equipment with features and accessories designed to cater to various camping needs and preferences.
When you're in the market for a small 2-person backpacking tent, it's crucial to distinguish between the must-have features that will genuinely improve your comfort and the optional luxuries that might just add unnecessary weight and complexity to your setup.
Doors and Vestibules
Multiple Doors: Having more than one entrance can significantly improve the ease of access, especially when two people are sharing the space. It allows campers to enter and exit without disturbing each other, which is particularly valuable during nighttime or when one occupant is resting. Additional doors can mean extra material, which translates to additional weight.
Vestibules: These covered spaces outside the tent's main sleeping area serve as a shielded spot to store boots, backpacks, and other gear. They can also provide a dry area to cook or relax outside the tent in inclement weather. While vestibules are incredibly useful for keeping the interior of the tent clutter-free, they do add some weight. Assess the environments you'll be camping in and the amount of gear you'll bring to determine if a vestibule is a necessity for you.
Interior Pockets and Loops
Storage Options: The interior design of a tent can greatly impact its livability. Features like pockets and gear loops are essential for keeping small items organized and within easy reach. This can include compartments for glasses, headlamps, and personal items that you might need to access quickly during the night or in an emergency.
Thoughtful Layout: A well-designed tent interior can make a significant difference in your camping experience. Look for a layout that aligns with your organizational style. Some tents offer innovative solutions like gear lofts, which are mesh shelves that hang from the tent's ceiling, providing extra storage space without compromising floor area.
Footprints and Groundsheets
Footprint Necessity: The tent footprint is a custom-fitted groundsheet that matches the tent's floor dimensions. It serves as a barrier between the tent floor and the ground, protecting against abrasion, punctures, and moisture. While it adds an extra piece to pack, the protection it offers can extend the life of your tent significantly.
Groundsheet Alternatives: For those looking to cut down on weight, there are alternatives to the traditional footprint. Some backpackers use generic materials like Tyvek or polycryo sheets cut to size. These materials can be lighter than a standard footprint and can offer sufficient protection in most scenarios.
FAQs
What should I look for in the tent's material?
Look for high-quality, durable materials like ripstop nylon or polyester with a high denier count and waterproof coatings. These materials ensure longevity and protection from the elements.
How important is the tent's peak height for comfort?
Peak height is crucial for comfort, especially if you prefer sitting up or changing clothes inside the tent. A higher peak height can make the tent feel more spacious and livable.
Do small 2-person tents come with a vestibule?
Many small 2-person tents include a vestibule, which provides extra space to store gear outside the sleeping area while still protecting it from the weather.
Can I set up a small 2-person tent by myself?
Yes, most small 2-person tents are designed for easy setup, often with color-coded poles and clips, allowing one person to set it up without assistance.
How can I ensure the tent is well-ventilated?
Ensure the tent has multiple mesh panels or windows and adjustable vents to facilitate airflow, which is vital for reducing condensation and maintaining a comfortable interior climate.
The Bottom Line
As we wrap up our exploration of the best small 2-person backpacking tents, remember that these nimble abodes are the unsung heroes of our outdoor excursions. They are silent witnesses to our adventures and secret keepers of our wild, moonlit nights.
My role ,as someone with plenty of experience, is to steer you towards making a choice that feels like a natural extension of your backpacking spirit – light on weight, heavy on reliability. May your trails be winding and your adventures grand, and may your tent be a cozy cornerstone of countless stories to come.
My name is Riley Johnson, with over 8 years of dedicated camping across various terrains, I have garnered a significant expertise in evaluating camping gear for reliability and performance. My adventures have taken me through thick forests, along serene lakes, and atop remote hills, each experience sharpening my understanding of essential camping gear. Through hands-on use and thorough testing, I've honed my ability to discern the quality and practicality of various camping equipment, ensuring they stand up to the challenges posed by the outdoor environment. This extensive field experience has equipped me with the knowledge to share valuable gear insights, aiding fellow campers in their outdoor pursuits.