Stepping into the woods with a recurve bow feels like a walk back through time, where skill and instinct combine for the hunt. It's crucial to equip yourself not just with a bow and arrows but with the right gear that turns good results into great ones.
Having helped countless enthusiasts hone their skills, I've seen firsthand how the right selection of equipment can elevate the entire hunting experience.  Here, we'll talk about must-have gear for recurve bow hunting, focusing on what enhances your hunt, ensures safety, and sharpens your edge. Let's begin!
My top picks:
1. Selway Limbsaver Recurve Bow Stringer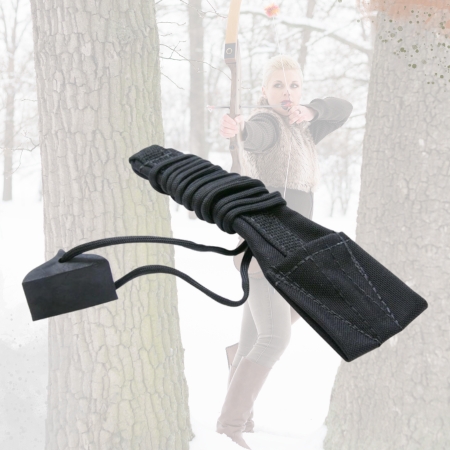 Check on Amazon
Check on Optics Planet
Check on 3riversarchery
Check on Cabela's
If you're in the market for a reliable recurve bow stringer, which is very important in hunting sessions, the Selway Limbsaver is a strong contender. With a sturdy Cordura limb cup and a non-slip rubber limb pad, it offers an efficient way to string bows without risking the dreaded limb twist.
Its design caters to bows up to 66 inches and 75 pounds, covering a wide range of traditional recurve models. I've put this stringer to the test on my 64″ recurve during both practice and teaching sessions.
The material feels durable – a quality build with the right blend of flexibility and strength. What stands out is the simplicity of its use. The Cordura cup fits snugly on the limb tip while the rubber pad securely grips the other end, creating a stable base for stringing.
In practice, the Selway Limbsaver provides a confident and safe stringing experience. No matter the number of times I've used it, it hasn't shown any signs of wear. The color and material have also maintained their integrity after repeated use.
As for hand orientation, it's designed for right-handers, which suits most archers, but it's worth considering if you're a leftie. Overall, this stringer is a trustworthy accessory that will serve any traditional archer well.
Key Features
Extra-Large Cordura Limb Cup: Designed for protection against twisting of the bow limbs during stringing.
Non-Slip Rubber Limb Block: Ensures the limb stays in place while stringing the bow.
Durable Nylon Material: Offers longevity and resistance to wear and tear.
Right Hand Orientation: Specifically designed for right-handed archers.
Archery Draw Weight: Can handle up to 75 pounds, suitable for a wide range of bows.
What I liked
Easy to use
Durable
Works with both traditional barebow and Olympic recurve bows
Designed to string bows safely without risking limb twist or damage
Easy to store and transport
Priced competitively
What I didn't like
It might not be as intuitive for all users.
Limited to right-handed use
2. NEET Recurve Bow Stringer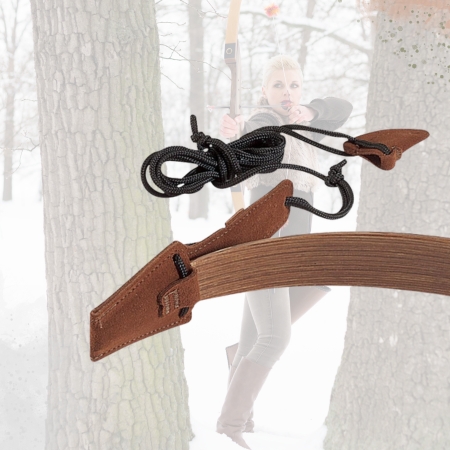 Check on Amazon
Check on Optics Planet
Check on Kittery Trading Post
The NEET Recurve Bow Stringer came highly recommended, and it lived up to the hype. As an owner of an XL Spyder recurve bow, finding the right stringer is crucial to maintaining the bow's integrity. Initially, I stuck to traditional stringing methods, but they began to take a toll on my equipment.
My bottom limb suffered—starting to warp—which set off alarm bells. It was clear I needed to switch tactics, and that's where the NEET stringer stepped in. What isn't immediately obvious is the stringer's need for a slight modification—a trick I learned from years of experience.
By placing half a cottonball into the top cup of the stringer, a small but significant problem was solved. Without this addition, stringing the bow was a frustrating task, struggling to seat the string in the grooves properly.
But with the cottonball in place, the process became seamless, allowing for the precise alignment necessary for an optimal setup. This simple yet effective hack transformed the stringer from a mere accessory to an indispensable tool in my archery practice.
Key Features
Leather Construction: Durable leather end cups for secure grip on bow limbs.
Nylon Cord: Strong 380 lb test nylon cord for longevity and resilience.
Adjustable Length: Can be adjusted to fit any bow length, enhancing versatility.
What I liked
Prevents limb twist
Made with high-quality materials
Simplifies the process of stringing a recurve bow
Adjustable to fit different sizes of bows
Lightweight and compact
Reduces the risk of injury when stringing or unstringing the bow
What I didn't like
Some users may find the cup size too deep
The stringer may slip if not used properly.
3. NEET NK-164 Recurve Bow Case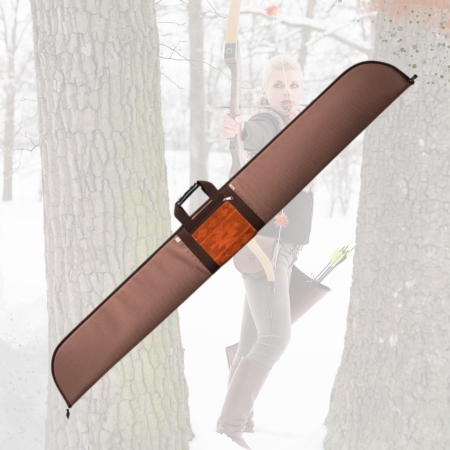 Check on Amazon
Check on Optics Planet
Check on Walmart
The NEET NK-164 SW Recurve Bowcase stands as a solid choice for archers prioritizing both protection and convenience. With its 1/2-inch foam padding, the case cradles your recurve bow securely, mitigating the risk of scratches or dents during transport.
Its brushed trico lining is a subtle touch, adding an extra layer of softness that I've found provides peace of mind, especially when storing or moving my prized bows. Functionality-wise, the full-length zipper allows for quick and easy access, which is a huge plus when you're eager to start shooting.
This design choice also means you won't be wrestling with your equipment, a common annoyance with less thoughtfully designed cases. The additional 8″ x 6 1/2″ zippered pocket is perfectly placed and sized for extra necessities like strings, arm guards, or finger tabs, keeping everything compact and within reach.
Durability is another aspect where this case shines. The 1 1/2″ wrap-around handles have withstood the test of time and use, providing a reliable grip without showing signs of strain or wear.
For an archer who values longevity in gear, this case by NEET proves to be a reliable companion. Whether for a jaunt to the local range or a trek into the woods, it balances the need for protection, ease of use, and durability exceptionally well.
Key Features
Padding and Lining: The case features 1/2″ foam padding with brushed trico lining, offering cushioning and protection for the bow.
Closure: It comes with a full-length zipper, ensuring easy access and secure closure.
Handles: The case is equipped with 1 1/2″ wrap-around handles, which provide a strong and comfortable grip for carrying.
Accessory Pocket: An 8″ x 6 1/2″ zippered accessory pocket is included, allowing for additional storage space for small items.
What I liked
Quality lining
The full-length zipper makes it easy to insert and remove the bow without hassle.
Comfortable handling
Accessory storage
Available in different colors
What I didn't like
The case is specifically designed for 64-inch recurve bows
4. Draves Komfort Kiss Kisser Button Black 1/pk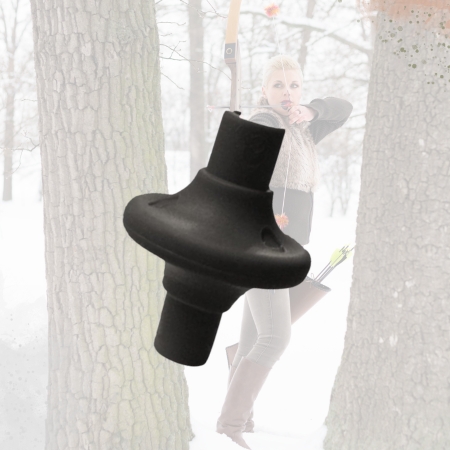 Check on Amazon
Check on Optics Planet
Check on Lancaster Archery
Check on Walmart
The Draves Komfort Kisser Button scores high on ease of installation. Armed with nothing more than nocking pliers and a Bic pen cap, I had it ready to go on my bow in under ten minutes. The package includes everything needed, and the installation process is straightforward.
The company's quick YouTube demo is a valuable guide that outlines each step succinctly. For archers who like to tweak and adjust on the fly, this button makes it hassle-free. Draves markets this kisser button as being made of hard rubber, but it leans more towards a soft plastic feel.
This isn't necessarily a downside; the material's firmness doesn't compromise comfort. It lacks the stickiness one might expect from rubber, which, in my book, is a plus. The smooth texture ensures that there's no distraction or irritation when your focus should be solely on the target.
On the performance end, the Draves Komfort Kisser Button delivers as promised. Its ergonomic design fits well with a D-loop setup, and the non-tacky material means there's no risk of it snagging on facial hair or skin. The inclusion of two clamps is thoughtful, catering to varying preferences or replacement needs. After several sessions, I can affirm it enhances comfort without compromising the bow's hoop functionality.
Key Features
Soft Ergonomic Design: The kisser button is designed to be comfortable to shoot with, aiming to provide a pleasant experience rather than being a source of discomfort.
Consistent Anchor Point: It helps archers achieve a fast and consistent anchor point, which is crucial for shooting accuracy.
Includes Anchor Clamps: The product comes with two anchor clamps for secure attachment.
Material: Described as hard rubber but feels more like soft plastic, which could indicate durability without the tackiness of rubber.
What I liked
It does not cause irritation or discomfort during use
Easy to install
Strong and sturdy
Non-tacky material
Fast shipping
Helps with no-peep shooting
What I didn't like
Some users may prefer a different texture
5. Bohning Archery – Slip ON ARMGUARD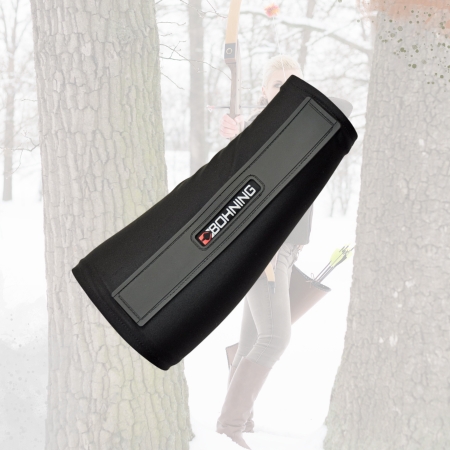 Check on Amazon
Check on Optics Planet
Check on Walmart
The Bohning Slip On Armguard offers a blend of simplicity and protection. Slipping it on is a breeze, thanks to its sleeve design. You won't waste time with buckles or straps, which is a blessing when you're eager to start shooting.
The fit is snug without being restrictive, allowing for a full range of motion. I've positioned it in various spots along my arm to find the sweet spot, and it remains secure throughout practice. Its ability to stay in place without constant adjustment is a testament to its thoughtful design.
Initially, I experienced a fair share of string slaps, and this guard provided a decent shield, reducing what would have been a harsh sting to a mere brush. It's not the bulwark that larger, bulkier guards are, but it does a respectable job of preventing the dreaded archer's arm—no cuts or significant bruises to report.
Over time, as your form improves and arm hits become rare, the guard will continue to serve as a reliable layer of defense against the occasional lapse in technique. For archers refining their technique or those who prefer a minimalistic guard, Bohning's Slip On Armguard is a solid choice.
It doesn't promise invincibility against string slaps, but it mitigates the aftermath nicely.  I've grown to appreciate its low profile and the assurance it provides, keeping minor mishaps from turning into painful reminders. It's a guard that grows with you, from the early days of learning to the seasoned sessions of an experienced archer.
Key Features
Material: Made of compression-fit nylon with a rubber protection piece.
Dimensions: Package dimensions are 8.9 x 3.31 x 1.42 inches; the item itself measures 10.75 x 3.75 x 1.5 inches.
Weight: The armguard weighs 1.76 ounces.
Manufacturing: Made in the USA.
Design: Sleek, slip-on design for ease of use.
Fit: Available in different sizes for a snug fit.
Protection: Rubber piece provides durability and protection.
What I liked
Made of stretchable material
The rubber protection piece is incredibly durable.
Flexible
It is suitable for use in hunting to hold back bulky coat sleeves.
Lightweight
What I didn't like
The small size might be too tight even for individuals with smaller forearms
6. Saunders Bow Tip Protector Black 1 pk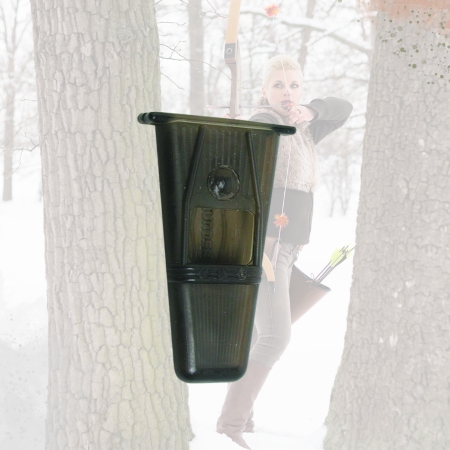 Check on Amazon
Check on Optics Planet
Check on Lancaster Archery
My slick stick longbow's bottom limb wasn't an exact match for the Saunders Bow Tip Protector, but it still clung on securely.  Despite the initial misgivings about the fit, the protector has not slipped or required re-adjustment, even after hundreds of arrows sent downrange.
It's reassuring to note that accessibility for string adjustments remains uncomplicated, allowing for quick tweaks whenever necessary. The durability of this bow tip protector impresses me; it's withstood constant use and shows no signs of giving up.
I'm pretty convinced that my limb tips are safe from the usual wear and tear.  Observing the tip after numerous sessions, it's evident that the protector absorbs the brunt of contact, effectively shielding the delicate wood underneath.
These protectors are well-made and versatile. They've fitted most of my bows with ease. For the tighter fits, a quick boil makes them pliable enough to slide on. However, note that they're not suitable for bows with wider tips, such as the Martin X-200.  Besides providing excellent protection, they've also solved the annoyance of the string slipping off. Based on my experience, I wouldn't hesitate to recommend them to fellow archers for that added peace of mind.
Key Features
Soft Rubber Material: The protector is made from a soft rubber, which is likely to provide a snug fit and prevent damage to the bow tip.
Compatibility: It is designed for recurve bows, indicating a specific fit for this type of bow.
Protection and Security: The protector not only prevents damage to the bottom limb tip but also keeps the bowstring in place.
What I liked
Protects limb tips effectively
Keeps the bowstring in place
Easy to install on compatible bows
Can be adjusted if necessary
Durable and holds up well over time
Lightweight and does not affect bow balance
Generally fits well on most recurve bows
What I didn't like
May not fit all recurve bows perfectly
No instructions are included, which can lead to confusion during installation
7. Saunders Pro Stripper
Check on Amazon
Check on Optics Planet
Check on eBay
From the first time I held the Saunders Pro Stripper, its palm-friendly design impressed me. Its compact size does not impede its effectiveness. Unlike bulkier models, this stripper allows for a secure grip, providing control and comfort during the fletching removal process.
Whether you're at your workbench or in the field, its convenience is a game-changer. The Pro Stripper's performance is top-notch. It slides under fletchings, slicing through glue with precision, sparing the carbon shafts from damage.
I've cycled through countless arrows, and the consistency remains. The reversible blade doubles its lifespan, and trust me, having a sharp edge without frequent replacements is a boon. Even as it dulls, the simplicity of sharpening it with a round file extends its utility far beyond one-time-use tools.
When it comes to value, the Saunders Pro Stripper shines. In my extensive use, the initial sharpness lasts impressively long before needing a flip or a quick sharpening. Economically, it's a wise choice. You're not just buying a stripper; you're investing in a durable piece of equipment. For archers who value their time and resources, this tool is a clear frontrunner.
Key Features
Ease of Use: Designed to fit comfortably in the palm of the hand for easy operation.
Efficiency: Capable of removing fletching in one simple stroke.
Durability: Equipped with a reversible blade for extended use.
Safety: Includes a cover to keep the tool-steel blade sharp and secure when not in use.
What I liked
Small enough to be easily carried and used anywhere
User-Friendly
Quickly strips fletching, saving time in arrow preparation
Reversible blade
Blade cover prevents accidents and maintains sharpness
Made with durable materials designed to last
What I didn't like
Solely designed for stripping fletching, with no other archery tool functions
8. Pine Ridge Archery Arrow Puller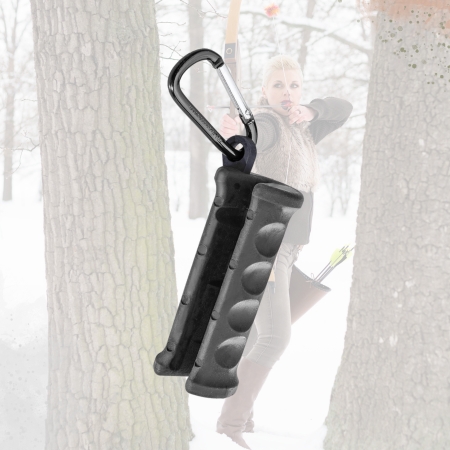 Check on Amazon
Check on Optics Planet
Check on Lancaster Archery
I've had my fair share of stubborn arrows that refused to budge from the target. Enter the Pine Ridge Archery Arrow Pullers: the Maxx Grip and the Big Gripper. Both styles have a tactile material that ensures a no-slip hold, making the removal process far less of a wrestling match.
The Maxx Grip is flat and unassuming, but don't let that fool you. Its grip is steadfast, and it transforms the ordeal into a swift task. The Big Gripper is suited for those with larger hands. It doubles as a tool for extinguishing lighted nocks and tightening field points.
I found this multifunctionality invaluable, making it more than just an arrow puller in my kit. I've been putting the Big Gripper through its paces, shooting upwards of 75 arrows daily. It's been hitched to my quiver for years and has yet to show signs of wear.
The material has kept its promise; it hasn't hardened or become slick, which is crucial for maintaining a consistent experience. It's refreshing to see a product that's built to last, especially when it's used as frequently as mine is.
Key Features
Material: Made from a material that is described as tacky, which aids in providing a secure grip.
Designs: Available in two models – the flat "Maxx Grip" and the tubular "Big Gripper."
Functionality: Designed to make the task of pulling arrows easier, with the Big Gripper also able to extinguish many lighted nocks and tighten three different sizes of field points.
What I liked
Made from durable material that maintains grip over time
Compatible with various arrow types
Includes a carabiner for easy transport
The material does not harden or become slick, which is beneficial for frequent use
What I didn't like
May not be suitable for archers with smaller hands
Bonus Tips for Recurve Bow Hunting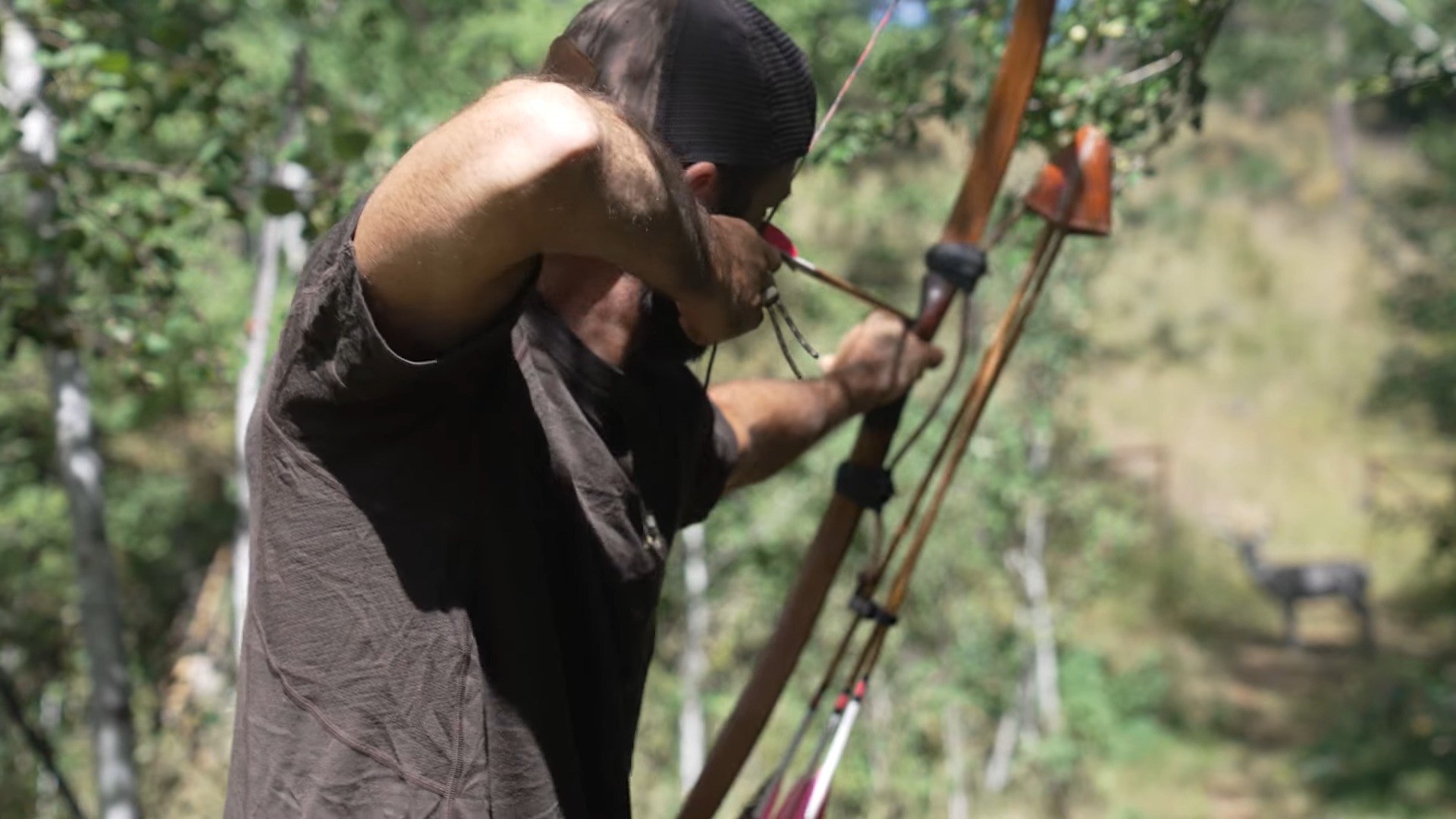 Recurve bow hunting is an exciting and rewarding activity that requires more than just a bow and arrows. To be successful in the field, you'll need a variety of extra gear that will help you make the most of your hunting experience. Here are some extra essential items that you'll need:
Hunting Gear
Hunting knife: A hunting knife is a versatile tool that can be used for a variety of tasks, such as field dressing game and preparing meals.
Binoculars: Binoculars are essential for spotting game at a distance.
Rangefinder: A rangefinder helps you accurately estimate the distance to your target.
Trail camera: A trail camera can be used to scout for game and track their movements.
Game cart: A game cart is used to transport your harvested game back to your vehicle.
Clothing
Camo clothing: Camo clothing helps you blend in with your surroundings and conceals your presence from game.
Boots: Boots should be comfortable and provide good support for your ankles and feet.
Hat and gloves: A hat and gloves will keep you warm in cold weather.
Rain gear: Rain gear will keep you dry in wet weather.
Safety Gear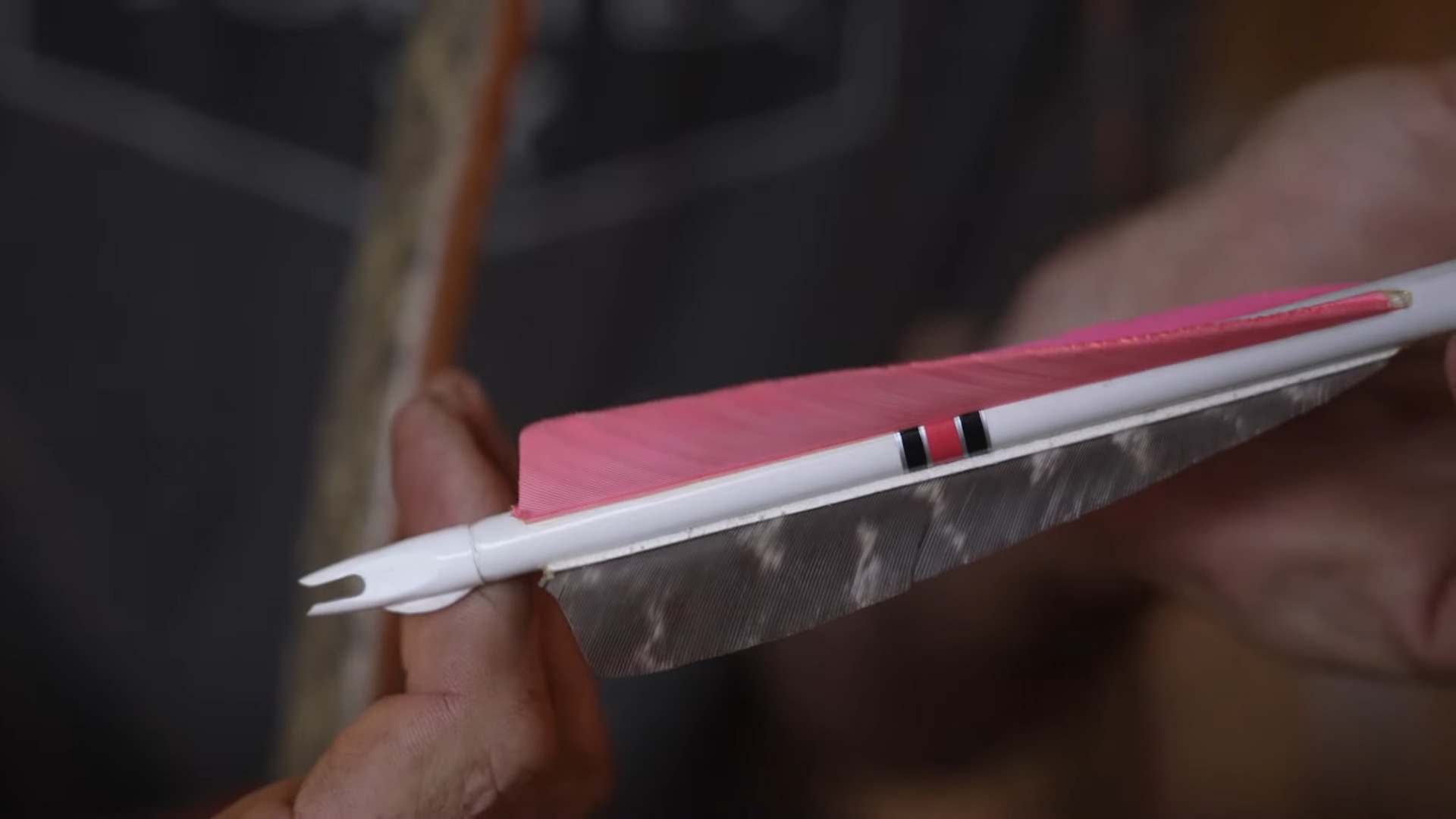 Tree stand: A tree stand allows you to hunt from an elevated position, which can give you a better vantage point.
Safety harness: A safety harness is essential for using a tree stand.
First-aid kit: A first-aid kit is essential for treating any injuries that you may sustain while hunting.
Other Essentials
Food and water: Be sure to pack plenty of food and water, especially if you're going to be hunting for extended periods of time.
Flashlight: A flashlight is essential for hunting in low-light conditions.
Map and compass: A map and compass can help you navigate your way around the hunting area.
Cell phone: A cell phone can be used to contact help in case of an emergency.
FAQs
How can I keep my recurve bow safe during transport?
To keep it safe during transport, it is important to use a quality bow case that is padded and has secure closures. The NEET NK-164 SW Recurve Bowcase is a great option, as it has 1/2-inch foam padding, a brushed trico lining, and a full-length zipper.
What are the different types of kisser buttons available for recurve bows?
There are a variety of kisser buttons available for recurve bows, each with its own unique features. The Draves Komfort Kisser Button is a popular choice, as it is made of soft plastic and has a non-tacky surface that does not irritate the face. Other popular options include the Gold Tip Kisser Button and the Victory Kisser Button.
What is the best way to string and unstring a recurve bow?
The safest way to string and unstring a recurve bow is with the help of a stringer. The Selway Limbsaver Recurve Bow Stringer is a great option, as it is easy to use and prevents limb twist.
What is the importance of an arm guard when bow hunting?
An arm guard is important when bow hunting to protect your arm from string slap. The Bohning Archery – Slip ON ARMGUARD is a popular choice, as it is comfortable and adjustable.
What is the best way to protect my arrows from damage?
To protect your arrows from damage, it is important to use arrow tip protectors. The Saunders Bow Tip Protector Black 1 pk. is a great option, as it is made of durable plastic and fits most arrow tips.
What is the best way to remove arrows from a target?
The best way to remove arrows from a target is with an arrow puller. The Pine Ridge Archery Arrow Puller is a popular choice, as it is easy to use and does not damage the arrows.
Final Words
Recurve bow hunting is a rewarding and challenging sport that can be enjoyed by people of all ages. By having the right gear, you can make your recurve bow hunting experience even more enjoyable. So, if you are thinking about taking up recurve bow hunting, be sure to invest in the right gear. It will be worth it in the long run.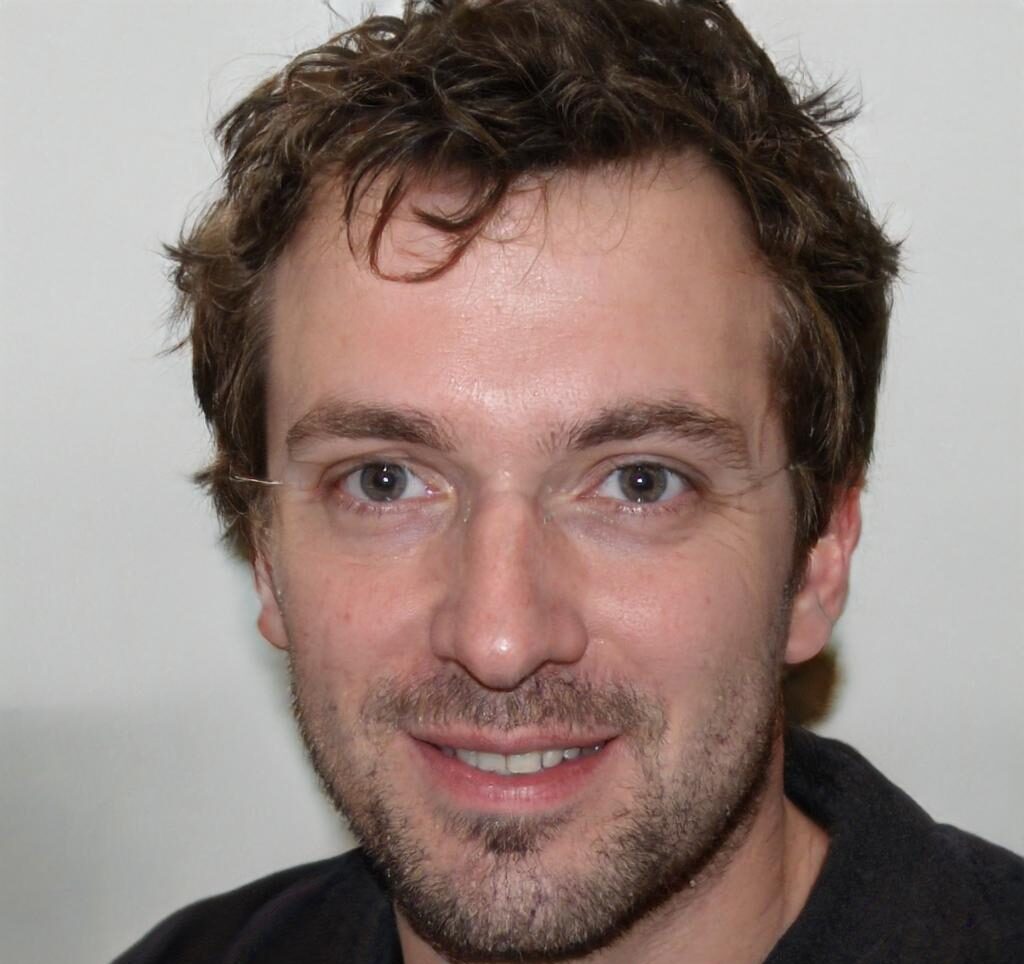 My name is Paul Anderson, and I have been teaching and practicing archery for over 15 years. I am a certified archery instructor and an expert in archery equipment and techniques.
I started shooting bow and arrows as a kid, but it wasn't until I was in college that I discovered traditional archery. I fell in love with the simplicity and precision required for this timeless sport. After graduating, I became a certified archery instructor so I could share my passion with others.
Over the past decade and a half, I have helped countless people learn the art of archery. Whether they are seeking a new hobby or looking to improve their form, I enjoy helping people find success in this sport.
In addition to teaching, I also write archery equipment reviews and how-to articles for GearDisciple, sharing my expertise to help other archers find the best gear and techniques to fit their needs. For me, archery is more than just a hobby – it is a way to encourage focus, discipline, and mindfulness through the practice of this ancient art. I look forward to sharing my knowledge and experience with the readers of GearDisciple.