Finding the perfect arrow for your recurve bow can be the difference between a good hunt and a great one. Having spent countless hours in the field and on the range, I've seen firsthand the impact that arrow selection has on performance.
The balance, the flight, the hit—it all comes down to the marriage between the bow and its arrow. When hunting with a recurve bow, the right arrows are crucial for accurate, ethical shots. Today, I will present you with a list of my favorite arrows. Let's begin. My top picks:
1. Carbon Express Adrenaline Arrows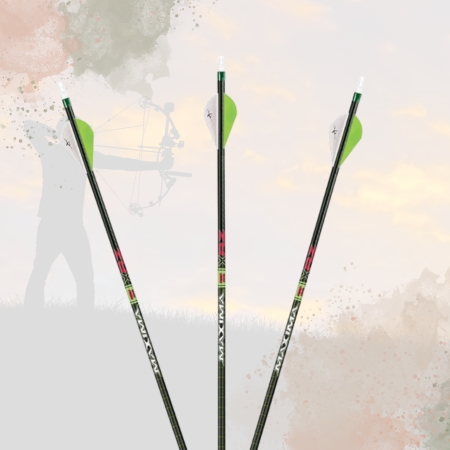 Check on Amazon
Check on Cabela's
Check on OpticsPlanet
Having recently taken the Carbon Express Adrenaline Arrows out for a spin, I found them living up to their name in terms of speed and accuracy. The advanced carbon layering indeed contributes to consistent performance, with each arrow flying true to the target.
The matched weight set is a real advantage, as the tight 3.0 grains tolerance ensures a balanced release every time. Additionally, the precision of straightness to 1/10,000 of an inch instills confidence in their craftsmanship.
However, while the performance is spot on, the finely buffed finish, though stealthy, seems less durable in rougher terrains, showing signs of wear after several uses. The selection of colors is practical but limited, which may not appeal to archers who like to personalize their gear.
Despite these points, the overall quality of these arrows makes them a solid choice for archers looking to maintain high performance without compromising on reliability.
Key Features
Matched Weight Set: Each set is weight-sorted with a tolerance of ±3.0 grains.
Real Straightness: Every arrow is laser checked for straightness to a remarkable 1/10,000 of an inch, with a maximum measurement, not an average, of 0.006 inches.
Advanced Layered Carbon Design: This construction provides greater consistency in performance.
Finely Buffed Finish: Offers a quiet draw on the arrow rest, enhancing stealth in the field.
Color and Material: The arrows are primarily black with some green and white, made of carbon.
Pack Quantity: They are sold in packs of six.
What I liked
Engineered for ultimate speed and accuracy
Advanced layered carbon design
Consistency in performance
Matched weight set
Real straightness
Quiet draw
2. Carbon Express Maxima Triad Shafts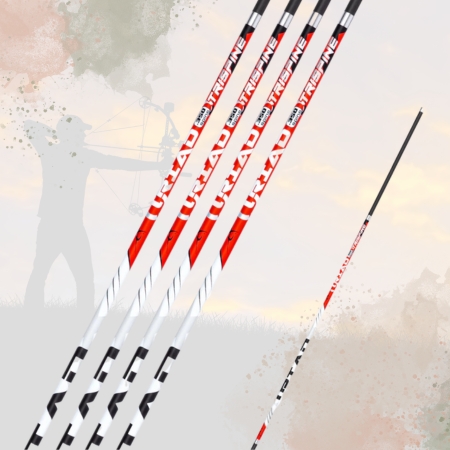 Check on Amazon
Check on OpticsPlanet
Check on Cabela's
I recently had the chance to test out the Carbon Express Maxima Triad Shafts, and my first takeaway is their impressive accuracy. The patented three-spine shaft design noticeably reduces arrow oscillation, resulting in tighter groupings on the target.
The 30-ton carbon construction translates into a swift and stable flight path, further enhancing accuracy. The Laser Match Set, with its stringent spine and weight sorting tolerance, is a testament to the quality and consistency Carbon Express promises. However, no product is without its quirks.
The extra-small diameter, while great for wind resistance and penetration, might require specific components, like nocks and points, which could be a slight hassle if you're not prepared for it. The premium build quality also comes with a premium price tag. Yet, these shafts hold their own. They're a solid choice for hunters looking for durability and precision, providing value that can justify the investment for serious archers.
Key Features
Tri-Spine XSD (Extra Small Diameter) .166 hunting arrow for high performance
REDZONE Technology for reduced oscillation and increased accuracy
Constructed from ultra-stiff and strong 30-ton carbon for faster recovery and better downrange performance
Smaller diameter for improved penetration and reduced wind drift
BullDog Nock Collar, made from aircraft-grade aluminum to prevent impact damage
Laser Match Set for consistency, with spine and weight sorted to +/- .0025 and +/- 1.0 grains respectively
Real Straightness of +/- .002 inches, ensuring high precision
Launchpad Precision Nocks for controlled release and consistent accuracy
Available in 12-pack shafts or 6-pack fletched arrows
Length of 32 inches with a straightness factor of .002 inches
Weight options: 300 (10.9gpi), 350 (10.1gpi), 400 (9.2gpi) with a weight tolerance of 1 grain
What I liked
High accuracy
Superior penetration
Enhanced durability
Impact damage protection
Precision Nocks
What I didn't like
With a price point of around $300 for a 12-pack, these shafts are on the higher end of the market
The advanced features and tuning requirements might be overwhelming for novice archers
3. Carbon Express Maxima XRZ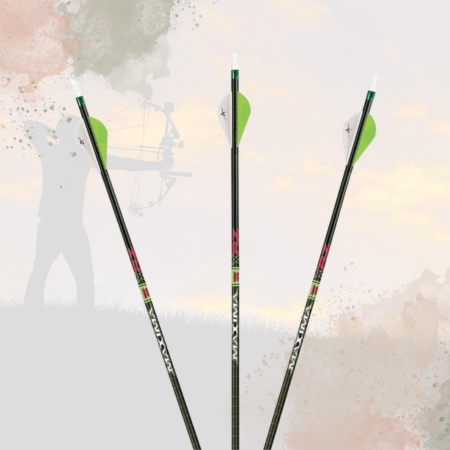 Check on DvaSata
Check on OpticsPlanet
Check on eBay
The Carbon Express Maxima XRZ arrows are a testament to how cutting-edge technology can elevate archery performance, which is why I decided to give them a chance. The consistency provided by the 360-degree spine and the dynamic stabilization from the Red Zone gives these arrows a significant edge in accuracy.
With every shot, the flat trajectory and deep penetration are exactly what a serious hunter or competitive shooter looks for. The real straightness, ensured by laser-checking, along with the matched weight set, underscores the quality of each arrow in the pack. However, while these features are impressive, the price point might be steep for those new to the sport or for archers on a budget.
And while the Kevlar weave adds to the strength, some may find the array of technical enhancements a tad overwhelming when starting. The included Bulldog Collars and Launchpad Precision Nocks are great additions, but the necessity of buying broadheads separately could be a minor inconvenience. Aside from these minor points, the Maxima XRZ arrows provide top-tier performance that could be worth the investment for the serious archer looking to up their game.
Key Features
Designed for speed with a lightweight profile
360-degree spine consistency stabilizes arrow flight
Real Straightness technology for precision accuracy
Matched weight set for consistency (+/- 1.0 grains)
Launchpad Precision Nock for controlled arrow release
Bull Dog Nock Collars for enhanced protection
Available in 150 (.500), 250 (.400), 350 (.330) spines
Straightness tolerance of +/- 0.0025 inches
What I liked
Constructed with exclusive BackBone technology, providing 360-degree spine consistency.
Tri-Spine technology
100% woven carbon construction
Each arrow is laser-checked for straightness
Controlled and precise arrow release
What I didn't like
Complex Technology for Beginners
4. Carbon Express D-Stroyer MX Hunter Arrows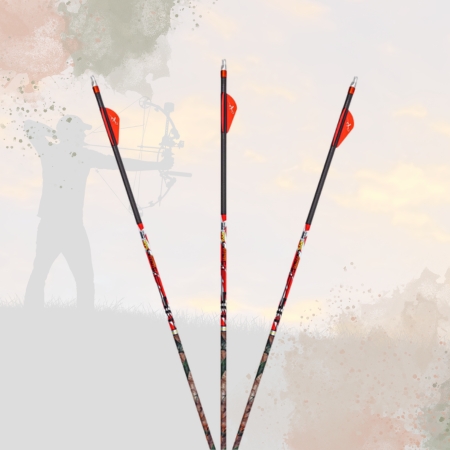 Check on Amazon
Check on Cabela's
Check on OpticsPlanet
Having had the chance to use the Carbon Express D-Stroyer MX Hunter Arrows, I can attest to their impressive performance. The dual spine weight forward technology is a game-changer, offering remarkable accuracy by reducing oscillation.
This feature alone makes these arrows a standout choice for hunters seeking precision. The construction quality is top-notch, with a Buff Tuff Plus carbon weave on the back third for strength and a quieter, easier-to-remove Camo Buff Tuff on the front.
They fly true, thanks to the .002-inch straightness factor, and the inclusion of Launchpad Precision Nocks adds to the consistent accuracy. However, no product is without its drawbacks.
The BullDog Nock Collar, while protective, adds a bit of weight that may require some shooters to adjust their setup. This is a minor concern, and the arrows' performance and durability make them a worthy investment for serious hunters. The downsides are there, but they don't overshadow the quality and capability these arrows bring to the field.
Key Features
Dual Spine Weight Forward technology for increased accuracy and performance
Patented 2 Spine arrow shaft reduces oscillation and enhances accuracy
Buff Tuff Plus construction for strength and spine consistency
Camo Buff Tuff outer layer for a quiet carbon arrow finish
BullDog Nock Collar made of aircraft-grade aluminum to prevent impact damage
Laser Match Set for spine and weight consistency
Real Straightness of +/- .002 inches, checked with a laser
Launchpad Precision Nocks for controlled arrow release and consistent accuracy
Q2i 2in Rapt-X Vanes for improved flight dynamics
Available in 300 (.300in spine), 350 (.350in spine), and 400 (.400in spine) sizes
Weight tolerance of +/- 1 grain for precision shooting
What I liked
Enhanced accuracy
Reduced oscillation by 50% compared to single spine arrows.
High modulus carbon weave
Quieter arrow release
Precision nocks and vanes for improved flight stability and accuracy
What I didn't like
Specific spine selection is required to match the bow's draw weight and length.
5. Carbon Express D-Stroyer Piledriver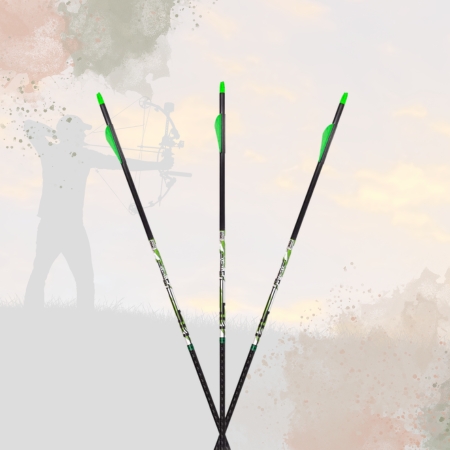 Check on Amazon
Check on OpticsPlanet
Check on Cabela's
After testing the Carbon Express D-Stroyer Piledriver arrows, I was pleasantly surprised by the value they bring to the table. The dual spine weight forward technology is a game-changer, offering remarkable accuracy and penetration.
These arrows are a solid choice for hunters seeking maximum kinetic energy and knock-down power. The consistency in spine strength and durability across the shaft is impressive, thanks to the K-360 outer layer construction.
Each arrow is matched within +/-1 grain, which speaks volumes about their quality control. However, it's worth noting that these arrows are on the heavier side, which might not suit everyone's shooting style.
While the added weight contributes to their penetrative capabilities, it could also mean a slightly steeper learning curve for archers used to lighter arrows. Nevertheless, for serious hunters who prioritize performance and precision, the D-Stroyer Piledriver arrows are well worth checking out.
Key Features
Dual Spine Weight Forward technology for accuracy and penetration
PileDriver Standard Diameter (.244 ID) for ultimate penetration and kinetic energy
K360 outer layer construction with 100% high modulus carbon weave for spine strength and durability
Match Weight +/-1.0 grains for consistency
Real Straightness +/- .003″ for precision
Launchpad Precision Nocks for controlled release and accuracy
2″ Quadel Vanes for flight stability
What I liked
Superior penetration
Consistent spine strength across the shaft length
Excellent weight sorting tolerance
Exceptional straightness tolerance
Superb flight stability
What I didn't like
May require more power to shoot effectively due to the weight.
6. Carbon Express Maxima Red Contour Arrows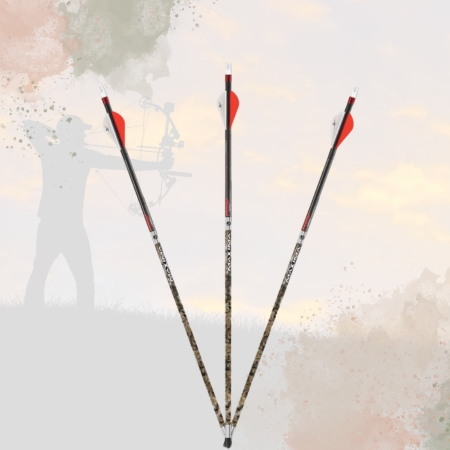 Check on Amazon
Check on Cabela's
Check on OpticsPlanet
After a thorough session with the Carbon Express Maxima Red Contour Arrows, I've found them to be a solid choice for the archer seeking precision and durability. The arrows feature Tri-Spine Red Zone technology, which significantly reduces oscillation and enhances accuracy, a boon for both target practice and hunting scenarios.
The BullDog Nock Collar is another standout, providing robust protection against impact damage. This attention to detail in construction translates to a reliable flight path and a satisfying thunk into the target.
The Mossy Oak Contour camouflage, while aesthetically pleasing, may not be a necessary feature for all archers, especially those who prioritize function over form, but this is a minor drawback. The Maxima Red Contour arrows are a worthy investment for serious archers who value precision and quality in their equipment.
Key Features
High-tech carbon design with stiffer distal ends to contain arrow flex.
Exclusive Tri-Spine Technology to manage dynamic spine.
RED ZONE technology to control arrow oscillation and improve broadhead accuracy.
Comes fletched with Blazer vanes.
Includes BullDog nock collar and LAUNCHPAD precision nocks.
Checked for straightness to 1/10,000 of an inch.
What I liked
The arrows are designed to control the dynamic spine, leading to improved accuracy.
The stiffer ends help to contain the arrow's flex
Reduced arrow oscillation
Arrows are sorted and matched by weight and spine
What I didn't like
Specific technology may require archers to adjust their shooting style
7. Carbon Express D-STROYER SD 400 6PK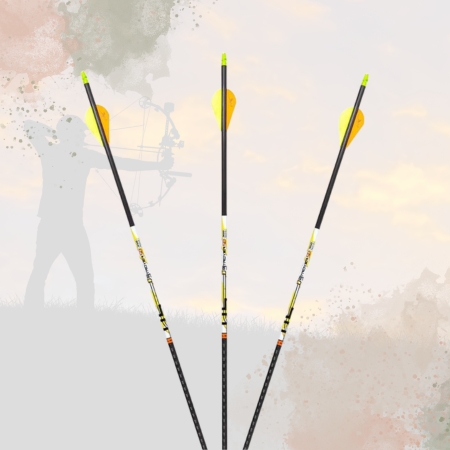 Check on Amazon
Check on OpticsPlanet
Check on Kiky
The Carbon Express D-STROYER SD 400 is a game-changer for serious hunters seeking unmatched accuracy in their shots. The innovative Dual Spine Weight Forward technology is a standout feature that I really enjoyed, propelling these arrows with remarkable precision.
In practice, the reduced oscillation and consistent spine strength translate to shots that fly true to your aim, a critical factor when the moment of truth arrives in the field. The arrows' construction, featuring a high modulus carbon weave, ensures durability that withstands the rigors of hunting environments.
Plus, the meticulous laser checking for straightness is evidence of the quality control that goes into each 6-pack, giving you confidence in every shot. The advanced technology and precision engineering that contribute to their exceptional accuracy may be more than what's necessary for beginners or casual archers.
However, for the dedicated hunter who values precision and is willing to invest in top-tier equipment, these downsides are minor compared to the significant edge the D-STROYER SD 400 arrows provide in the field.
Key Features
Dual Spine Weight Forward technology for accuracy
Small Diameter (.203 ID) for maximum kinetic energy and penetration
K360° – 100% high modulus carbon weave construction on front 2/3 of the shaft
Match Weight +/-1.0 grains for weight consistency
+/- .003″ Real Straightness for precision
Launchpad Precision Nocks for controlled release and consistent accuracy
2″ Rapt-X Vanes for flight stability
What I liked
Significantly increased accuracy
Reduced oscillation
Deeper penetration and less wind drift
Exceptional straightness tolerance
Excellent flight of the arrow
What I didn't like
The specific weight and straightness tolerances might not be necessary for all types of archery
The small diameter may require special considerations for compatibility with certain arrow rests or targets
8. Carbon Express PileDriver Ds Hunter Arrows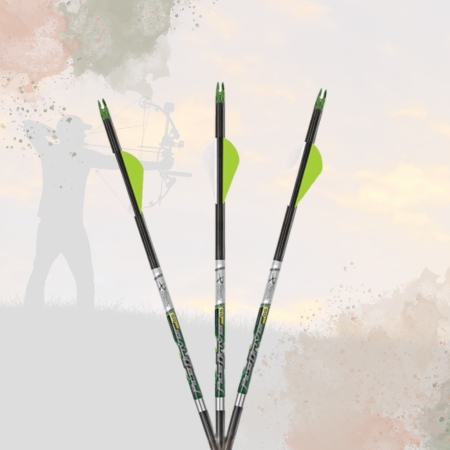 Check on Amazon
Check on Cabela's
Check on OpticsPlanet
When it comes to hunting arrows, the Carbon Express Piledriver DS Hunter stands out with its promise of deep penetration and maximum kinetic energy. Having used these arrows myself, I can attest to their heft and the power they bring to the bowhunt.
The dual spine weight forward technology is not just a fancy term; it translates to noticeable stability in flight and a swift, true impact that can make all the difference when you're aiming for that critical shot.
The BuffTuff finish is another highlight, providing a stealthy draw that won't startle your prey. However, the very feature that makes these arrows a boon for hunters— their weight—can also be a slight drawback. Newcomers to archery or those used to lighter arrows may find the Piledriver DS Hunter requires an adjustment period.
The arrows' weight, while enhancing kinetic energy, may reduce the total distance covered, which is something to consider for long-range shots. Despite this, the robust construction and the precision they afford make them a worthy addition to any archer's quiver, especially for those focused on hunting where power and penetration are paramount.
Key Features
Color: Mossy Oak Break Up
Quantity: 6 Pack Fletched
Length: 31.5 inches
Diameter: 0.304 inches
Fletching: 2-inch Vanes
Straightness: ±0.0035 inches
Weight tolerance: ±1.0 grain
What I liked
Engineered for maximum penetration
The heaviest arrow in the Carbon Express line, creating maximum kinetic energy
Dual spine weight forward technology for more speed, accuracy, and penetration
Constructed with patented BuffTuff for extreme durability
Features a quiet draw, beneficial for stealth in hunting situations.
Straightness tolerance ensures high accuracy for consistent shooting
The Mossy Oak Break Up color offers camouflage, blending with hunting environments
What I didn't like
Limited to a 6 pack, which may require additional purchases for those needing more arrows
The specific design for maximum penetration might not be suitable for all types of archery practices or smaller game
Buying Guide
When it comes to recurve bow hunting, the arrows you choose can be just as crucial as some other essentials and the bow itself. A well-selected arrow can mean the difference between a clean shot and a missed opportunity. Here, I will help you make an informed decision, ensuring that your arrows enhance your hunting experience with the proper archery gear.
Choosing the Right Material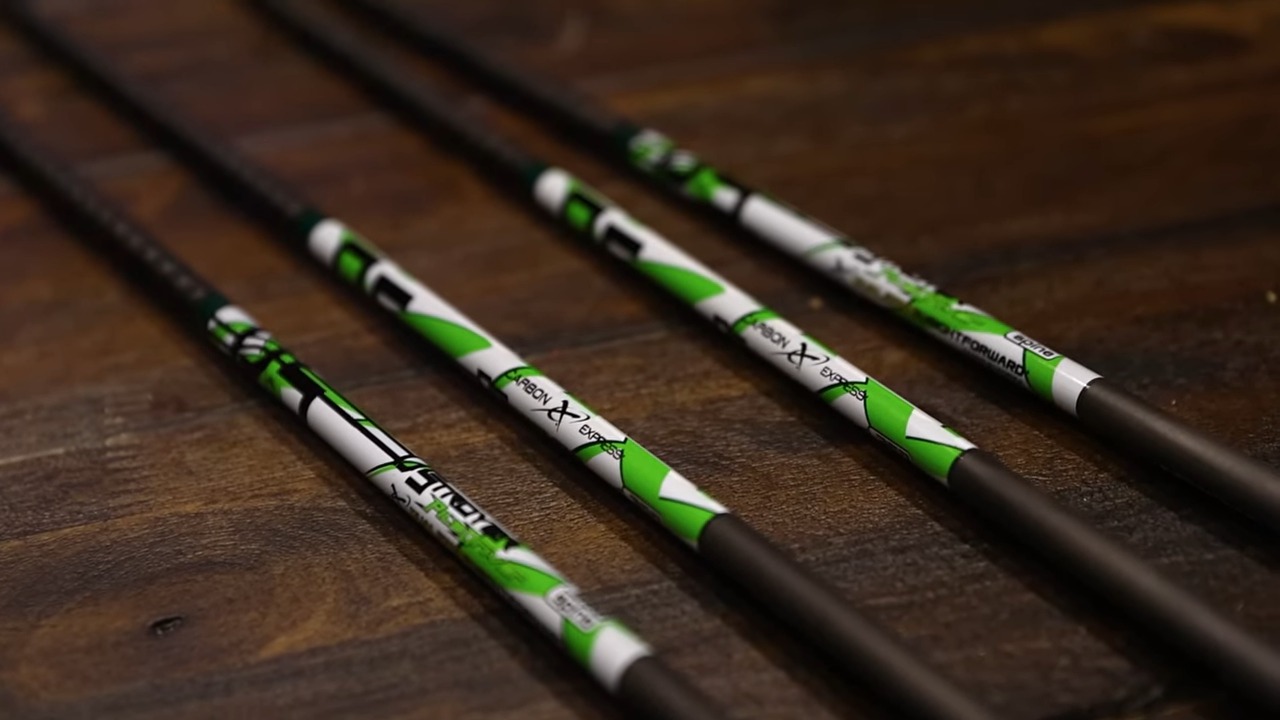 Carbon Arrows
Carbon arrows have taken the lead in the hunting world for good reason. They are lightweight, which allows for a flatter trajectory and better wind resistance. Moreover, they are extremely durable; they can take a beating without bending, which means they'll last longer than other materials.
In contrast to other materials, carbon arrows offer consistent performance. Whether the weather is hot, cold, or damp, carbon arrows maintain their shape and flight characteristics. This reliability is what makes them a favorite among serious hunters.
Aluminum Arrows
Aluminum arrows are a classic choice that combines affordability with performance. They are heavier than carbon, which can be an advantage for hunters seeking momentum over speed.
With a range of sizes and stiffness, they can be tailored to fit different draw weights and lengths. Aluminum's main drawback is its tendency to bend. If you're shooting targets that are hard or at odd angles, aluminum arrows can become deformed. They are not as durable as carbon, but for many, the lower cost and high precision make them an attractive option.
Wooden Arrows
Wooden arrows carry the spirit of traditional archery. They are often chosen by enthusiasts for their natural feel and aesthetic. However, they are not the most practical for hunting. Wood can be inconsistent in weight and straightness, which affects accuracy.
Wooden arrows also suffer from durability issues. They can warp with changes in humidity and temperature, and they are prone to breaking upon impact. While they may hold sentimental value, they are not the best choice for a hunter who values performance and reliability.
Arrow Weight and Spine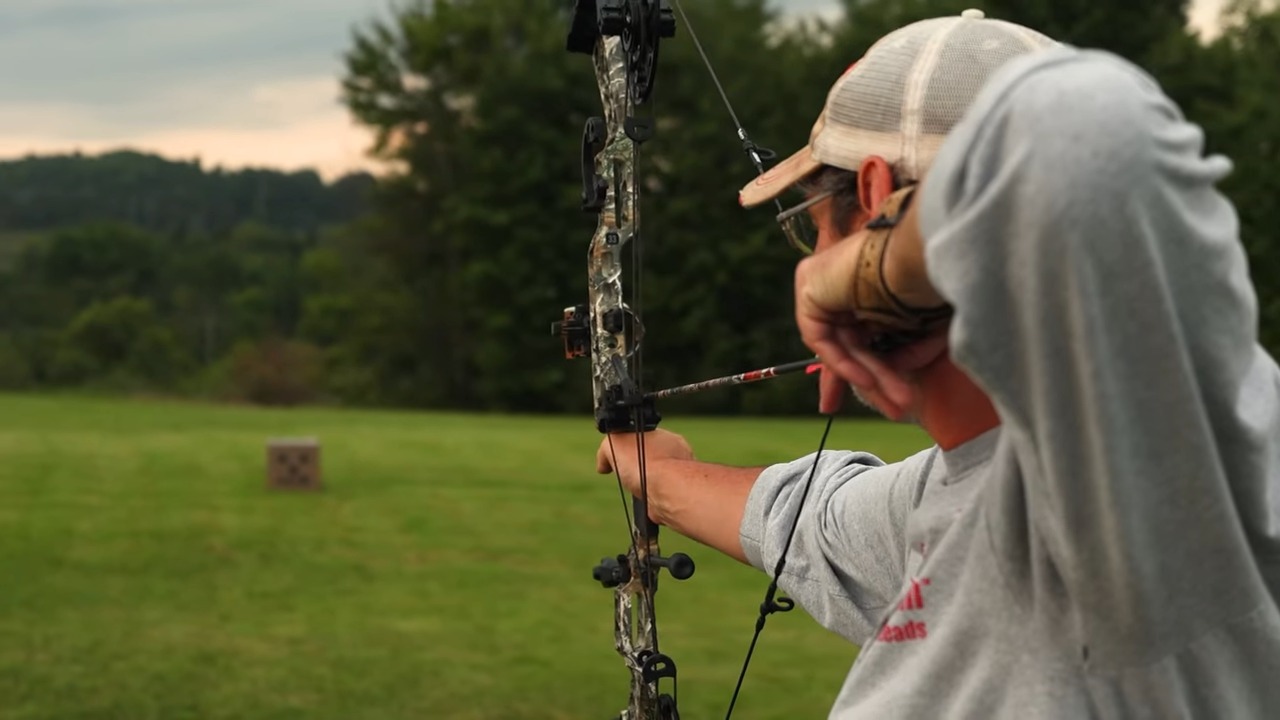 The spine of an arrow refers to its stiffness, and getting it right is critical. An arrow that's too stiff or too flexible will not fly correctly from a recurve bow. The perfect spine depends on the draw weight of your bow and the length of the arrow.
Generally, heavier draw weights require stiffer arrows. Most manufacturers provide charts to help you match the arrow spine to your bow's specifications. It's worth investing the time to get this right, as an arrow with the proper spine will fly straighter and hit harder.
Finding the Right Arrow Weight
Arrow weight is measured in grains per inch (GPI). Heavier arrows carry more momentum, which is vital for deeper penetration—critical for hunting. However, heavier arrows also mean a slower flight and a more pronounced arc.
The key is to balance speed and momentum. Hunters often prefer arrows in the mid-weight range, as they offer a good balance for most hunting situations. Lighter arrows might be faster, but they can lack the punch needed for larger game.
Choosing the Right Fletching
Fletching is the vanes or feathers on the tail of the arrow, and it stabilizes the arrow in flight. For hunting, durability and weather resistance are key. Plastic vanes are popular because they hold up well under various conditions and don't get waterlogged like feathers.
While feathers can be quieter and give more lift, they require more care and aren't as robust as plastic vanes. Consider the conditions you'll be hunting in when selecting your fletching.
Selecting the Appropriate Nocks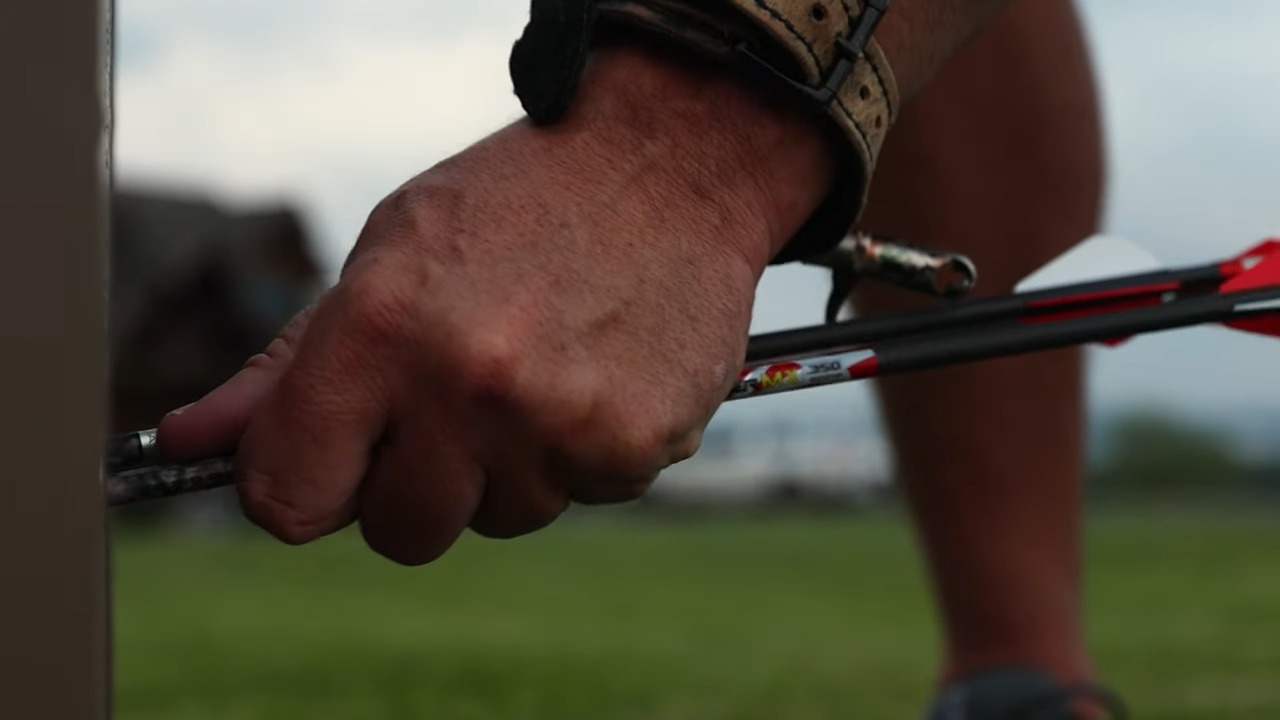 Nocks are the small notches at the rear end of the arrow that secure it to the bowstring. They should fit snugly but not too tight on the string. A nock that's too tight can impact release and accuracy, while one that's too loose can cause the arrow to fall off before the shot.
Be sure to test different nocks with your bowstring to find the fit that releases smoothly every time. A good nock will hold firm until the moment of release, contributing to a reliable and accurate shot.
FAQs
How does arrow length affect performance in recurve bow hunting?
Arrow length is critical for safe and effective shooting. An arrow that is too short for your draw length can be dangerous, as it may slip off the rest and cause injury.
Too long, and it will reduce the arrow's stiffness (its spine), leading to inaccuracy.  The ideal arrow length is typically about 1-2 inches longer than your draw length to ensure optimal performance and safety.
Can I use the same arrows for both target practice and hunting?
While you can use the same arrows for practice and hunting, it is not always advisable. Practice arrows often have field points, which are different in shape and weight from hunting broadheads.
For the most effective practice, use arrows that are as similar as possible to your hunting arrows in terms of weight, length, and fletching to mimic hunting conditions.
How often should I replace my recurve bow arrows?
The lifespan of an arrow depends on the amount of use and the conditions under which they are used.  Inspect your arrows regularly for cracks, bends, or other damages, especially after shooting at hard targets or if they hit obstacles like rocks or trees.
Replace them if you notice any signs of wear that could affect performance or safety.
Is there an ideal number of vanes for recurve bow hunting arrows, and why?
Most hunting arrows have three vanes, which is considered ideal for stabilizing the arrow in flight while maintaining a balance between speed and accuracy.
While four-vane configurations can offer greater stability, they can also slow down the arrow. For hunting with a recurve bow, three vanes strike a good balance for most situations.
Does the color of the fletching affect the visibility or performance of the arrow?
The color of the fletching does not affect the performance of the arrow, but it does impact visibility. Brightly colored vanes can help you track the arrow during flight and find it after a shot, especially in dense terrain.  Some hunters prefer natural colors for a stealthier approach, but there is a trade-off in being able to locate the arrow after release.
Are heavier or lighter nocks better for hunting with a recurve bow?
The weight of the nock is less about the hunting application and more about the balance and tuning of the arrow. A heavier nock can slightly alter the arrow's center of gravity, which might be beneficial depending on your shooting style and the arrow's total weight.
It's essential to use nocks that complement the overall arrow build for a consistent flight path. Test different nocks during your practice sessions to determine what works best with your setup.
Final Words
Choosing the right arrows for your recurve bow is a fundamental aspect of successful hunting. Material, weight, spine, fletching, and nocks all play pivotal roles in the performance of your arrows.
While personal preference and specific hunting conditions will influence your choice, prioritizing durability, precision, and appropriate matching to your bow's specifications is key.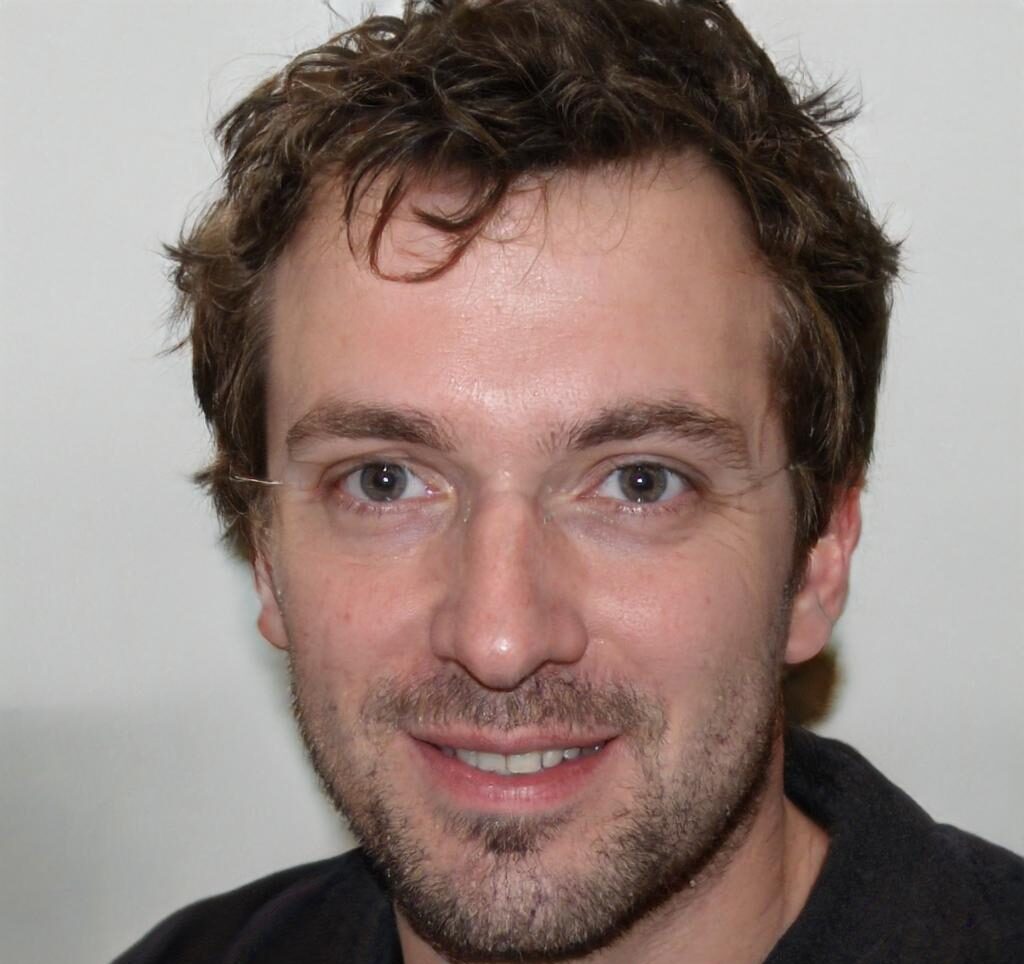 My name is Paul Anderson, and I have been teaching and practicing archery for over 15 years. I am a certified archery instructor and an expert in archery equipment and techniques.
I started shooting bow and arrows as a kid, but it wasn't until I was in college that I discovered traditional archery. I fell in love with the simplicity and precision required for this timeless sport. After graduating, I became a certified archery instructor so I could share my passion with others.
Over the past decade and a half, I have helped countless people learn the art of archery. Whether they are seeking a new hobby or looking to improve their form, I enjoy helping people find success in this sport.
In addition to teaching, I also write archery equipment reviews and how-to articles for GearDisciple, sharing my expertise to help other archers find the best gear and techniques to fit their needs. For me, archery is more than just a hobby – it is a way to encourage focus, discipline, and mindfulness through the practice of this ancient art. I look forward to sharing my knowledge and experience with the readers of GearDisciple.