I've spent the better part of the last decade exploring the great outdoors, from the rolling hills of the Appalachians to the rugged terrain of the Rockies. As an expert in camping and outdoor gear, I've pitched more tents than I can count and weathered through conditions that have put my equipment to the ultimate test.
Today, I'm here to share my insights on selecting the best 4-person camping tents that can turn a good camping trip into a great one. Whether you're a family seeking adventure or a group of friends hitting the campsite of your choice, the right tent is your nightly haven.
Let's walk through what makes a tent stand out and how you can choose the perfect one for your next outdoor escapade.
1. Mountainsmith Sun Shelters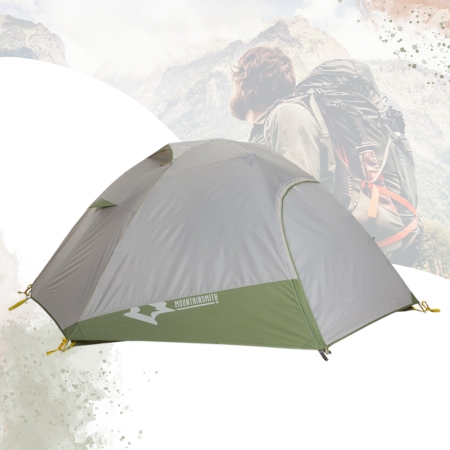 Check on Amazon
Check on OpticsPlanet
Check on REI
Setting Mountainsmith Sun Shelters up for the first time, I appreciated the intuitive design, which allowed for a quick and hassle-free assembly. The lightweight yet robust construction was immediately apparent, offering a reassuring sense of durability.
Over time, I've come to realize that this shelter is a reliable companion for my outdoor adventures. The ample interior space is a boon, comfortably fitting my family without feeling cramped. The ventilation system is thoughtfully designed, keeping the interior fresh and reducing condensation – a common issue in many shelters.
After multiple excursions, I can confidently say that the Mountainsmith shelter stands out in its category. With a ready fire and your family, you can relax and charge your batteries before going back into your routines, It's not just a place to rest; it's a fortress against the elements. It's not without its drawbacks. The zippers can be finicky at times, requiring a gentle touch.
Key Features
Two-door design for easy access
Bathtub floor construction to prevent moisture seepage
Mesh storage pockets for organization
Reflective guylines for visibility at night
Color-coded 'Easy Pitch' clips and poles for straightforward setup
What I liked
Spacious interior
Quick, intuitive assembly
Effective ventilation system
Robust weather resistance
Compact and portable
What I didn't like
Zippers need careful handling
Slightly heavy for solo use
2. Big Agnes Spicer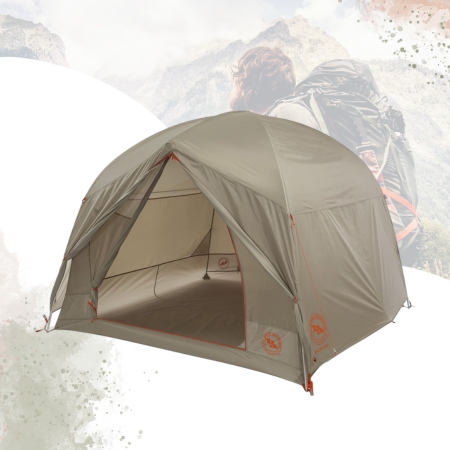 Check on Amazon
Check on OpticsPlanet
Check on Big Agnes
I had the opportunity to use the Big Agnes Spicer on a camping trip some time ago. This shelter is designed as a spacious dome, offering a comfortable outdoor experience. My review is based on personal use, aiming to provide an honest perspective on its features and performance.
Setting up the Spicer was straightforward, thanks to the color-coded webbing and buckles. The pre-cut guy lines and tensioners attached to the fly made the initial assembly less of a hassle. The dual doors and vestibules were a welcome feature, providing easy access and extra storage space.
At night, the reflective guy lines were a thoughtful touch, enhancing visibility. The living space was ample, with a high-volume architecture that didn't feel cramped. The mesh design allowed for excellent airflow, which was particularly beneficial in reducing condensation during damp nights. T
he tent's stability was impressive, even in gusty conditions, likely due to the hook and loop tabs that secured the fly to the pole structure.
Key Features
Easy setup
Two large doors and vestibules
Reflective guy lines and webbing for nighttime visibility
Fly vents and multiple door options
Quick Stash door keeper for unzipped doors
12 lbs. 4 oz.
90"L x 54"W, Head Height 54"
What I liked
Spacious interior
Easy setup design
Good airflow system
Reflective visibility
Dual doors and vestibules
What I didn't like
High storage pocket
Less robust stakes
3. Eureka Tents El Capitan 4-Person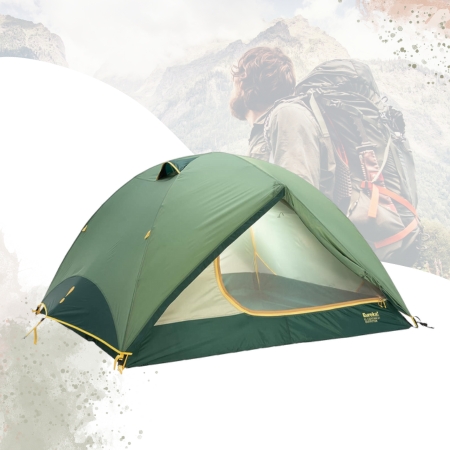 Check on Amazon
Check on OpticsPlanet
Check on Cabela's
Eureka Tents El Capitan+ Outfitter is a robust shelter option that has served me well in various outdoor settings. Its four-season classification isn't just a label; this structure has proven its mettle against diverse weather conditions.
The interior space is generous, providing more floor area than many standard models, which I found ample for my gear and personal space. The integrated ridgepole is a thoughtful addition, enhancing head and shoulder room, which is a subtle but significant comfort upgrade.
The tent's weight and packed size lean towards the heavier side, which might not appeal to those looking to minimize their load. Additionally, the fly coverage, while excellent for weather protection, could limit airflow in hotter conditions, although this is mitigated by the adjustable vents.
Key Features
Free-standing dome frame
Front and rear doors with waterproof fly
Two vestibules for gear storage
15% more floor space than traditional designs
High/Low Vent – Air Exchange System
Occupant capacity for 2, 3, or 4 persons
Durable polyester material
What I liked
Sturdy aluminum poles
Excellent ventilation
Spacious interior
Dual vestibules
Four-season design
What I didn't like
Price may vary
Heavier than some
4. Eureka Jade Canyon X4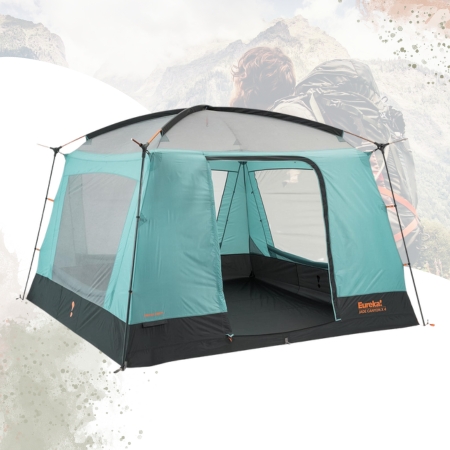 Check on Amazon
Check on OpticsPlanet
Check on PlanetsHoup
I must say, Eureka Jade Canyon X4 is a solid choice for those in search of a reliable shelter in the great outdoors. The first thing I noticed was the generous interior space. With a 7-foot peak height and nearly vertical walls, it felt more like a cabin than a shelter.
The setup process was straightforward, thanks to the combination of steel and aluminum frame materials, which also contributed to the structure's overall sturdiness. Once erected, the Jade Canyon X4 stood firm against the breezy conditions we encountered.
The four large windows offered excellent ventilation, keeping the interior cool and comfortable throughout our stay. While the materials used for the frame are top-notch, the fabric felt a bit thin, and I was concerned about its long-term durability against rough weather or abrasive surfaces.
Key Features
7-foot center height
Nearly vertical walls for more usable space
Durable frame
Four large windows for ventilation
Extended rainfly for a dry entryway
E! Power Port for electrical cord access
Four storage pockets and gear loft for organization
Weighs 19 lbs 12 oz and packs to 9 by 27 inches
What I liked
Spacious interior
Sturdy frame materials
Excellent ventilation
Dry entryway design
Convenient power port
What I didn't like
Fabric feels thin
Snug pack into duffle
5. Snow Peak Land Lock Shelter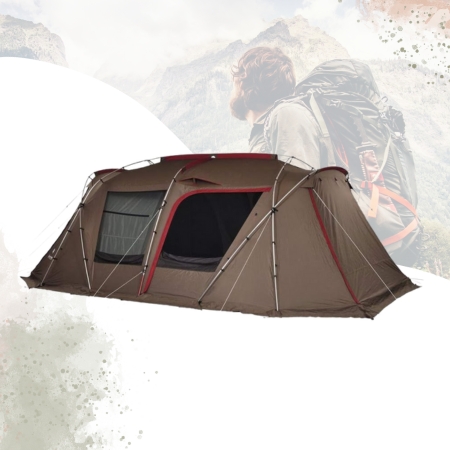 Check on Amazon
Check on OpticsPlanet
Check on eBay
From my experience with the Snow Peak Land Lock TP-671R, I can say it's a robust option for outdoor enthusiasts. The first thing you notice is its size, which is quite generous. It comfortably housed my family of six during a weekend getaway.
The build quality is impressive, with materials that feel both durable and premium. We were caught in a downpour on our first night, and the shelter's water resistance was put to the test. It passed with flying colors, keeping us dry and cozy while the rain hammered outside.
The sense of security it provided was unmatched. The sheer size of the shelter can be a double-edged sword. While it offers ample space, it also means it's not the quickest to set up and might be more than what's needed for smaller groups or solo travelers.
Key Features
625 x 405 cm with a peak height of 205 cm.
Weather-resistant fabric to withstand diverse weather conditions.
Engineered to accommodate multiple occupants.
Equipped with multiple ventilation points.
Features a user-friendly entrance and exit points.
Suitable for a variety of outdoor activities.
What I liked
Spacious interior
High-quality materials
Excellent water resistance
Comfortable for large groups
Durable construction
What I didn't like
Can be cumbersome
Potential for condensation
6. Coleman Carlsbad Dark Room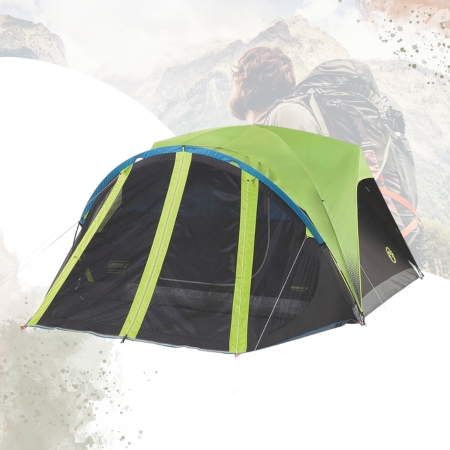 Check on Amazon
Check on OpticsPlanet
Check on Walmart
First of all, I was really impressed with how easy this tent was to set up. I've had some tents in the past that have been a real pain to put together, but this one was a breeze. The poles are pre-attached, so all you have to do is unfold the tent and slide them into place.
The whole process took me less than 10 minutes. Another thing I really liked about this tent is the Dark Room technology. This blocks out 90% of the sunlight, so you can buckle up in your sleeping bag and sleep in past sunrise or put the kids to bed early without any problems. It also helps to keep the tent cooler inside, which is definitely a plus on hot summer nights.
Overall, I was very impressed with the Coleman Carlsbad Dark Room Camping Tent with Screened Porch. It's a well-made tent that is easy to set up, comfortable to sleep in, and has a lot of great features. I would definitely recommend it to anyone looking for a new camping tent.
Key Features
Dark Room technology
Easy setup
WeatherTec system keeps water out
Strong frame withstands up to 35 mph winds
Fits 2 queen-size airbeds
Illumine reflective guide lines for greater visibility at night
What I liked
Easy to set up
Comfortable to sleep in
Sunlight Protection
Screened-in porch
What I didn't like
Can be a little heavy to carry
May not be suitable for very cold weather
7. Gazelle T4 Hub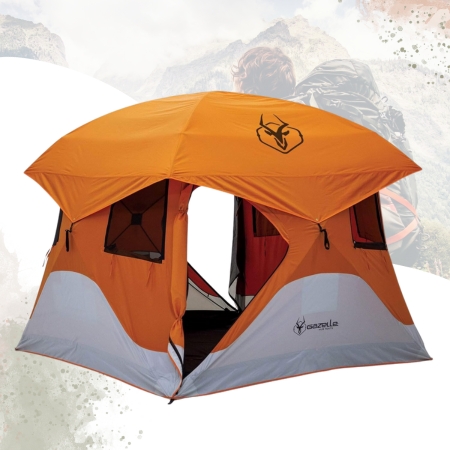 Check on DvaSata
Check on OpticsPlanet
Gazelle T4 Hub's hub design allows it to unfold and assemble in under 90 seconds, making it a breeze to set up even for novice campers. The generous interior space, with 61 square feet of floor area and a height of 78 inches, comfortably accommodated four adults.
The removable floor added another layer of convenience, making cleanup a simple matter. While the tent's quick setup and spacious interior were notable advantages, there were a few aspects that fell short of my expectations.
Gazelle T4 Hub Tent proved to be a practical choice for casual camping trips, particularly for those who prioritize quick setup and ample space over durability and weather resistance. Its ease of use and comfortable interior make it a suitable option for family outings or weekend getaways
Key Features
Hub-based design for rapid setup
Spacious interior with enough room for four people and gear
Water-resistant fabric to protect against light rain
Mesh panels for ventilation
Oversized carry bag for convenient storage and transport
What I liked
Quick and easy setup
Removable floor for convenient cleanup
Mesh ventilation for air circulation
Multiple storage pockets for gear organization
What I didn't like
UV resistance could be improved
Rain fly could be more durable
Buyer's Guide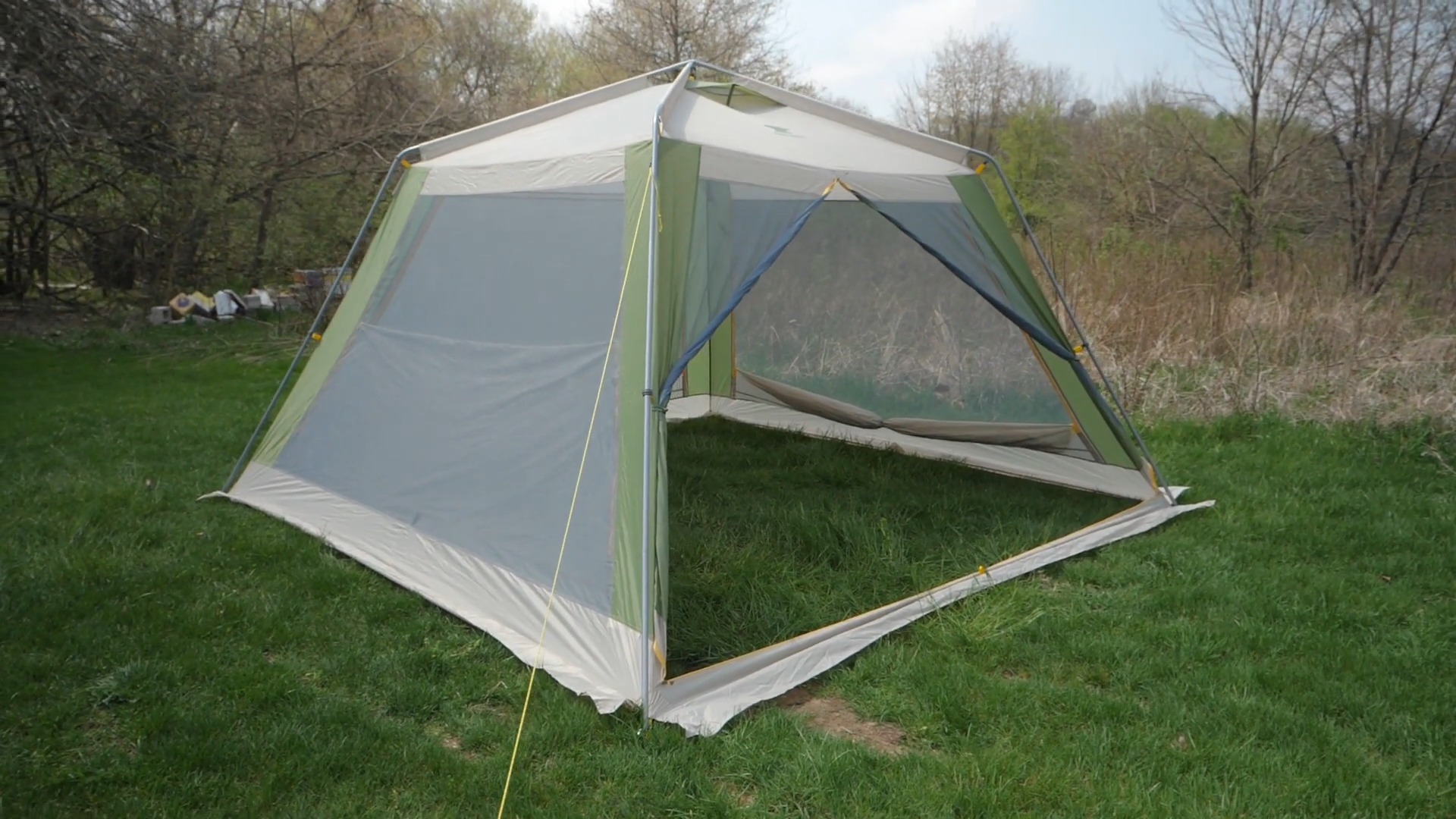 Now let me guide you through some important factors you should consider before buying these.
Choosing the Right Size
When selecting a 4-person tent, it's crucial to consider the actual space you'll need. Manufacturers' ratings often don't account for personal space and storage for gear. For a more comfortable experience, it's advisable to size up, especially if you're camping with family or expect to store equipment inside.
A tent's capacity might indicate the maximum number of people it can hold, but this doesn't always translate to a comfortable experience. Consider the height and build of the campers and the length of the trip to ensure everyone has enough room to relax and move around.
If you do not need a tent of this size, you should consider smaller sizes, like 2-person tents.
Tent Seasonality
When venturing into the great outdoors, the choice of tent is pivotal to your comfort and safety. Tents are primarily categorized by the seasons they are designed for. The most common, a 3-season tent, is your go-to for spring, summer, and fall.
These are typically lightweight, with ample mesh panels that promote airflow, making them ideal for warmer weather. They can handle light snow and moderate rain, but they're not built for severe weather. In contrast, a 4-season tent is constructed to face the rigors of harsh winter weather, including heavy snow loads and high winds.
They feature fewer mesh panels, which reduces ventilation but increases warmth and protection. Also, for even colder days, I suggest you consider bringing a survival blanket with you, to stay warm and comfy for hours. Their robust frames and sturdy fabrics stand up to the elements, ensuring that you stay safe and dry regardless of outside conditions.
When selecting a tent, consider the most extreme weather conditions you plan to encounter. If your adventures are likely to lead you into the depths of winter or into high-altitude environments where weather can change rapidly, investing in a 4-season tent is a prudent choice.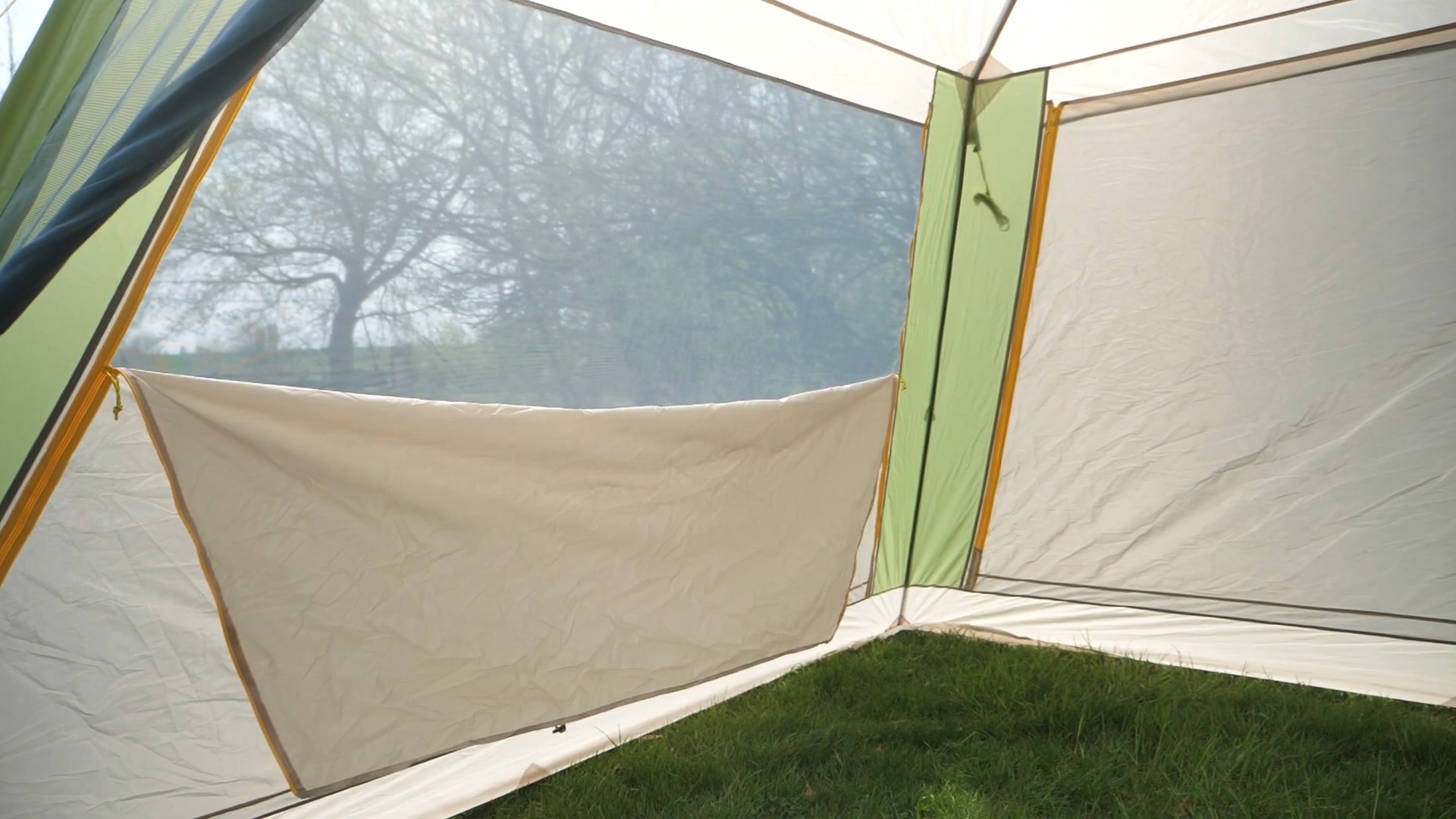 Matching Tent to Climate
Selecting a tent that aligns with the climate of your camping destination is essential. For those who enjoy camping during the warmer months or in regions with mild weather, a 3-season tent will likely suffice.
These tents are designed to keep you dry during rain showers and provide protection from bugs, all while offering a comfortable and breathable living space. If your camping excursions might take you to areas where weather can be unpredictable or where you might encounter early spring or late fall chill, consider an extended-season tent.
These are engineered for prolonged 3-season use, suitable for cooler temperatures and light snow. They strike a balance between the airy comfort of a 3-season tent and the robust protection of a 4-season model.
Choosing Tents by Camping Type
When considering the purchase of a 4-person tent, especially with the intention of using it for different camping styles, there are several environmental factors to take into account. These considerations ensure that the tent you choose is well-suited to your camping needs and the environments you plan to explore.
Climate Adaptability: The tent should be versatile enough to handle a range of weather conditions. For dry camping areas, look for a tent with excellent ventilation to manage heat and prevent condensation. In wetter climates, a waterproof and robust rainfly is essential. For cold weather, a tent with the ability to retain heat is necessary.
Terrain Compatibility: Consider the type of terrain you'll be camping on. A tent with a sturdy, puncture-resistant floor is vital for rocky or uneven primitive camping sites. For sandy or dusty dry camping environments, tents with raised floors and mesh doors can help keep the interior clean.
Wind Resistance: In open areas, which are common in dry camping scenarios, wind can be a significant factor. Choose a tent with a strong frame and aerodynamic shape to withstand high winds.
Eco-Friendly Materials: For those concerned about environmental impact, selecting a tent made from sustainable or eco-friendly materials is important. This is particularly relevant in primitive camping, where preserving the natural environment is a priority.
Setup and Takedown
After a day filled with outdoor activities, the last thing you want is a complicated tent setup. The ease of pitching your tent becomes a significant factor in your overall camping experience. Modern tents are designed to be user-friendly, with features like shock-corded poles and quick-attach clips that can make assembly a breeze.
Some tents come with color-coded poles and corresponding sleeves or clips, which is a simple yet effective system to ensure that the setup process is as smooth as possible. Additionally, freestanding designs allow you to move the tent around once it's assembled, which is handy for finding the perfect spot.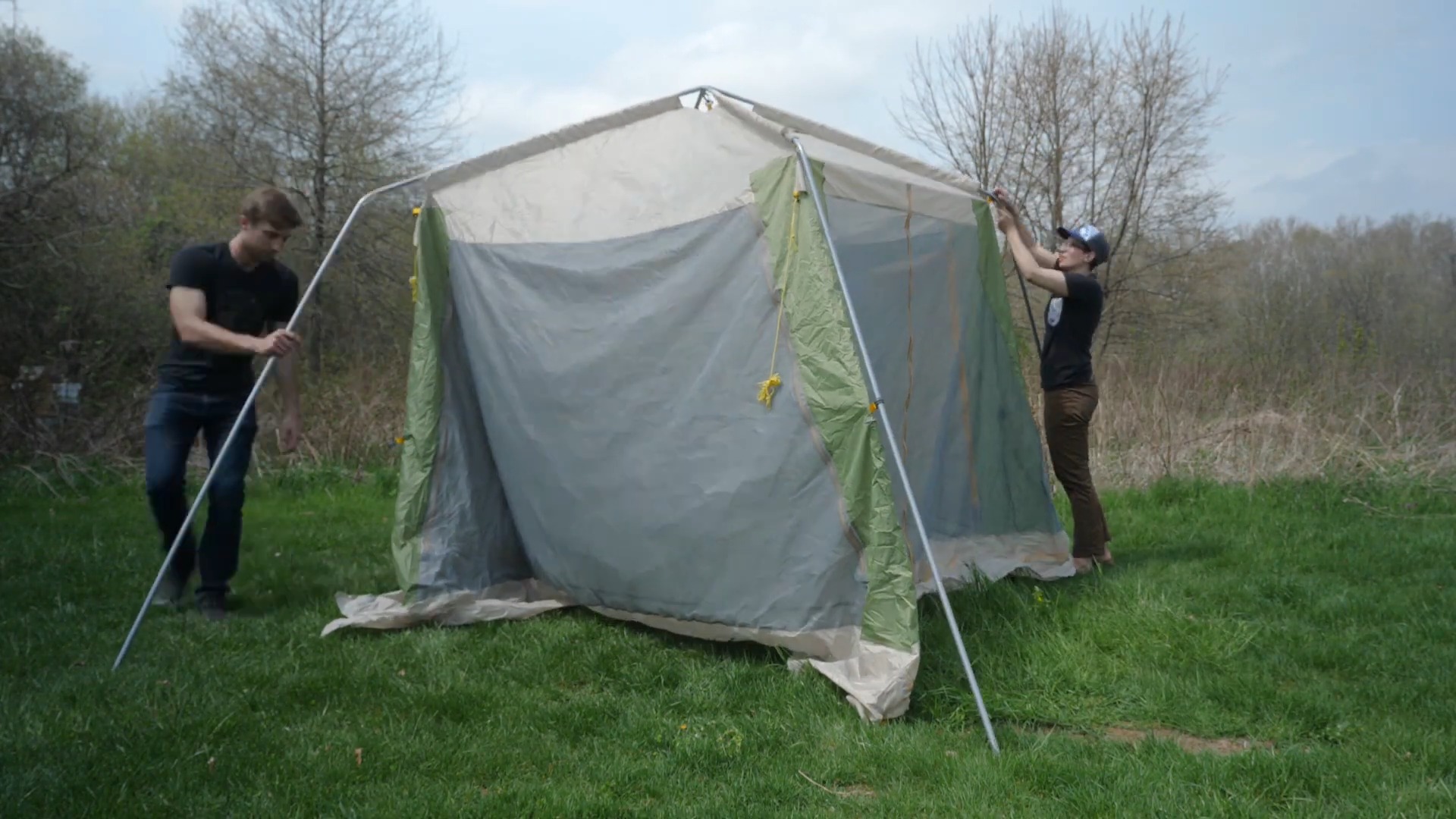 Time and Effort
The time it takes to set up your tent can vary significantly from one model to another. If you're likely to arrive at your campsite in the evening, or if you prefer to spend more time hiking than setting up camp, look for a tent that promises a quick and easy setup.
Tents that require fewer poles or use an all-in-one pitching system can significantly reduce the time and effort needed to get your camp ready.
Material and Durability
The fabric of your tent is a critical component that can affect its weight, durability, and weather resistance. Higher-denier fabrics and rainflies provide better resistance to tearing and can withstand harsher weather conditions. They also tend to last longer, making them a good investment for frequent campers.
| Feature | Description | Benefit |
| --- | --- | --- |
| Fabric Denier | Higher-denier fabrics are thicker and more robust. | Increases durability and resistance to tearing. |
| Weather Resistance | Fabrics with specialized coatings can withstand harsh weather. | Keeps campers dry and increases overall tent longevity. |
| UV Resistance | UV-resistant coatings protect the fabric from sun damage. | Prevents material degradation, extending the life of the tent. |
When considering tent materials, also think about the UV resistance of the fabric. Exposure to sunlight can degrade certain materials over time, so if you camp frequently in sunny locales, look for tents with UV-resistant coatings.
Zippers and Seams
The integrity of a tent's zippers and seams is what keeps the elements outside where they belong. High-quality zippers should operate smoothly without snagging and should be durable enough to withstand repeated use. Seams should be double-stitched and sealed to prevent water ingress. These features are often overlooked but are vital for the longevity and performance of your tent.
Weight and Portability
The weight of your tent is an important consideration, especially if you need to transport it over any distance. For car campers, a few extra pounds might not make a big difference, but for those who backpack to their camping destination, a lightweight tent is essential. The challenge is to balance the need for a lightweight design with the need for durability and weather resistance.
Transportation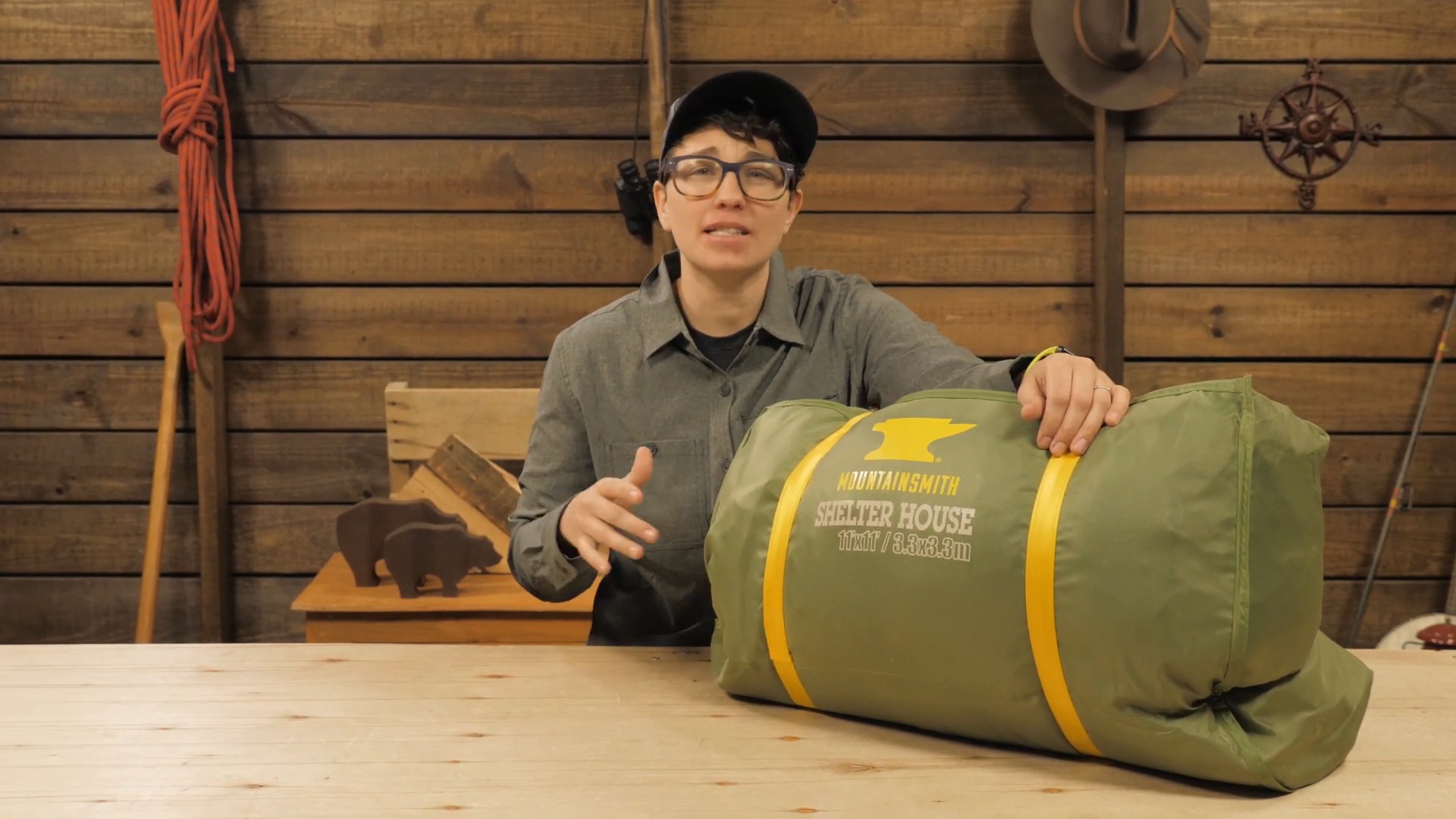 Consider the packed size and weight of the tent, as well as how you'll be transporting it. If you have limited space in your vehicle or if you're carrying the tent to a remote campsite, compact and lightweight is the way to go. Look for tents that pack down small and are made with lightweight poles and fabrics to ease the burden of transportation.
Ventilation and Condensation
Adequate ventilation in a tent is crucial for comfort and for managing condensation. Without proper airflow, condensation can accumulate inside the tent, leading to a damp and uncomfortable environment.
This is particularly important in cooler weather when the temperature difference between the inside and outside of the tent can be significant When choosing a tent, look for one with multiple ventilation options, such as mesh panels that can be opened or closed depending on the weather, and vents that can be used even when the rainfly is on.
This will ensure that air can circulate throughout the tent, reducing condensation and making for a more comfortable camping experience.
Additional Features
The right features can make your tent feel like a home away from home. Consider tents with multiple doors to prevent climbing over sleeping companions for late-night bathroom breaks, and windows that provide both ventilation and views.
Storage pockets and gear lofts keep your space organized, and an awning can provide shade on sunny days. Accessories such as a footprint can protect the bottom of your tent from abrasion and punctures, extending its life. A gear loft can help to keep your tent tidy by providing a place to store items off the floor.
And a tent repair kit can be a trip-saver in the event of a tear or broken pole. These accessories can enhance your camping experience and provide peace of mind.
FAQs
How do I clean a 4-person camping tent?
Most 4-person camping tents can be spot cleaned with a mild soap and water solution. Do not use harsh detergents or bleach. Allow the tent to air dry completely before storing it.
How do I store a 4-person camping tent?
Store the tent in a cool, dry place out of direct sunlight. Do not fold or crease the tent poles.
What is the warranty on a 4-person camping tent?
The warranty on a 4-person camping tent will vary depending on the make and model of the tent. Most tents have a warranty against defects in materials and workmanship.
Where can I buy a 4-person camping tent?
4-person camping tents can be purchased at a variety of retailers, including sporting goods stores, outdoor outfitters, and online retailers.
Summary
After exploring the various facets of what makes a 4-person tent reliable, comfortable, and convenient, I hope you feel equipped to make an informed decision. Remember, the best tent for you is the one that suits your specific needs, whether that's for lightweight backpacking or luxurious car camping.
As someone who has spent nights under the stars in countless shelters, I can attest that the right tent is not just about the specs—it's about the experiences it will host and the memories it will help create. So gear up, choose wisely, and get ready to embrace the wilderness with confidence.
My name is Riley Johnson, with over 8 years of dedicated camping across various terrains, I have garnered a significant expertise in evaluating camping gear for reliability and performance. My adventures have taken me through thick forests, along serene lakes, and atop remote hills, each experience sharpening my understanding of essential camping gear. Through hands-on use and thorough testing, I've honed my ability to discern the quality and practicality of various camping equipment, ensuring they stand up to the challenges posed by the outdoor environment. This extensive field experience has equipped me with the knowledge to share valuable gear insights, aiding fellow campers in their outdoor pursuits.