Are you looking for a top-of-the-line crossbow to replace the beginner model that you have been hunting with for years?
The Horton Innovations Storm RDX Crossbow is a great option to consider. It may have a relatively high price point, but it is great if you need a crossbow that is very accurate and precise.

In this guide, we are going to look at the features of this crossbow up close to see if it works for your needs. Before we get to the actual review, let's take a look at the features that are important to consider on any crossbow.
Things to Consider Before Buying a Crossbow
The first thing that you should do when you are looking to make a new purchase is to sit down and consider the most important features that you are going to want on your new crossbow. Some of the features that you may wish to consider include:
Hunting or Target Practice – Different crossbows are designed for different purposes. You're not going to want to spend a ton of money on a crossbow that you plan to take out hunting only to find out that it's not really designed to kill your target that you intend hitting with the bolt! Most of the crossbows on the market will be able to work for both target practice as well as hunting, just make sure that it has the power that you need it to have before you go out for your first excursion.  
The Release Noise – When you pull the trigger on most crossbows to release the bowstring, you will find that it makes a lot of noise. Excessive noise can make it difficult to hit the prey that you are hunting. So if you can get a crossbow that is quiet or you can add noise dampeners to the bow, you will most likely make it better. In fact, something as simple as parallel limbs in the design of the crossbow can help reduce the level of noise that you hear.
The Scope Quality – When you purchase a new crossbow, especially one that has a higher price point, it is important to check the quality of the scope that comes with it. In many cases, the scope that comes with a lot of less expensive crossbows will not have the quality level that you are looking for. Especially if you are transitioning from a beginners model to one that is more on your level.
Make sure that the magnification is up to par and that you can see clearly out of the scope before making a purchase. If you cannot see your target, hitting it with any level of accuracy will be near impossible.
The Weight of the Crossbow – Some crossbows are exceptionally heavy, while others are designed to be more lightweight and mobile. If you plan on walking a lot with your crossbow, make sure that you can carry it without getting fatigued. In addition, Remember the draw weight of the crossbow is something that you will need to consider as well. If it takes too much to cock the crossbow, it may not be the right model for you.  
The Horton Innovations Storm RDX Crossbow is a great option that will work well for anyone who is transitioning from a beginners crossbow to something that is a little more feature heavy.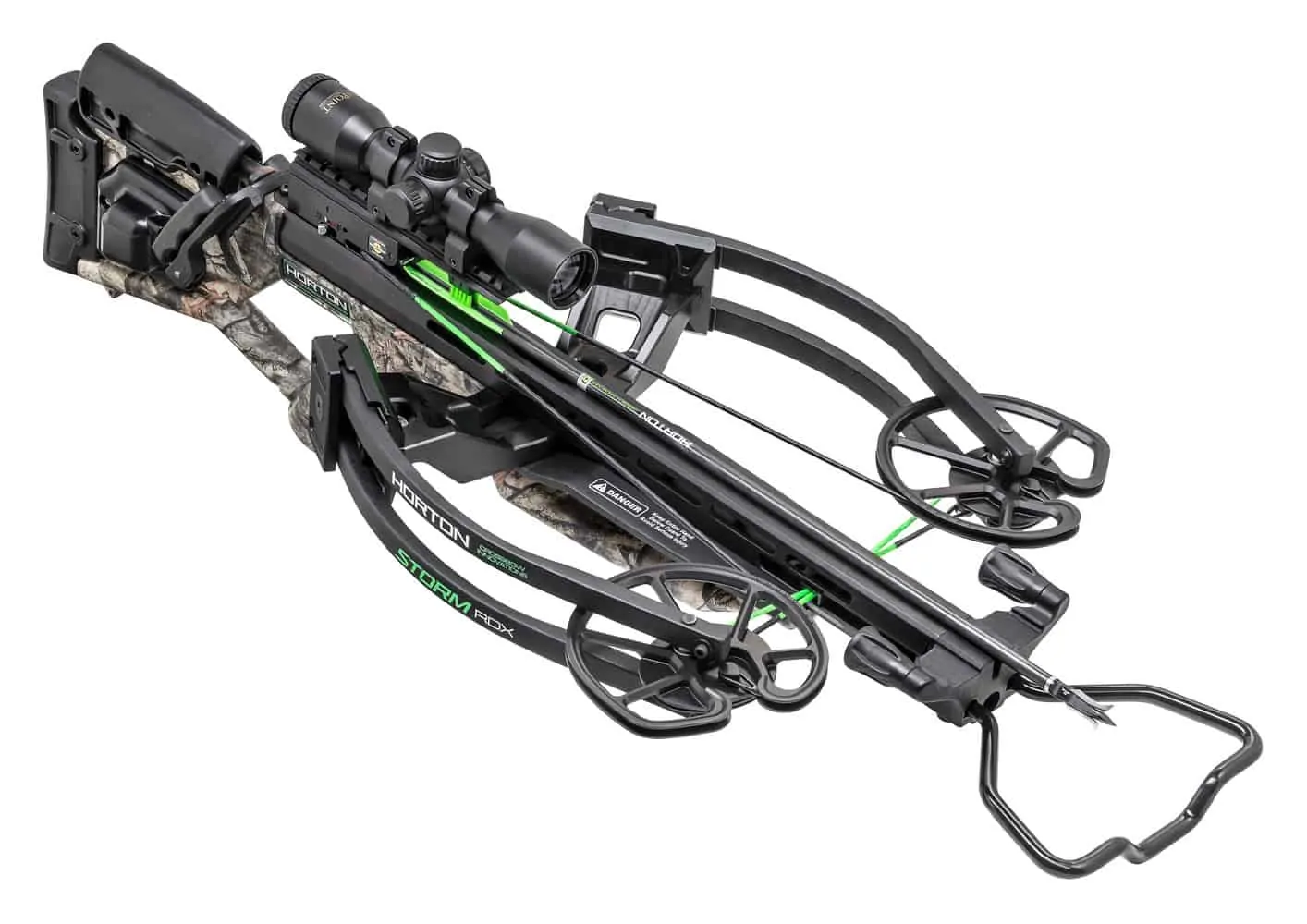 If you are looking for a powerful weapon that is precise and easy to use, this is the one to consider. The Storm RDX is designed to absorb the vibrations as you hunt so that you have more stability when you take aim.
TECHNICAL SPECS
165-pound draw weight
370 feet per second
8.2 pounds of weight
122 foot-pounds of kinetic energy
10 inches axle-to-axle when cocked
PACKAGE INCLUDES
A 4×32 mm multi-reticle scope
Three 20-inch arrows with 100-grain field points
A detachable quiver
An ACUdraw cocking device
Features and Benefits
When you are looking to purchase any new item, there are going to be certain features that you are going to need to look for.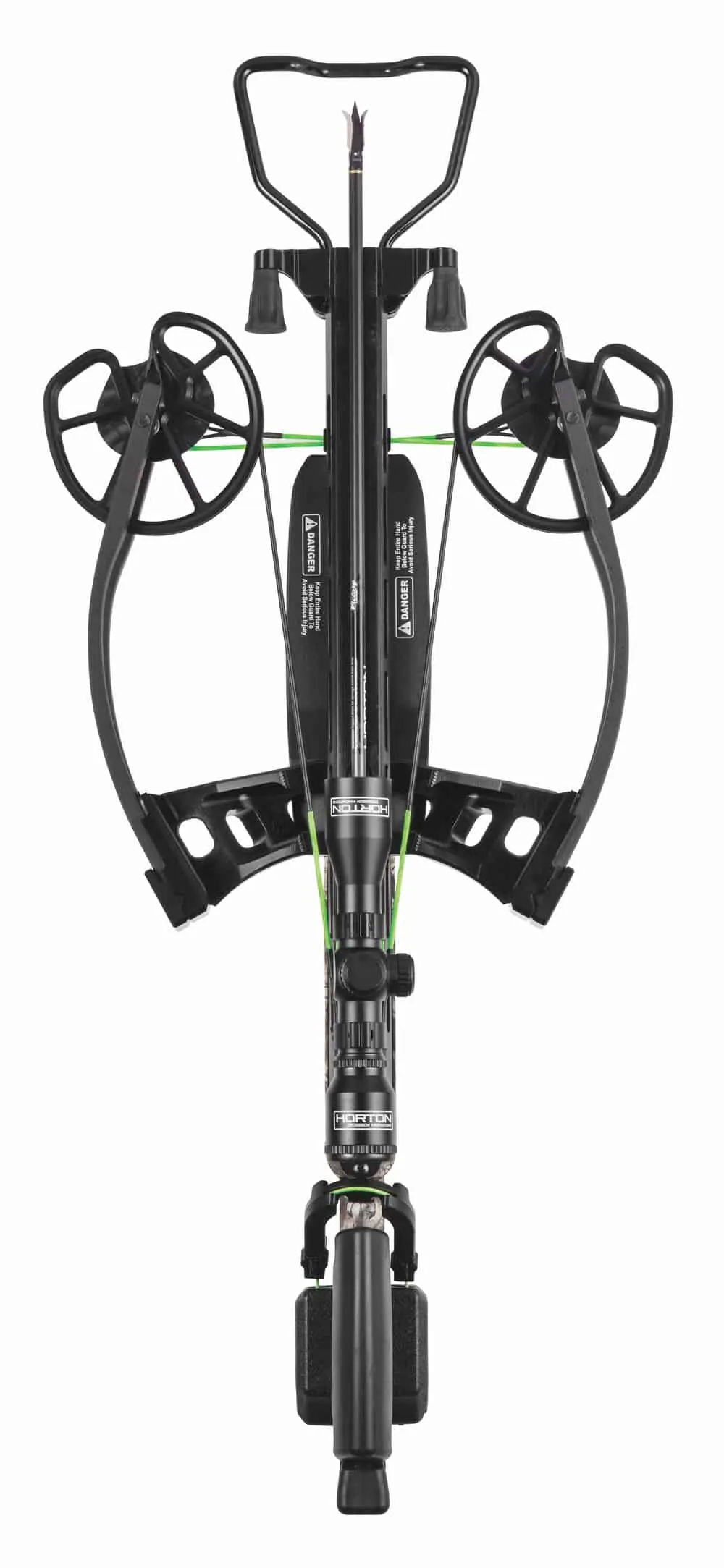 For the Horton Innovations Storm RDX Crossbow, here are some of the features at a glance:
Durability
This is a crossbow that is constructed with a machined aluminum riser that is designed to release the stress on the limbs. This can help to extend the life of the crossbow.
The cams are also made of machined aluminum, which means they are designed to last for a long period of time. The bearings are made from stainless steel, and the entire crossbow comes with a lifetime warranty that will cover any issues that you have with it.
Power
Using 119 foot-pounds of kinetic energy, this crossbow can shoot bolts at 380 feet per second. Since this is a compact model, that is quite a bit of power. This is mainly due to the reverse draw technology that is featured on the bow. With the right bolts, you should be able to hit your prey with enough power to bring it down with ease.
Optics
This crossbow is designed with a great scope that has very high-quality optics, but it could be much better based on the price of the bow.   The scope is designed with marking so that you can determine how far away your prey is in yards, and there is a floating red dot that you can use to determine where the 50-yard mark is.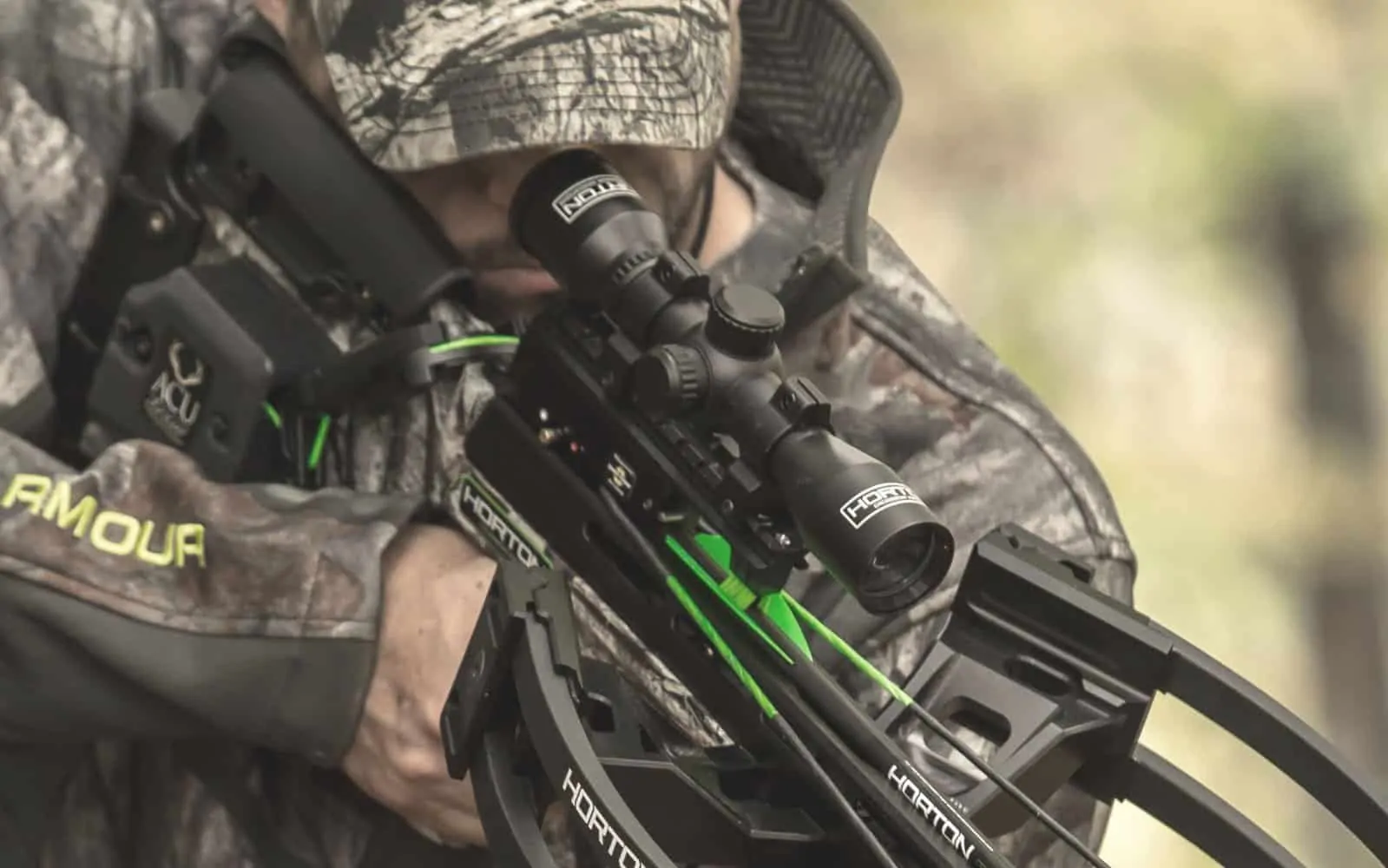 The image that you see through the scope is clear, and it works well in most lighting situations. I have found that the lack of an illuminated reticle makes it harder to see in low light situations.
The optics that are positioned on this crossbow are ideal for slow speeds, which means that it may be difficult to line up shots that are further away. Many have found that simply upgrading the scope offers better velocity, especially if you are planning on hunting larger animals.
Noise Suppression
If you are looking for a crossbow that is designed to create less noise when it shoots, then this is a great option to consider.
Because the bow has reverse limbs, it forces the riser to be positioned closer to the back of the bow. This design is ideal for creating less of a rattle when it is fired, which will help ensure that your target is not scared away.
The Storm RDX crossbow is also designed with dual string stops that will help to reduce the level of vibration that you notice. It also has an arrow retention brush that can easily stop any metal on metal noise from occurring.
This combination of features makes it one of the quietest options that you can purchase, especially when you need to have it extremely silent while you are shooting.
Comfort
When it comes to comfort, this is a crossbow that is a bit heavy for some. It weighs about 8.2 pounds before any accessories are attached, and with the 10-pound scope, it weighs even more. This can make it difficult to trek over certain terrain with the bow, and for some, it may be difficult to balance.
Fortunately, the rear-facing limbs push the center of gravity back on the bow, which will help you remain steady when you're aiming to take a shot.
Cocking the crossbow is very simple to do, even for smaller individuals. It only required five pounds of effort to cock, and the trigger only requires two to pull. This means that squeezing the trigger will not cause you to lose your accuracy when you make a shot.
This is a crossbow that is also designed to come with an adjustable plate that allows you to change the position with ease. There are seven different positions that you can choose from, so find the option that is the most comfortable for your needs.
Safety Features
As with any weapon that you may use while you are hunting, your safety, as well as the safety of others, is very important.
With this crossbow, there are several safety features that will be beneficial to you. These include the anti-dry fire mechanism and the safety lock that can be enabled on the bow. In addition, this is a bow that is designed with finger holds that are away from the deck and all of the cables, which can help you keep your hands safe from injury while using the bow.
Accessories
This is a great crossbow that comes with a number of essential accessories that you will need to use each time that you go hunting. Some of the included accessories are:
A 4×32 mm multi-reticle scope
Three 20-inch arrows with 100-grain field points
A detachable quiver
An ACUdraw cocking device
---
What Others Are Saying
I recently made the transition to this crossbow myself from a beginners model, and at first, I was skeptical, so I scoured the internet to find reviews on the product and find out what others were saying about this bow.
Most of the reviews that I came across were positive, which means the crossbow was held in high regard. Here are some of the testimonials that I encountered:
"Finally decided to pull the trigger and get one. I did upgrade the scope – some will probably be fine with the one it came with – personal preference. ACU draw is really nice and easy."

"And as for accurate well in 3 shots I was completely zero'ed"

"Lightweight and very easy to learn how to shoot."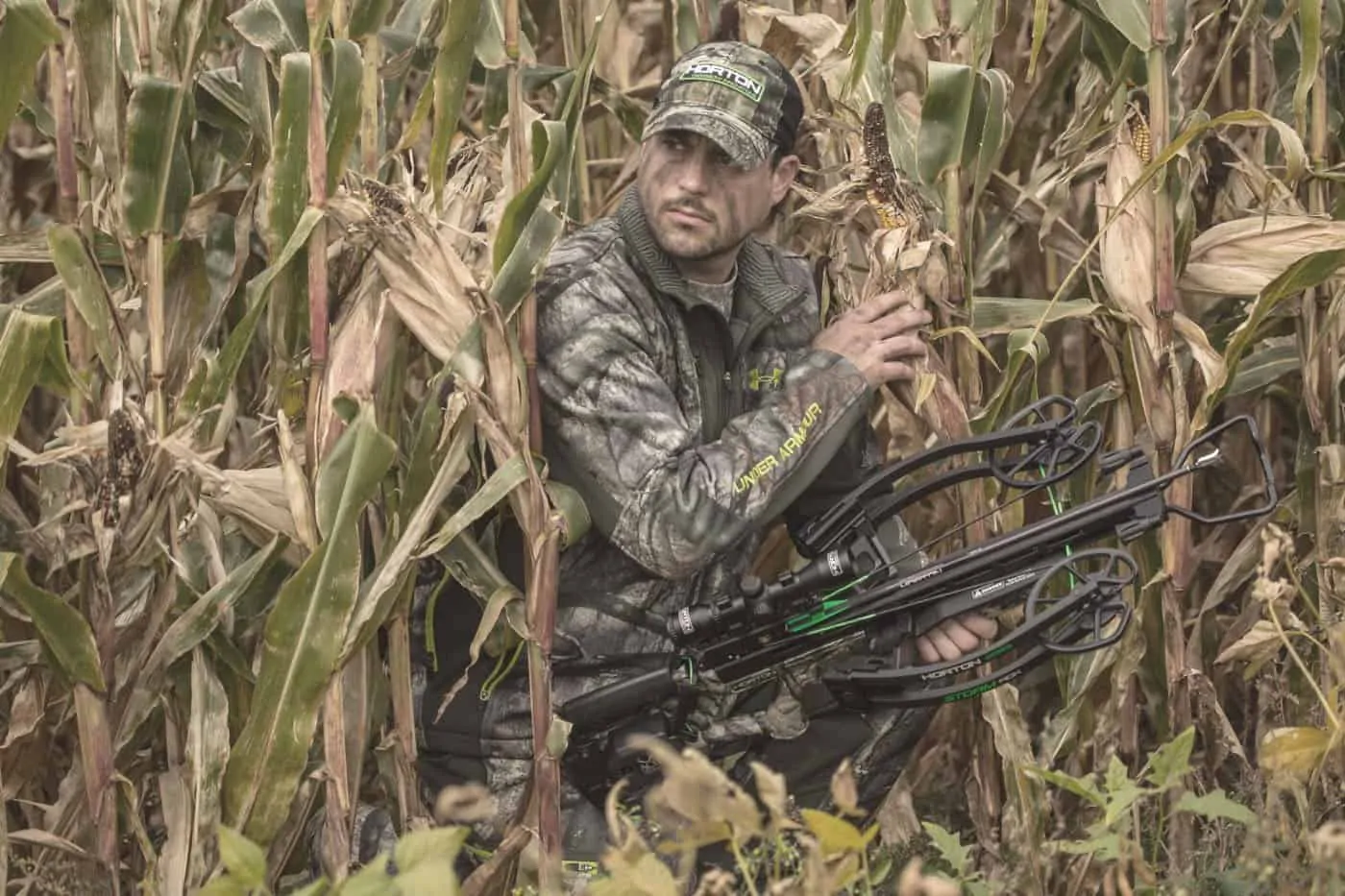 ---
A Couple of Alternative Crossbows
The Horton Innovations Storm RDX Crossbow is an excellent option for someone looking to move up a level however if your budget doesn't stretch that far, there are other options that may be worth considering. Below are a couple to look at but also check out our centerpoint crossbow reviews.
The Barnett Whitetail Hunter crossbow is an option that will be easier on your pocket. It's a 6.4-pound crossbow vintage model, and is designed with all stainless steel components. This gives it great durability allowing it to last for years to come. This crossbow is mostly assembled when it is shipped and so it won't take long to get ready to take hunting.
This crossbow comes with laminated limbs and string dampeners. This means that each shot will be very quiet so that you do not scare away your target. Draw weight is about 150 pounds so you will easily get 122 feet of kinetic energy with each shot. It comes with a three-pound trigger, a rope cocking device, and a side-mounted quiver. This crossbow comes with a scope that will give you an excellent targeting system.
---
CenterPoint Tormentor Whisper AXCTW185CK Compound Crossbow
The Centrepoint Tormentor Whisper is an extremely quiet crossbow system with a compact design. From axle to axle, the whole crossbow is only 14 inches in width when cocked. The risers are made of aluminum, and the quad limbs are crafted from fiberglass giving the crossbow a more durable finish.
With a very effective scope included which will make it much easier to shoot and hit your target from a distance. You also get 120 feet per pound of kinetic energy and this bow also comes with a safety mechanism to make sure that your arrows are not fired unexpectedly.
---
Final Thoughts
If you are looking for a crossbow that has a lot of features that will help you transition from a beginner to an experienced hunter, then this Horton Innovations Storm RDX Crossbow is a great option to consider.
It may have a higher price point to consider, but it is extremely precise, it is very quiet, and it has safety features built-in to the bow to help keep you safe.
Still not sure if you are willing to spend so much on a great crossbow, then compare the specs and the features that you will get when you purchase this crossbow with others to see which option is best for you.
Horton Innovations NH15001-7552 Storm RDX Crossbow Package with ACUdraw
PERFECT STORM OF ADRENALINE AND PRECISION: Winner of the Outdoor Life and Petersen's Hunting Editor's Choice awards, Storm RDX is an adrenaline-fueled machine for the hunter who refuses to be fenced in by convention
RDX REVERSE DRAW CAM SYSTEM: Laminated limbs powered by an efficient RDX Cam System and DynaFLIGHT97 string and cables generate a quiet, lethal shot; machine aluminum RDX cams featuring 440 stainless steel bearings for improved stability and accuracy
DROP-TESTED STOCK: Stock is 2X stronger than competitor's ASB stocks and absorbs massive amounts of vibration; ACRA-ANGLE Barrel eliminates fincher pinching and ensures accuracy
DRY-FIRE INHIBITOR: Industry safety leader prevents firing the bow without an arrow; SAFETY-ENGINEERED FOREGRIP AND WINGS: Designed to help keep the shooter's fore-grip hand safely below the bowstring release path
3.5 LBS TRIGGER with AUTO-ENGAGING SAFETY: Smooth, crisp trigger pull for increased accuracy; trigger latch goes up; built to 0% failure up to 6000 shots!
Last update on 2023-03-30 / Affiliate links / Images from Amazon Product Advertising API