Barnett is something of an old standby in the world of crossbows. They've been around for over 50 years, and have consistently produced high-quality hunting crossbows. They aren't the flashiest, but their refusal to rely on gimmicks has established their reputation as a go-to option for any hunter looking for a value-oriented crossbow that will last for decades to come. If you're reading between the lines, Barnett crossbows are great, but they can be a bit boring.
Several years ago, Barnett broke from their often conservative approach and released their "STR" series. Short for step-through-riser, these crossbows integrate the stirrup directly into the riser of the crossbow. This unique approach to packaging results in a lighter and more compact weapon that makes the crossbow more predictable and easy to use. Despite this clear advantage, Barnett kept this design to their high-end models. They were great if you weren't afraid to break into your nest egg, but the price meant they weren't for everyone.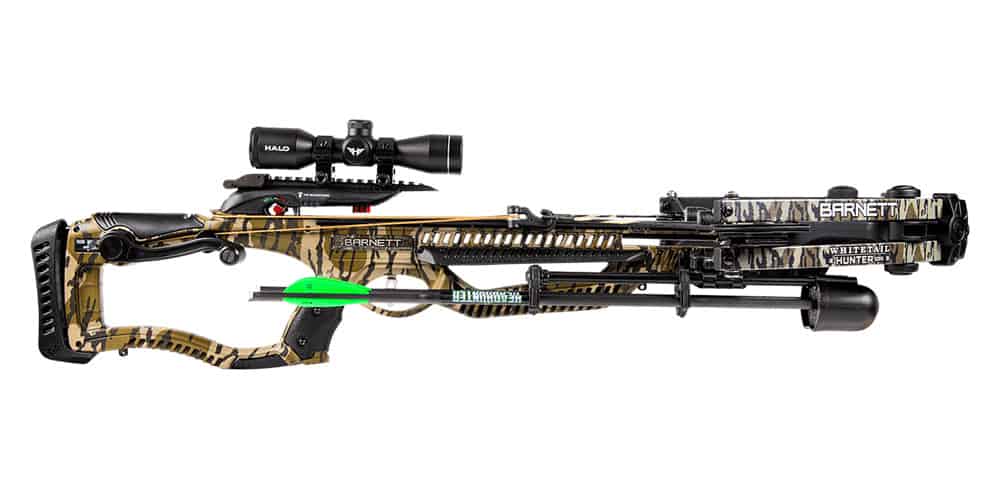 With this background, you can begin to see why the new Barnett Whitetail Hunter STR was such an exciting proposition. Finally, Barnett had combined the value of their affordable models with the innovation of their higher-end series. To put it mildly, I haven't been this excited by the release of the sub-$600 crossbow for some time. Did it stack up? Let's find out.
Let's Talk About Performance
Of course, the primary concern for many shoppers is going to be performance. Many sites spend entirely too much time focusing on raw speed. In my experience, the FPS of a crossbow is far from the best indicator of its performance. That said, with its manufacturer rating of 400FPS, the firing speed of the Barnett Whitetail Hunter STR crossbow is nothing to complain about. Our testing showed this number to be fairly accurate. Using a broken-beam speed tester, we clocked the Whitetail Hunter STR at 389FPS firing one of the included 22-inch Headhunter arrows.
Two factors likely led to this slightly slower speed. First, it was an extremely cold day, which can impact the efficiency with which the crossbow can release the arrow. Second, the crossbow was tested after only a few shots from new. In our experience, crossbows tend to get faster as they age and the tolerances become more forgiving. Under ideal conditions, I have little doubt that this crossbow could achieve the manufacturer's suggested speed or even more.
The reason I always push back on using speed as the end-all metric is that speed actually provides very little indication of how a weapon will feel when fired. Many cut-rate crossbows can fire at theoretically high speeds but are ultimately untenable in practice. This is far from the case with the Barnett. The Hunter STR uses an exceptionally effective string dampening system that makes this one of the smoothest and quietest crossbows I have reviewed in recent times. This makes for a very predictable weapon that reduces fatigue and is less likely to spook the deer you've spent all day tracking. This is a weapon that demonstrates the importance of details.
Another prime example of Barnett's commitment to quality is the balance of this crossbow. I am continuously shocked how many crossbows come to market with seemingly no thought towards balance or handling. Regardless of your strength, an extremely nose-heavy crossbow is always going to be a chore to use. Not only is the Hunter STR extremely lightweight at sub-7-pounds, but it is also exceptionally well balanced. It's easy to aim, easy to transport, easy to hold, and feels great in your hands.
This ease of use meant that I could maintain a high level of accuracy throughout the day. Although our Barnett Whitetail Hunter STR review took place over the course of three weeks, the bulk of the testing was done over two days. In this time, I fired over 250 bolts from this crossbow and was able to maintain a tight pattern from beginning to end. Having tried targets at every distance from 20 to 80 yards, this is a crossbow that is going to make you look good.
Fit and Finish
Quality control has always been a hallmark of Barnett's manufacturing, and this model is no exception. Whenever I review lower-end crossbows from less reputable manufacturers, I'm often fairly surprised by what passes as "good enough." From loose assemblies, sticky bearings, to mismatched camouflage, there is no shortage of shoddy craftsmanship on the market. Every Barnett I have reviewed has been a cut above, and this is no exception. The tolerances were fantastic, the motions were smooth, and the hardware was torqued evenly and properly. Even the camouflage coating was applied with care, as evidenced by the individual components having been matched to create a continuous design. I've seen worse quality in crossbows costing double this.
Another key aspect of quality is serviceability. Having a high-quality crossbow does you little good if you can't maintain it over time. This is another area where Barnett tends to shine. Every Barnett includes a parts catalogue (also available online) that contains part numbers and prices for every component. Beyond this, Barnett crossbows are some of the easiest to service in the industry. You can tell they are designed by people with experience maintaining weapons. Although the Whitetail Hunter STR did not need any service or repair during our testing, I have no doubt that it will continue the Barnett legacy of being an absolute pleasure to maintain.
What's Included?
Last update on 2023-09-19 / Affiliate links / Images from Amazon Product Advertising API
Package deals are becoming increasingly common for crossbows. In the past, it was much more common to buy a crossbow, bolts, quiver, scope, and any other accessories separately. Now, "all in one" deals have become the norm, and Barnett has followed suit. Each Barnett Whitetail Pro STR crossbow package comes with a 4×32 multi-reticle illuminated scope, crank-cocking, two 22-inch Headhunter arrows, a side-mount quiver, and a container of lubrication wax. This ready to go package makes for an ideal gift. Or, even if you already have some of this equipment, it still makes this crossbow an undeniably great value.
The Barnett Whitetail Pro STR scope is worth spending some more time discussing, as Barnett went above and beyond by including such a high-end Halo Optics scope on a budget-conscious crossbow. Although it isn't speed calibrated, once your sight is at 20 you will find the scope to be very intuitive and accurate with almost no optical distortion. I'm fairly used to the included scopes being almost throw-away toys, and that certainly isn't the case here. It's well suited to the crossbow and functions beautifully for hunting and target practice alike.
Who Is The Ideal Hunter for This Crossbow?
I'll admit it's a tired cliche to say that a crossbow is one-size-fits-all, as there will always be certain models that are better suited for certain users and tasks. However, the flexibility of this crossbow is pretty impressive. The stock is adjustable with a surprisingly broad range. Thus, whether you are built like a tree or have more of a shrubbery stature, you will be able to adjust this crossbow for comfort. I'm fairly average height, but I find that I have more control using a shorter stock. Thus, I really enjoyed the flexibility of being able to fine-tune this aspect of the crossbow.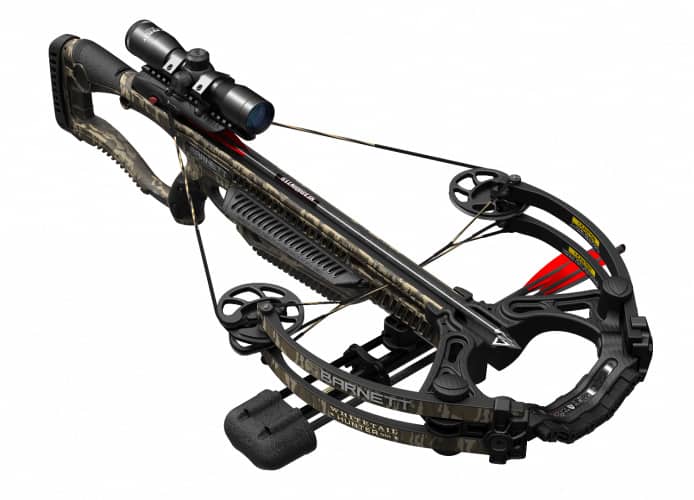 Another aspect that makes this crossbow a great choice for a myriad of users is the crank-cocking device. Admittedly this is only included in the "Pro" model, so if you're assessing the standard Barnett Whitetail Hunter STR vs Pro models, keep that in mind. With the crank-cocker, the Barnett Whitetail Hunter STR draw weight of 187-pounds becomes exceptionally easy to manage. Even the slightest hunter should have no issue. This ease of use is compounded by the step-through riser, which allows one of the most stable and confidence-inspiring cocking experiences around.
As you've likely noticed, ease of use is a common theme on this crossbow. When you start looking at higher-powered crossbows for shooting larger game, the draw weight is not the only consideration. Many larger crossbows also have very heavy trigger weights, which can be an issue for smaller hunters or those just beginning in the sport. At best, an overly-heavy trigger can lead to a shot straying in the direction of your dominant hand. At worst, it can be downright dangerous. Using a clever cam mechanism, Barnett managed an impressively light trigger needing only 4.5-pounds of force. Some reviewers actually found it to be too light, expressing concerns about accidental shots. I disagreed and enjoyed the automatic feeling of needing so little effort to fire. When you consider that every Whitetail Hunter STR features an anti-dry fire mechanism, I think the lightweight trigger action becomes a universal positive.
Are There Any Downsides?
To this point, this Barnett Whitetail Hunter STR crossbow review has been almost universally glowing. But are there any downsides? There are very few, but they might be worth noting.
First, this crossbow package does not include a carrying bag or even a sling. This may seem like a minor oversight – and frankly, it is – but given the otherwise complete nature of this package, we found this omission to be slightly disappointing.
Second, the weight of this crossbow is a plus and a minus. Overall, a lighter weight crossbow is generally going to be easier to use. However, the Whitetail Hunter STR takes this specification to an extreme. At 6.6-pounds, this is one of the lightest crossbows in this performance class. It makes it easy to carry and aim, but some reviewers found the lack of weight made the crossbow feel less stable at first. In fact, I found myself adjusting the stock to even shorter than I normally would, as I wanted the leverage to stabilize my shot. You get used to it quickly, but it can be off-putting at first.
Finally, there is only one color option available. Currently, the Whitetail Hunter STR is only available in the venerable Mossy Oak camouflage. While this works well for most environments, having more options would be a bonus.
Conclusion
You can't argue with the Barnett Whitetail Hunter STR specs. On paper, it is obvious that this crossbow represents a fantastic value with great performance from a trusted maker. Yet, if you continue to read Barnett Whitetail Hunter STR reviews, you will quickly discover that this crossbow is about more than just the specifications.
The quality, ease of use, flexibility, and accuracy are what truly make this a winner. Sure, it looks great on paper, but it feels better in your hands. Whether you're looking at a gift for a beginner or a trusty go-to weapon for an old pro, it's hard to argue against the newest Barnett.