We did not always have strong opinions about flashlights. In fact, we can't count the number of times we've been left in the dark due to a lack of planning. However, once you have experienced a flashlight as high quality as the Fenix PD36R, you will wonder how you ever lived without it.
The Fenix PD36R
Of course, the specific light you need will depend a lot on your specific uses. Within the Fenix range, there are dozens of models. These range from extremely compact models to monsters that look somewhat like an illuminated baseball bat. Within this spectrum, the PD36R occupies an exceptionally convenient place.
The PD36R is compact enough to be included in your every day carry backpack, but large enough to produce the power you need when you need it most.
The PD36R is also mid-pack when it comes to price. For an all-purpose light that is powerful enough to provide the necessary light for almost every situation, the price point is extremely reasonable. This becomes especially true in light of the extensive list of features that Fenix managed to pack into this model.
Sale
Last update on 2023-09-20 / Affiliate links / Images from Amazon Product Advertising API
Key Features and Benefits
Making a great flashlight requires a lot more than one might think. Within the tactical flashlight world, there is no shortage of possible features. Luckily, this Fenix managed to include the lion's share. This is not our first Fenix flashlight review, but it may well be our favorite.
| | | | | | | |
| --- | --- | --- | --- | --- | --- | --- |
| ANSI/FSC | Eco | Low | Medium | High | Turbo | Strobe |
| Output Lumens | 30 | 150 | 350 | 800 | 1600 | 1600 |
| Runtime | 115h | 26h | 8h 24min | 5h 49min | 2h 50min | – |
| Distance | 115ft (35m) | 269ft (82m) | 420ft (128m) | 646ft (197m) | 928ft (283m) | – |
| Intensity | 309cd | 1681cd | 4101cd | 9636cd | 19977cd | – |
| | |
| --- | --- |
| Impact Resistance | 1m |
| Waterproof | IP68 / 2m / dustproof |
| Size | Length: 5.4" (136mm) Body: 1.0" (25.4mm) Head: 1.0" (26.4mm) |
| Weight | 3.0 oz. (85g) excluding battery |
| Included | Fenix ARB-L21-5000 rechargeable Li-ion battery, two-way body clip, USB Type-C charging cable, lanyard, holster, spare O-ring |
Recharging Your Flashlight
One of the best aspects of this flashlight is its rechargeability. In the modern era of smartphones and other ubiquitous rechargeable gadgets, you would be forgiven for assuming that all modern flashlights are rechargeable. Sadly, this is not the case.
All too often we find high-priced flashlights for sale that still require you to keep a stash of backup AAs in your pocket. This is not only inconvenient but can get very expensive.
Fenix did an admirable job of making recharging this flashlight a pleasant experience. Another pet-peeve of ours is companies that use proprietary charging ports. To us, if we have to carry a specialized cable for our flashlight, that is a deal-breaker.
Luckily, Fenix went the intelligent route and made this model rechargeable via a standard USB Type-C cord. This allows you to use the same cord to charge this light as you do your cell phone. Not only does this mean you have one less item to remember, but it also means that a replacement cord is trivial to find.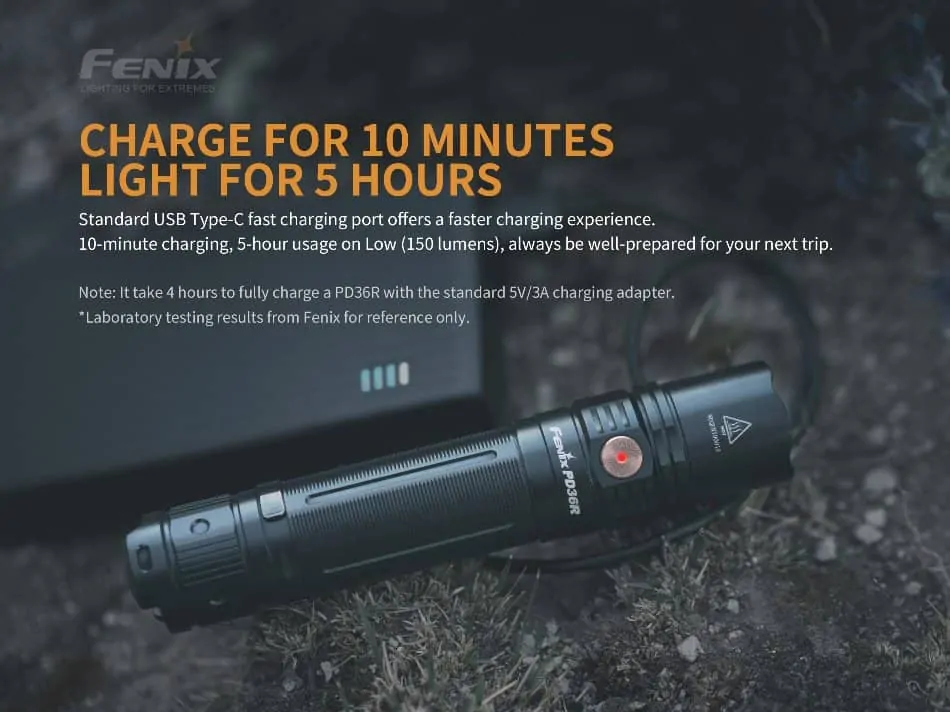 Non-Proprietary Replaceable Battery
Modern LEDs can last for thousands of hours without ever burning out. Thus, generally, the first thing to wear out on a flashlight will be the battery. Given how important a flashlight is likely to become in your daily life, it would be a significant shame to have to buy an entirely new unit simply because of a failing battery. Thankfully, Fenix thought of this.
The Fenix PD36R rechargeable flashlight uses an easy to replace 21700 battery. This is the same style commonly used in power tools or laptops. Thus, should the need ever arise, the process of finding and installing a new battery for this light would be trivial.
This is not likely to be an urgent need, as these batteries often last up to a decade. However, having the option available is a definite plus.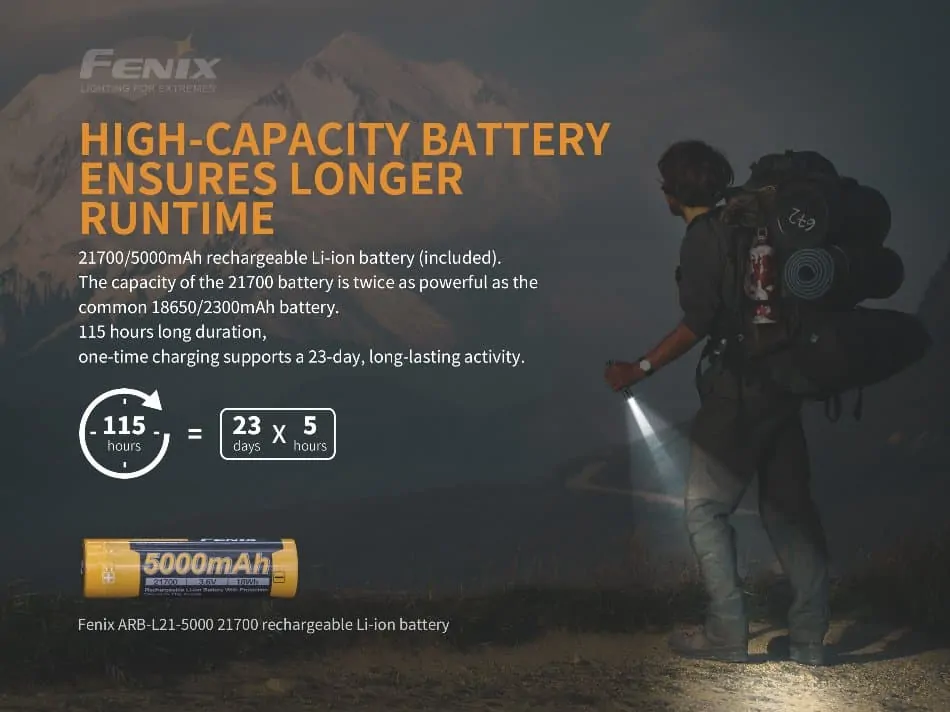 Long Run Time
Regarding batteries, one of the most useful features that a flashlight can possess is long run time. Of course, any battery-powered device eventually requires a recharge, but it is nice to have to think about this as rarely as possible.
This is yet one more aspect where Fenix put in the necessary effort to design a top-rated product. While running in "Eco" mode, this light can stay lit for a staggering 115 hours without needing to be recharged. That's right: almost 5 days of continuous use.
One of our favorite activities is solo-backpacking for extended periods, and we cannot express the frustration of being days from the end of a hike and having a dead flashlight.
This is not only annoying but in the wrong situation could be downright dangerous. Because of this, we have changed policy and now only carry flashlights with comparable battery lives. Fenix went above and beyond in this department, and it is greatly appreciated.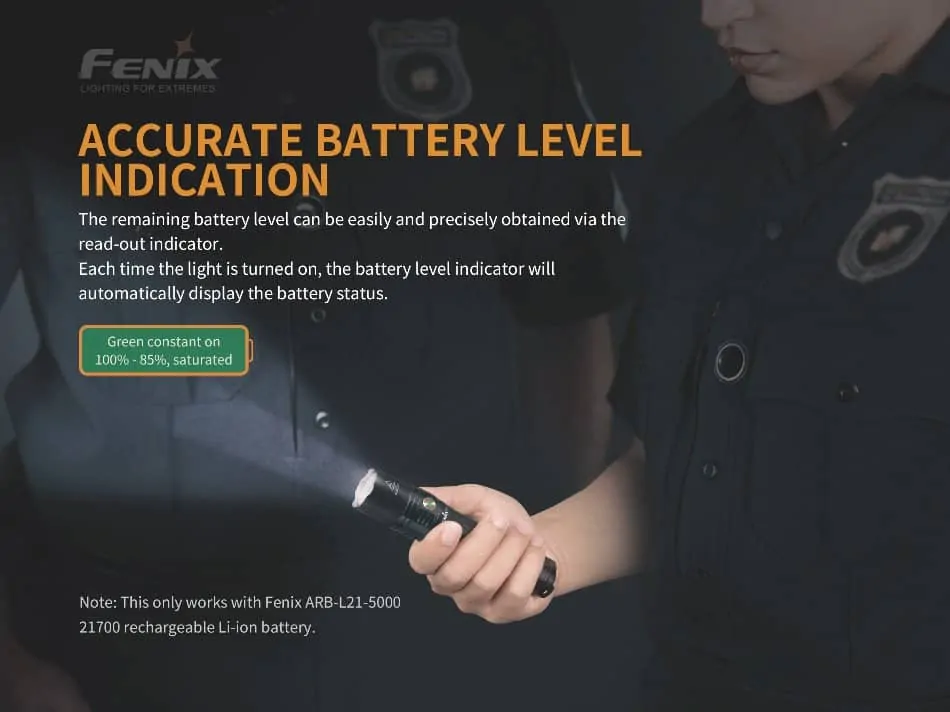 Brightness
No Fenix flashlight review would be complete without mentioning the brightness. Whether you need to light up a campsite, work on a vehicle, or scare away a wild animal, sometimes you will need extremely bright light.
Anyone who has ever uttered the phrase "why do I need a separate flashlight, I have one on my phone" has clearly never experienced the utility and awe of a flashlight as bright as this Fenix.
At maximum "Turbo" mode, this is a 1600 lumens flashlight, a staggering brightness. For those inexperienced, this can be a somewhat hard figure to comprehend. Fenix estimates that the light emitted by this model is equal to about 20,000 small candles and that it is visible for almost 1,000 feet. It's a truly impressive experience.
That said, it is somewhat common to find a flashlight that can output a lot of light but in an unusable beam. A poorly focused or inconsistent lense can almost make a flashlight more annoying than useful. This could not be farther from the case with this Fenix.
The beam it produces is tight, clear, and consistent. Throughout our use and testing, we found it to produce one of the best light patterns we have ever encountered.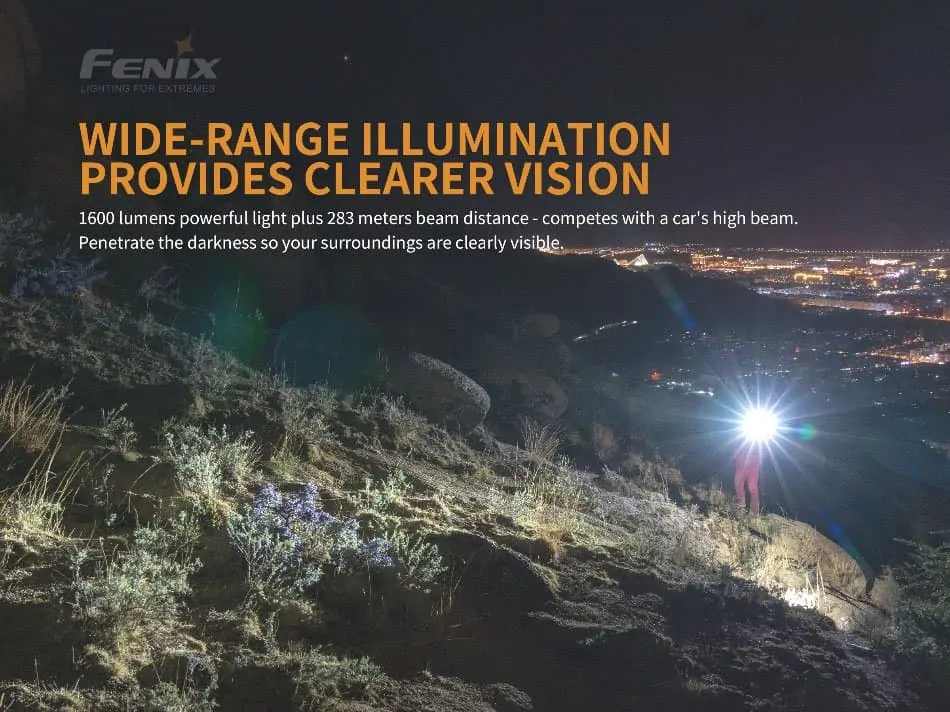 Multiple Modes
With flashlights, there is often a feeling that "brighter is better." In some situations this is true, but it is also fully possible for a light to be too bright. Many activities, like reading by the fire, taking a peaceful hike at night, or simply navigating your campsite, require a much dimmer beam. Having a flashlight with multiple modes allows you to use one tool for a myriad of purposes. As previously mentioned, this Fenix unquestionably has the needed brightness, but it also has versatility.
In total, the Fenix has six distinct modes ranging from the maximum "Turbo" setting at 1,600 lumens, all the way down to "Eco" at only 30 lumens. We found Eco mode to be an incredibly useful addition. It was just bright enough that it allowed us to easily read or navigate safely at night but was also dim enough that it preserved night vision and did not disturb anyone near us.
Further, Fenix did an excellent job of making the modes easily accessible. If you spend enough time reviewing flashlights as we do, you would be surprised how often a manufacturer makes accessing modes blindingly difficult. In short, if we have to read a manual to know how to change between modes, we are not going to like a product.
Luckily, we did not have to consult the Fenix PD35 manual. There is a small and easy to manipulate switch on the side that allows effortlessly changing between settings.
Lastly, they included a strobe feature. This is primarily a safety addition that causes the light to flash rapidly at maximum brightness. Thankfully, we have never had to use it in earnest. But we are sure that it would draw needed attention should it ever be necessary.
Tail-Switch
Beyond easily controllable modes, we place a lot of emphasis on a flashlight being simple to turn on or off. All too many lights require fumbling or delicate movements to simply toggle their power.
This is why the tail-switch of the Fenix is such a welcome addition. Located proudly at the back of the light, the switch to activate the Fenix PD36R rechargeable flashlight is simple to manipulate without looking, even if you are wearing heavy gloves. This makes sure you will have light when you need it without unnecessary struggling.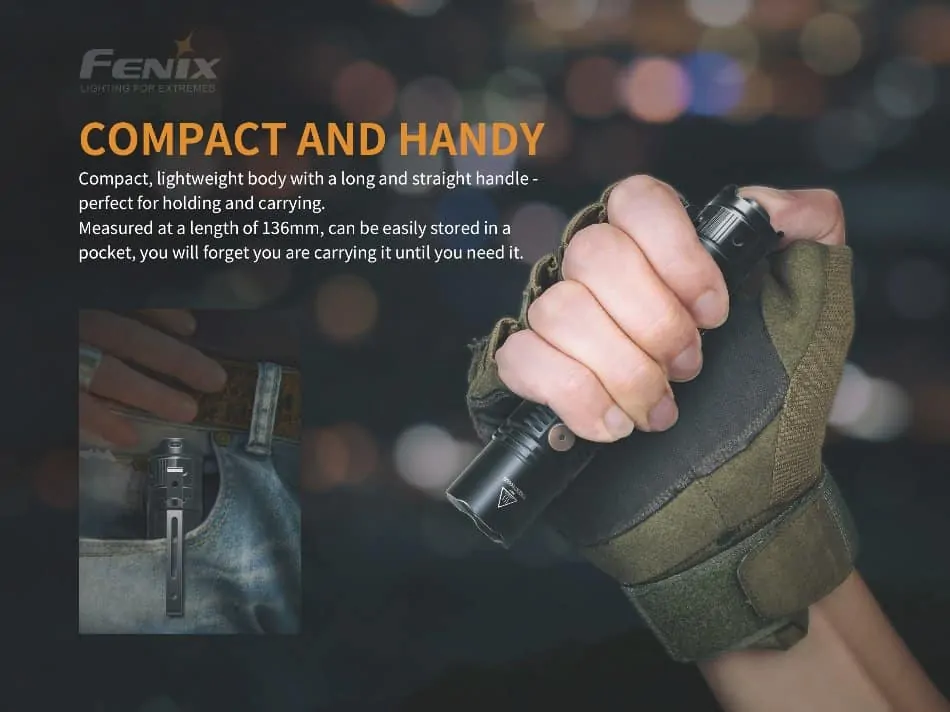 Another nice aspect of this switch is that it is a partially momentary switch. This means that pressing it lightly will turn the light on temporarily, while a firmer press will leave the light on once you release the switch. This is a surprisingly useful feature, especially when working on something detail-oriented where you only need occasional light.
Waterproof
One of the most welcome additions that Fenix included in this light is its IP68 waterproof rating. This allows the flashlight to be submerged completely up to two meters for an hour without affecting performance.
This may seem like a slight overkill at first, given the unlikeliness that you will be using a flashlight six feet underwater. However, in the world of survival equipment, it is better to be over-prepared than under. It is assuring to know that a rainstorm or inadvertent drop in a puddle won't harm your light.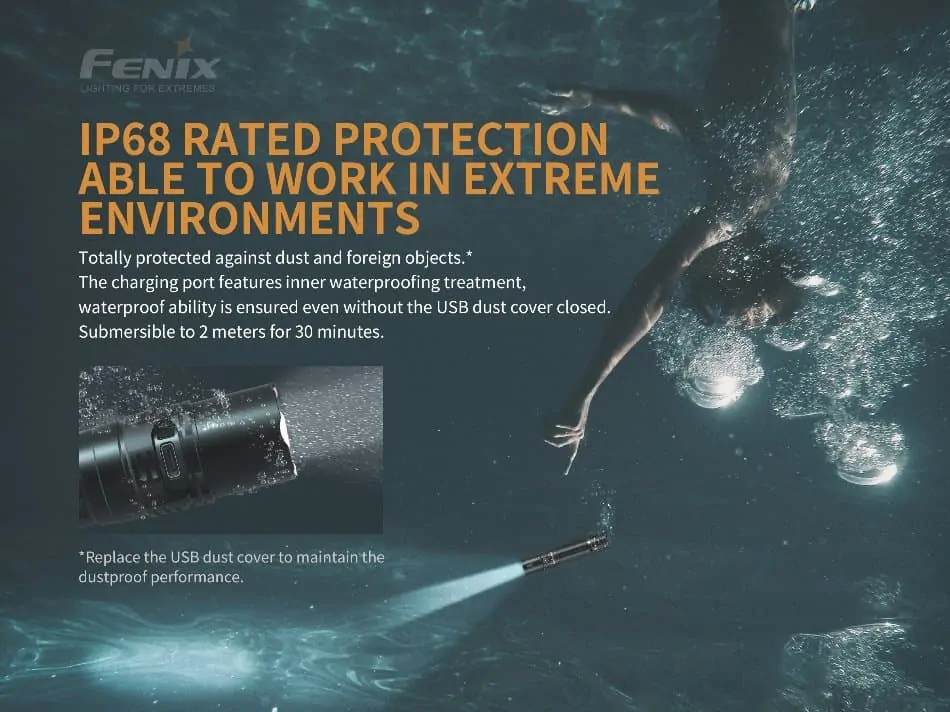 Two-Mode Pocket Clip
As with so many other things, it is the details that can make or break a flashlight. One of the features we tend to be very particular about is a pocket clip, and we are happy to say that Fenix did an excellent job.
The pocket clip on this flashlight is sturdy, firmly grips your pocket, and is replaceable if anything were to ever become damaged. Further, it is a very clever two-way design. This allows the light to be stored neatly in your pocket, or you can use the reverse orientation to clip the light to the brim of a baseball cap for hands-free use. It's a simple addition, but an immeasurably useful one.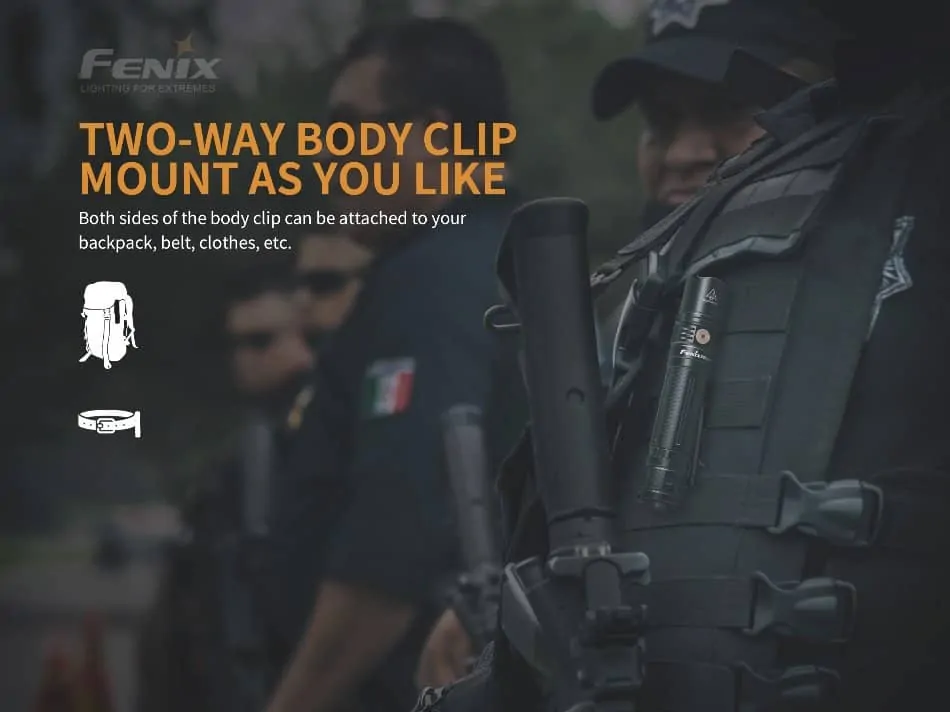 Compatible Accessories
Last update on 2023-09-20 / Affiliate links / Images from Amazon Product Advertising API
---
Flashlight Buyers Guide
Things to Consider Before Buying any Flashlight
In the world of flashlights, all are not created equally. You likely have memories of dim flashlights that were barely brighter than holding a candle.
These relics consumed costly batteries at an alarming rate and were often too heavy to practically keep near-by. Luckily, we have moved far beyond that to shockingly bright and useable LED driven rechargeable flashlights.
Choose a Brand That You Can Trust
However, there is still a lot to consider in the world of flashlights. This is an area where the name counts. Not only is it important to buy a flashlight from a reputable and well-established manufacturer, but it is important to make sure the LED itself is from a high-quality source. After all, the best flashlight body in the world is of little use if the bulb fails.
When it comes to high-quality flashlights, no brand surpasses Fenix. They have established themselves as one of the most trustworthy names, not just because of their craftsmanship but also due to the high-quality components they use.
Fenix lights use American-made CREE LED units. CREE is a North Carolina based company that effectively invented the modern LED. In short, Fenix and CREE are rockstars in their industry.
Choose a Light That Will Last
Let's make no mistake: a high-quality flashlight can be an investment. However, starting with a worthwhile model is ultimately the cheaper option. We have witnessed innumerable friends try to "save money" by buying cheap flashlights over and over.
When you tally the total cost, they could have saved hundreds of dollars by simply buying a better light in the first place. This is not to mention the fact that reliability has a lot to do with value. If a low-end light fails when you need it most, no amount of savings will rectify that situation.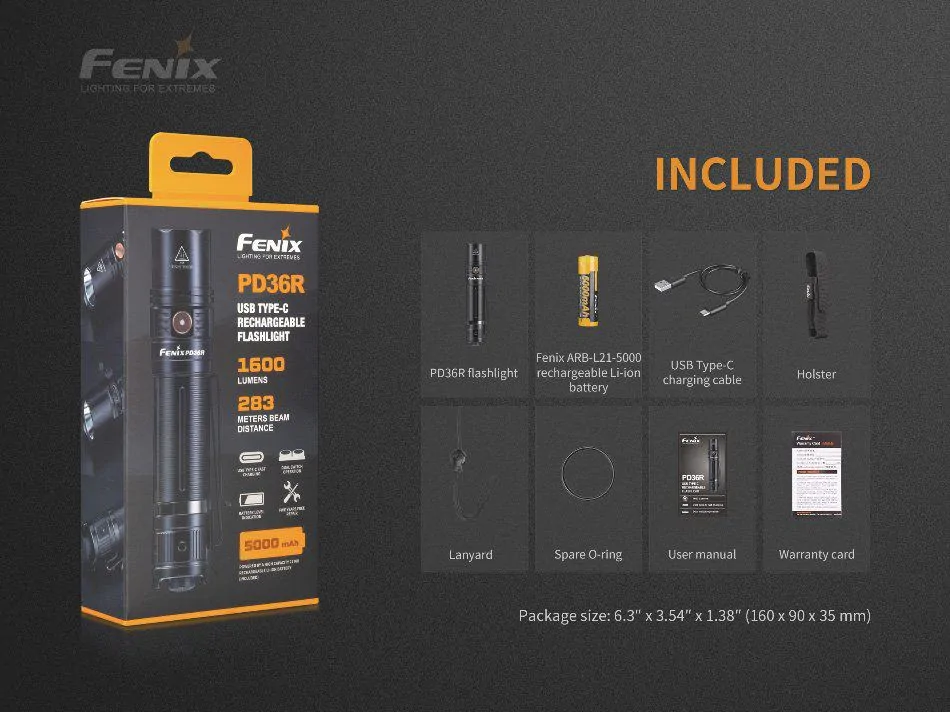 Conclusion
Creating the ideal flashlight is not an easy task. To be suitable for an intense user, a light must be durable, compact, serviceable, and easy to use. Further, it must pack an outstanding battery life while still maintaining maximum brightness.
This is why finding a great flashlight is such a challenging prospect. Amazingly, this light manages to achieve an almost perfect sweep. There was little that you can throw at this portable powerhouse that it won't be able to handle.
It has a class-leading battery life while still being a 1600 lumens flashlight. Whether you are an avid hiker, a weekend warrior, or simply want a dependable light to keep in your glove box, you owe it to yourself to check out the Fenix PD36R.
Last update on 2023-09-20 / Affiliate links / Images from Amazon Product Advertising API