To the untrained eye, lock picking may seem like an impossible task that only movie robbers and escape artists can pull off.
Those who do that for a living, however, know that there are only two requirements in order to pick locks like a pro: a lot of practice and having the right tools. While the former it's all about the will power, finding the right tools for the job is a complex task for a beginner.
With that in mind, this guide will go over five of the best lock pick sets for beginners on the market. Additionally, it will provide useful information about lock pick sets in general. Hopefully, all this will help you choose the best beginner lock pick set on the market.
The Best Lock Pick Set for Beginners Reviews
If you are looking for a set that facilitates practice without sacrificing efficiency, the Huajin 15-Piece Creative Gift Set may be right for you. It features a wide variety of tools, including all the main types that are used in professional lockpicking. In addition, it includes three extra tools that can be incredibly useful when dealing with specialized and extra-secure locks.
Despite being meant for beginners, the Huajin 15-Piece Creative Gift Set boasts a very high level of quality. Made of stainless steel of the highest quality, the tools included in this set are capable of withstanding a great deal of torque and torsion without breaking. Without a doubt, this is great for beginners as it allows trying different types of techniques without negative repercussions.
In addition to the 15 different tools, this set includes a fantastic lock with a transparent exterior that allows beginner lockpickers to practice with great effectivity. Being able to see what you are doing as you do it is, without a doubt, incredibly helpful to understand what you are doing. As if all that wasn't enough, the set includes a useful and practical carrying case and a full instruction manual.
PROS
High-quality materials
Wide range of tool types
Includes a transparent lock for practicing
CONS
Tool handles are not very ergonomic
Those who are looking for a set that combines style and functionality would be wise to look into the Feeke Lock with 17pcs Gift Gadgets. It features a basic (but comprehensive) selection of picking tools that should be enough to work with most types of locks. In addition, it includes three different tension wrenches of different sizes that can be truly helpful when dealing with difficult locks.
Even though it is mainly meant for practice, this set for beginners can also be used by experienced and even professional lockpickers with great results. Made with high-quality materials and expertly constructed, all the tools included in this set are capable of withstanding heavy use. While their pick tips are made of stainless steel, the tools' handles are made of high-quality plastic that's nicely shaped for added comfort during use.
Much like the first item reviewed in this guide, the Feeke Lock with 17pcs Gift Gadgets includes a practice lock with a transparent exterior. While it's not the most complex type of lock that is out there, it provides enough variety for beginners to understand how different lock systems work. In addition to all this, this set includes a nice and stylish carrying case with a zippered closure.
PROS
Comfortable and ergonomic handles
Capable of withstanding heavy use
Includes a practice lock with a transparent exterior
CONS
Carrying case is made of a cheap material
So far, the sets reviewed have been focused on practice rather than full-on use. The AOBYY Lock Repair Set goes a bit beyond that by offering a wider selection of tools. As a result, it can be used both for practice and in real-life settings where effectivity is incredibly important.
Featuring 24 different tools, the AOBYY Lock Repair Set is capable of helping you deal with locks of all types and security levels. At the same time, this variety is great for helping beginners understand the differences between different types of locks and how to deal with them. Of course, the practice lock with a transparent exterior that is included with this set can help this learning process.
In addition to variety, this lockpicking kit offers a great deal in terms of quality. The tools themselves are made of high-quality stainless steel, making them resistant to external elements. What's more, they are practically unbreakable regardless of how much pressure is applied to them.
PROS
Great variety of tool types
Includes practice lock
Ergonomic handles
CONS
If you are looking for a lock pick kit that favors practicality and portability above everything, you may want to check out this one. Featuring a unique and very clever design, the Mokpukin Lock Pick Set and Broken Key Extractor can be carried like a Swiss blade. Despite its compactness and simplicity, however, this beginner lock pick set is remarkably effective.
Even though it is remarkably simple, this Mokpukin set is notably effective. The six different tools it includes provide enough functionality to work with most types of locks you will ever come across. Even better, having all the tools together makes it more intuitive to choose the right one for the job, allowing beginners to practice and learn faster and more efficiently.
Due to its practicality, this lockpick set can be a great choice for homeowners who want to be covered in case of an emergency. Without a doubt, its simplicity makes this tool very easy to use. As if all that was not enough, its broken key extractor tool can be of great help during emergencies.
PROS
Simple and practical
Easy to use
Portable and compact
CONS
Another compact and portable product, the UnLocked Stainless Steel Folding Multitool Lock Set favors simplicity and effectivity over style. In fact, its straightforward design may be somewhat deceiving in regards to the tool's usefulness.
Including six different picks in addition to a tension wrench, the UnLocked Stainless Steel Folding Multitool Lock Set can be a great way for beginners to become familiar with the basics of lock picking. At the same time, however, this selection of picks makes it a very effective tool for dealing with emergencies and household problems. Without a doubt, having all the tools conveniently joined together in a single tool adds to the product's practicality.
While it's certainly not the most complete or comprehensive set out there, the UnLocked Stainless Steel Folding Multitool Lock Set provides enough variety to be useful with most types of locks. The fact that it's made of stainless steel ensures durability, making this a good option for keeping at home. As a bonus, the kit includes a mini-flashlight that can be very helpful during emergencies.
PROS
Very compact and lightweight
Very practical
Includes a mini-flashlight
CONS
The Best Lock Pick Set for Beginners Buyer's Guide
If you want to choose the right lockpick set for your particular needs, it's important that you make your selection from a place of knowledge. To help this happen, this buyer's guide will provide essential information about lock pick sets for beginners.
What to Look For in a Lock Pick Set for Beginners
No matter what type of lock picking set you are after, there are a few basic characteristics that you need to take into account before making a purchase. Take the following into account:
Variety and Versatility
Without a doubt, a set for lock picking needs to have a variety of tools. Ideally, these tools should be enough to help you pick a lock successfully in any case scenario. 
For that reason, it's very important to look for sets that feature enough variety, including all the basic tools and, hopefully, a few additional tools that can make your work even more effective. 
Even more than that, consider that the best sets out there offer useful extras like practice locks, broken key extraction tools and various others.
Ease of Use
Taking into account that we are talking about lock picking sets for beginners, it is only logical to say that they should be easy to use. As a matter of fact, they should be easy to use enough that they facilitate and encourage repeated practice without overwhelming the user.
More than that, a good beginner set should be ergonomic and comfortable in its usage. In particular, take into account the handles of the tools included in the set. Remember that you will be applying pressure and forcing metallic objects using that handle.
Carrying Case
Often, lock pick sets include extras that can make your work a lot easier and more enjoyable. Without a doubt, one of the most necessary is a good carrying case.
If possible, look for one that includes separate sections for each one of the tools so that you'll be able to keep them properly organized at all times. Additionally, look for carrying ease and overall portability. Finally, make it a point to find a carrying case that is resistant and protective.
Overall Quality
As with anything, the overall quality of a lock pick kit should be the main concern. First of all, look for high-quality materials such as stainless steel (or other resistant metals) and high-tech plastics.
Additionally, make sure that the product has a solid and stable construction.
Lock Picking Tool Types
As previously mentioned, a good set of lock pick tools should be varied enough to allow a wide range of operations.
Here are the essential lock pick tool types:
Rakes
Rakes are the typical bumpy-looking tools that most people imagine when they think of lock picking. There are various different types of rakes, however, making it difficult to provide a precise description of their shape.
It is possible to describe the function of rakes, however: They are used to quickly scrub across the pins, forcing the lock to give in and unlock.
The most common types of rakes are:
Snake rake: Featuring an abrupt and slender shape, the snake rake is great for locks with pins that are very far apart from each other.
Bogota rake: Featuring a rounded edge and a short picking section, Bogota rakes are simple and yet efficient with regular, low-security locks of all types. As such, they are often the first option for an experienced lockpicker.
Full rake: Full rakes are long, and they feature a serrated end that is very much unique among rakes. With a configuration that is very reminiscent of a bump key, this type of rake is capable of creating a gap in the shear line of the lock, allowing the lockpicker to quickly turn the device's cylinder.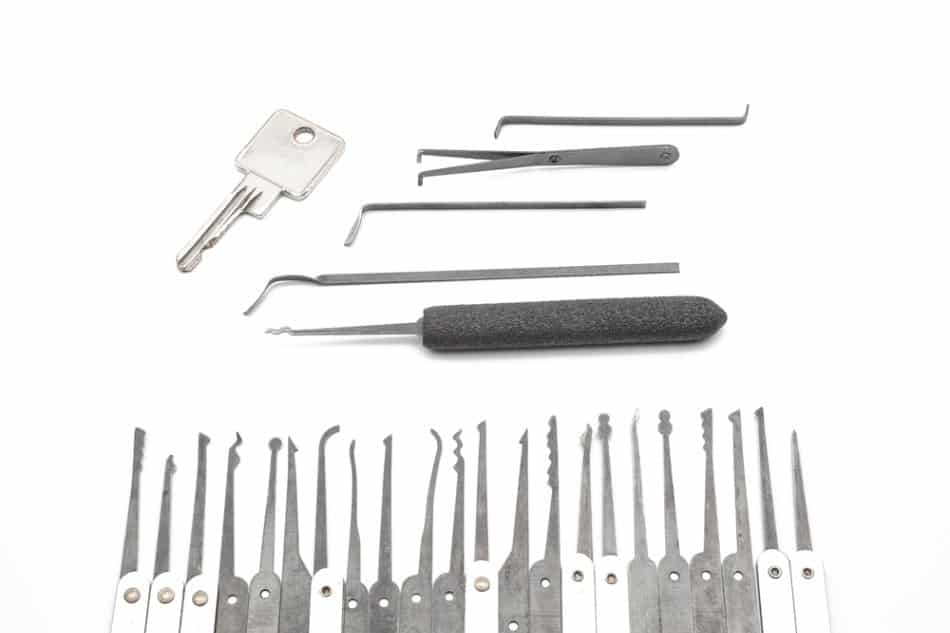 Hook
As the name implies, hook lock pick tools have a hook-like tip that can help pick individual pins within the lock. Hook tools have different shapes, some including complex prongs. Depending on the warding and biting of each pin in the lock, one of these shapes will be more effective than the others.
Key Extractor
Just like the name implies, a key extractor is a tool that helps remove broken keys from a lock. Normally, key extractors have a diamond-shape tip, including a grabber at the end that allows pulling the broken key out of the lock.
Full Ball
Featuring a round tip, full ball lock pick tools are great for dealing with wafer and warded locks. However, they can also be effective with simple pin tumbler locks.
Snowman
This type of tool for lock picking features two metal balls at its tip. Typically, they are useful for wafer locks. However, with the help of a rake, they can be useful for picking simple padlocks as well.
Diamonds
Featuring a triangular tip, diamond tools for lock picking can be effective for both pin tumbler and wafer locks. However, to be effective, they need to have a tip size that is compatible with the lock that you are trying to pick.
Tension Wrench
One of the most essential tools in any lock picking set, the tension wrench transfers tension to the cylinder in order to rotate it. There are many different types of tension wrenches with different shapes and proportions.
The most common is the L-shaped tension wrench, a versatile tool that allows extra tension to be transferred to the cylinder through torsion.
In Conclusion
Having gone through all the characteristics and features of these five products, it's easy to see why they enjoy such popularity. In addition to being varied and easy to use, they boast a remarkable level of quality that results in great value for their overall price.
However, there is one product that stands out among the rest: The Feeke Lock with 17pcs Gift Gadgets is, without a doubt, the best beginner lock pick set you can buy. In addition to its completeness and versatility, this set includes everything a lock picking beginner may need to get the necessary practice.
Also considering its high-quality materials and an expert level of construction, it can be confidently said that this is a fantastic beginner lock pick set.