If you're at all interested in survival best practices, you know that even a couple of days worth of food and water can make a significant difference. 
For this reason, the bug out bag has been gaining in popularity, especially considering the recent prevalence of natural disasters and other life-threatening issues that have been occurring lately. Simply put, the best bug out bag backpack can make a real difference, even if you're just bringing one along with you on your hikes. 
In this guide, we're going to present you with five unique and quality bug out bag kits so that you can stay prepared.
Last update on 2021-09-30 / Affiliate links / Images from Amazon Product Advertising API
The Best Bug Out Bag Reviews
The first product in our review section is a great survival bag that is manufactured by the folks at Sustain Supply Co. This bug out bag is designed specifically for 72 hours, and it's also designed to keep four people going for that same three-day period. Like the best bug out bag options, this kit not only includes freeze-dried food, but other essentials like first aid materials, lanterns, and flashlights. 
For the most part, you'll definitely notice the premium level of quality in this Sustain Supply Co. product; each of the components is well-built, and the food is delicious. The manufacturer opted to use Mountain House foods, and the bag provides 24 servings, so if you're bringing less than the prescribed four people, this can certainly last you longer. To eat these freeze-dried foods, the pack also includes some bowls that are designed to flatten when not in use. For hydration, the bag is packed with six liters of Daytrex drinking water pouches. 
The bag also includes several light sources to put the mind more at ease during an outage. These include the aforementioned flashlight as well as an LED lantern. In addition to this, the manufacturer also has thrown in a ferrocerium rod, which can function completely without power so that you can have some light in darkened situations. 
PROS
The bag itself is very durable and has a massive capacity
The inclusion of bowls makes eating the Mountain House food very easy
There are three sources of light
CONS
It's a bit on the expensive side
Unlike our first product, this EVERLIT emergency pack is designedspecifically for two people, but like that product, this bag is designed to provide three days of support. One of the most noteworthy features of this pack is how tough it is; EVERLIT opted to use a 600-denier polyester that will really stand up to a lot of punishment while you're out there in a survival situation. 
Additionally, it's packed with handy straps, some robust zippers, and it even includes a comfortable-feeling mesh padding for your back. This padding will also allow for airflow, which means that you'll feel comfortable as you wear the pack. When it comes to pack-ins, this is a kit that definitely doesn't skimp. For example, when it comes to sources of hydration, this bag packs in 24 packs of Daytrex drinking water. 
When it comes to food, you're allotted two 3,600-calorie food bars that you can use to keep going during your survival time. Additionally, you'll find an emergency shelter, a phone charger, and a three-in-one hand-crank flashlight. When the packs run out, there are also water purification tablets packed into the bag. Overall, the bag is also spacious enough to bring other materials, which definitely boosts its utility. 
PROS
This survival pack also has an emergency shelter
It includes a tactical knife
In addition to the lamp, there are six glow sticks to use for illumination
CONS
The straps could be a bit more secure
Like our first product, this Rescue Guard kit is designed to keep four people going. As a result, it's packed in with a lot of exceptional items that will make a desperate situation a little more manageable. For example, the kit includes items like four rain ponchos, two survival shelters, a hatchet for cutting wood, a survival knife, and work gloves. When it comes to personal sustenance and hydration, you'll also find that you're well-covered since the bag includes four high-calorie Mire's Meals S.O.S. emergency food rations and 12 125-milliliter water pouches. 
The bag itself is sturdy, and Rescue Guard was sure to provide some extra room for extra items. Sleeping is also easy; in addition to the emergency shelters, you'll also find emergency blankets and survival sleeping bags as well. Every bug out bag needs first aid, and this product loads several first aid products into its confines so that you can treat any injuries or sicknesses that may occur during your survival situation. When it comes to survival, you sometimes want to stick out so that you can be quickly rescued. Fortunately, this pack also is colored a bright red, which can alert rescue crews that you are in a survival situation. 
PROS
This includes several items to make sleeping easier
It has a few sources of illumination
The bag provides extra storage space
CONS
Despite it being great for a rescue, a bright red bag can also make you easily located by unscrupulous individuals
The fourth product in our guide stands out because it actually incorporates a camouflage pattern into its design, which makes it a good survival kit for some tactical applications. This kit is also designed for the most substantial period; in total, you can use this to ride out a survival situation for about five days. 
It's crucial to note that this five-day product will only sustain a single person for that period, but it's also worth noting that these are inexpensive enough to outfit several people with bags of their own. The food rations provided in this bug out bag are also top-notch; Wise Country opted to include some gourmet options that will also sustain you. When it's time to prepare your foods, the company has also included a portable stove that also comes with 24 fuel tablets that come in their backpack compartment. To help in food preparation and consumption, they have also included waterproof matches as well as decanters for your water. 
PROS
There are 32 servings of food and drink
The food options include things like pasta, oatmeal, and even milk
The pack itself comes in a camouflage design
The bag is very durable and trail-ready
CONS
There isn't an emergency shelter or tent
It'll only sustain a single person for five days
Our final product in this roundup of the best premade bug out bag products is a survival kit from Emergency Zone . This particular kit stands out because the bag that it includes is relatively small yet will sustain you and another person for a full three days. 
This is also a FEMA-compliant product that is explicitly rated for keeping you and your family healthy and hydrated during any survival situation. For example, this is one of the few kits that come with an Emergency Preparedness Guidebook. This guidebook is designed to help you during just about any survival situation, and it can come in handy for anyone who is unexperienced in survival. Additionally, there is plenty of food and water for two people. This includes 12 packs of water, two larger high-calorie food packets for you to ration, and a filtration straw that will purify water so that you can drink it safely. 
PROS
The backpack is designed to look like any standard backpack
It includes items like toothbrushes, shavers, and combs
The flashlight is crank-style and doesn't require batteries
CONS
What to Look for in the Best Bug Out Bag Kit
The best premade bug out bag may cost you a few bucks, but these can be the difference between hanging on for a few extra days or expiring. That being said, not all bug out bags are made equal, and it couldn't hurt to have an idea about some of the features to look out for so that you can identify the quality level of the product you're considering. 
For this reason, we're going to dedicate this section to help you know what to look out for in the best bug out bag kit. 
Capacity
Ideally, your bag should definitely be designed to accommodate all of the extras that you need to survive your situation. Of course, this means plenty of room for extra food, gear, and survival tools. Typically, a bug out bag is going to have its content space measured in liters, and of course, the more, the better. 
It's not uncommon to be able to find a bag that has over 176 liters of carrying capacity, but if you're looking for an optimal balance for carrying and capacity, aim for a pack that has at least 45 liters of carrying capacity. 
The Survival Period
It's also important to note that the period in which a bug out bag will keep you fed, hydrated, and well taken care of will typically go up with its capacity. For example, several of the products in our guide have 72 hours, but there's one that's designed to sustain a single person for a five-day period.
Which one you pick will depend on your survival needs. It's important to remember that most are designed for at least three days, so always make this your starting point when you're on the market for one of these products. 
Overall Sizing
Outside of the capacity and the period in which a survival bag is designed to keep you alive, it's also important that you keep an eye on the general sizing. If you're going to be surviving in a situation where you have to be consistently moving, you'll want a product that's going to be relatively easy to carry. 
Remember, a larger backpack without the right stability enhancements will be tedious and fatiguing to carry, so err on a size that will be manageable should the need for the bug out bag arise. 
The Compartments
In addition to your basic survival gear, you may want to carry personal items in your survival backpack . For this reason, it's always a good idea to select a product that has a lot of compartments that will allow you to pack along items like sanitary wipes, firestarters, and other items. 
Additionally, compartments that are designed for specialized functions are also necessary. This can be a compartment that's designed to accommodate a water bladder or a chamber that will hold items like tent stakes or the main tent. The best bags will have these compartments organized into a very easy-to-access configuration, which can help you access the needed items easier.
These will include smaller pockets for various tinier items that you'll want to pack. 
Comfort
This is an often overlooked aspect of purchasing a good bug out bag, but having your bag fit comfortably is absolutely essential.
Here are a few things to look out for that can improve the experience when you're carrying your kit: 
Padding – The last thing you want is to purchase a bag that digs uncomfortably into your body while you carry it since this can even cause injury over long periods. Ideally, there should be a good amount of padding wherever the bag comes into contact with your body. 
Hip Straps – To have the most supported experience possible, a bug out bag with hip straps is something you should consider. These will keep the bag snug up against your hip bones so that there's not a lot of swaying while you're carrying the bag.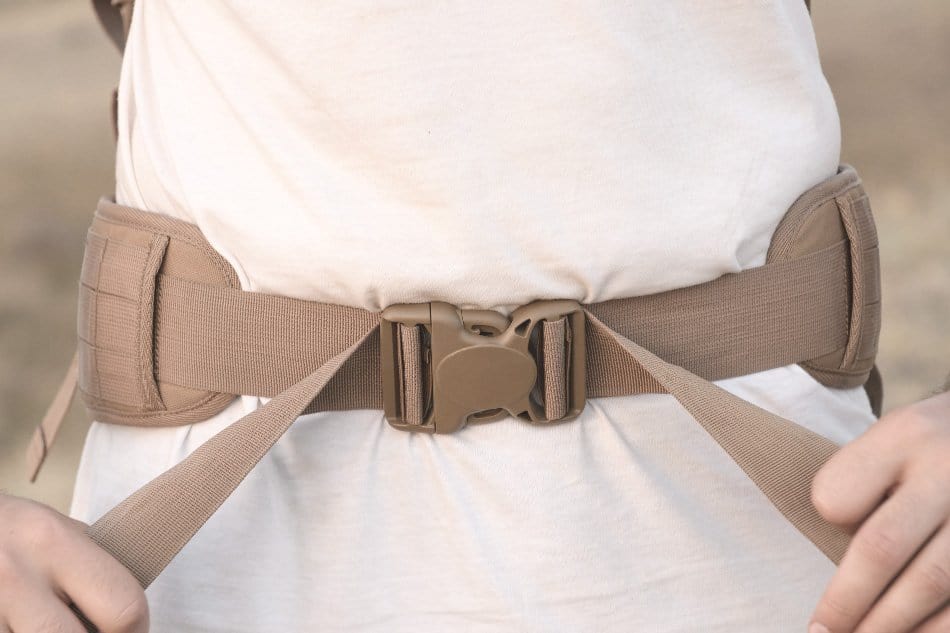 This is very important because needless swaying can cause excess fatigue. This also lowers the center of gravity, which can really help reduce the carrying discomfort significantly. 
Sternum Clips – As the name might imply, a sternum clip is designed to go across your sternum and ties the two parts of the straps together across your chest. The better products on the market will have a sternum clip that's fully adjustable so that you can move it to the most comfortable position. Ideally, the sternum clip should rest against the boniest part of the chest, which can make the experience more comfortable and stable.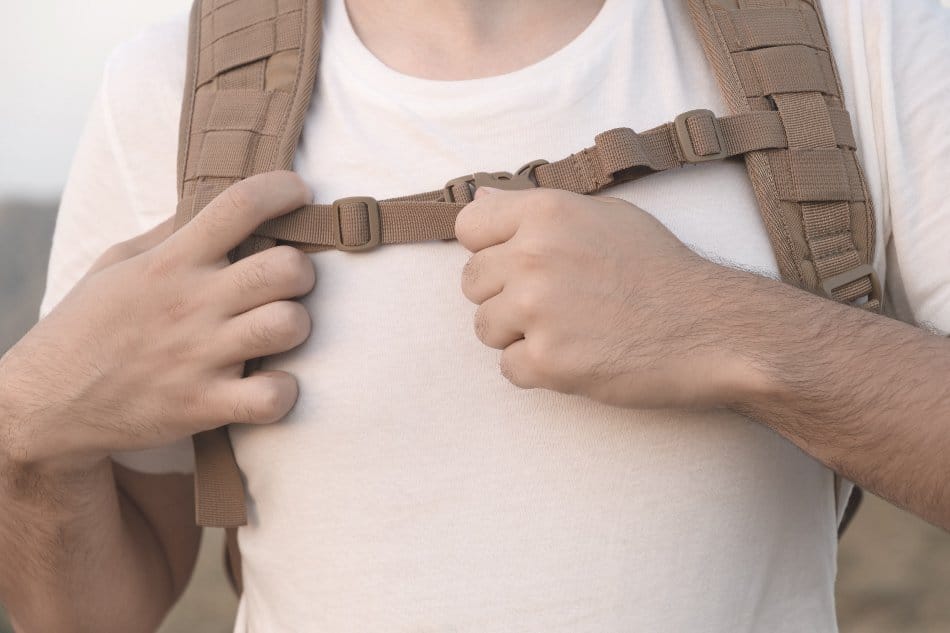 Back Airflow – This can include a mesh back that will let air flow between your body and the bag. This is essential because this can help you stay cool in even warmer environments. Remember, if your back is wet from sweating this can invite a whole host of issues including infection, chafing, and general discomfort. 
In addition to back mesh, some bags will even include channels that perform much of the same airflow functionality. 
The Rain Hood
Keeping your kit nice and dry is very important, and while many of these packs are entirely weatherproof, it can be helpful to find a bag with a rain hood to keep various components dry. A hood like this will allow you to open your bag without accidentally soaking the elements, which can really come in handy. 
MOLLE
MOLLE stands for Modular Lightweight Load-carrying Equipment, and MOLLE organization systems usually incorporate webbing so that you can carry items on the outside of your pack. In fact, the best MOLLE webbing will even allow you to carry other packs! 
Additionally, MOLLE tech also includes carabiners that can make carrying items like water bottles more convenient.  
Final Thoughts
 We hope that our guide to the best bug out bag backpack options helps you find a product that will serve you well. In a perfect world, you won't need a product like this, but unfortunately, you never can be too sure, and having one of these and never using it is much better than being caught unprepared. 
Each of the products featured here provides a lot of utility, so take another look at our buyer's guide and reviews if you're still unsure. However, if we had to choose a winner of this roundup, it would be the EVERLIT Earthquake Emergency Kits Survival Kit because it comes with everything that you and your travel companion will need to survive.
EVERLIT Complete 72 Hours Earthquake Bug Out Bag Emergency Survival Kit for Family. Be Prepared for Hurricanes, Floods, Tsunami, Other Disasters (2 Person Kit)
✅【Exclusive 72 Hours for 2 People, Emergency Survival Bag】Uniquely customized by US military veterans and designed to get you well prepared for emergency or disaster situation. The bag contains upgraded first aid supplies, must-have water & food, essential survival gears, and safety protection equipment.
✅【Premium Survival Gears and 200 Pieces First Aid Kit】 Everlit Survival complete emergency bag offers most high quality, popular and valuable content on the market. which included: molle tactical backpack, 3 in 1 Hand-Crank flashlight (radio and phone charger), survival gear, emergency shelter, thermal blanket, combat tourniquets, and many more essential contents that keep you safer and prepared during the first critical 72 hours of any unpredictable emergency event.
✅【5-Years Shelf Life Water & Food Approved by U.S. Coast Guard, Water Filtration Tablets】 24 Packs of 125ML Emergency Drinking Water and 2 Packs of 3600 Calorie Emergency Food Bar are provided in the bag. Do not worry if water provided is not enough, the kit also offers water purification tablets that can treat up to 25 quarts of water.
✅【Multi-functional Tactical Military Grade Backpack】 Easy to organize and store with many compartments of the bag. With its 600 Denier polyester making it tear and water resistant. Comfortable straps, great zippers, equipped with a comfortable mesh padding back area and padded shoulder straps that can withstand heavy-duty use.
Last update on 2021-09-30 / Affiliate links / Images from Amazon Product Advertising API